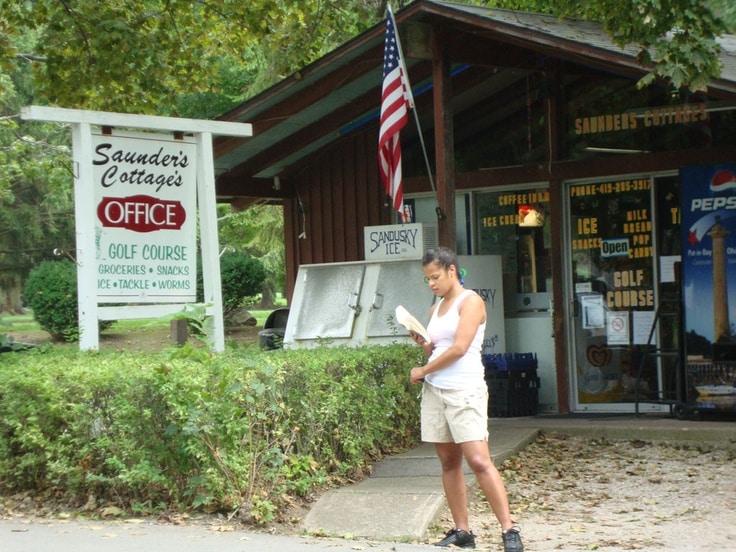 Saunders Golf Course, the only golf course on Put-in-Bay, is Par 3 nine hole course. A lovely way to spend an afternoon with friends, Saunders is challenging, but not too challenging. Interestingly, it is one of the few places on the island where a Put in Bay golf cart rental is not permitted. Odd though it may be, this question pops up on scavenger hunts all the time. There's no way Put-in-Bay could be the bachelor party headquarters that it is without a golf course for Saturday morning!

Saunders Golf Course Highlights
Saunders is located down Catawba from the downtown. It is right next to South Bass Island State Park. This small, but beautiful park includes public docks and a waterfront beach. There is also picnic areas and a covered pavilions. Kids enjoy playing on the playground.
Visitors to Saunders should use their discretion when bringing clubs. Usually Par 3's are completed with two clubs, a 7 iron and a putter. This saves you the hassle on lugging clubs all over the course. Golf experts and novices alike love playing a game at Saunders
Saunders holds a golf court every summer aptly named The 7 Iron Classic. It's always a very fun event to attend. The gift shop sells drinks, snacks, and tobacco products. There is also ice if you need to fill up your cooler.
After Your Round
There's nothing better than heading to Joe's Bar after 9 challenging holes. Joe's, the self-proclaimed "best dive bar on the planet," is an island favorite with locals and visitors alike. It has a relaxed, friendly vibe and a large, airy patio. Relax with a cold one, or, if you are still in the mood for games, challenge your friends to a game of corn hole. Joe's is home to the famous Sloppy Scotty, as well as Bloody Mary's that frequently make Joe's the first stop for return guests when they get off the ferry, and the last stop on Sunday morning after a having a couple too many beers on Saturday night!

Goat Soup and Whiskey is also right up Catawba for a sophisticated dinner. Their soups are just as famous as their perch tacos. This restaurant uses herbs and vegetables grown right in their own gardens. There is nothing fresher! Imagine eating tacos with perch that was caught that morning! That's the kind of freshness we are talking about, and you can only get it at the Bay!

Come and take a Put in Bay ferry up to the island to play some golf and if you are interested in seeing some of the nightlife here on the island then you can check out our lodging and book a Put in Bay resort, hotel, or rental! The sooner you book, the more likely that we will have lodging available for the weekend you choose to visit!