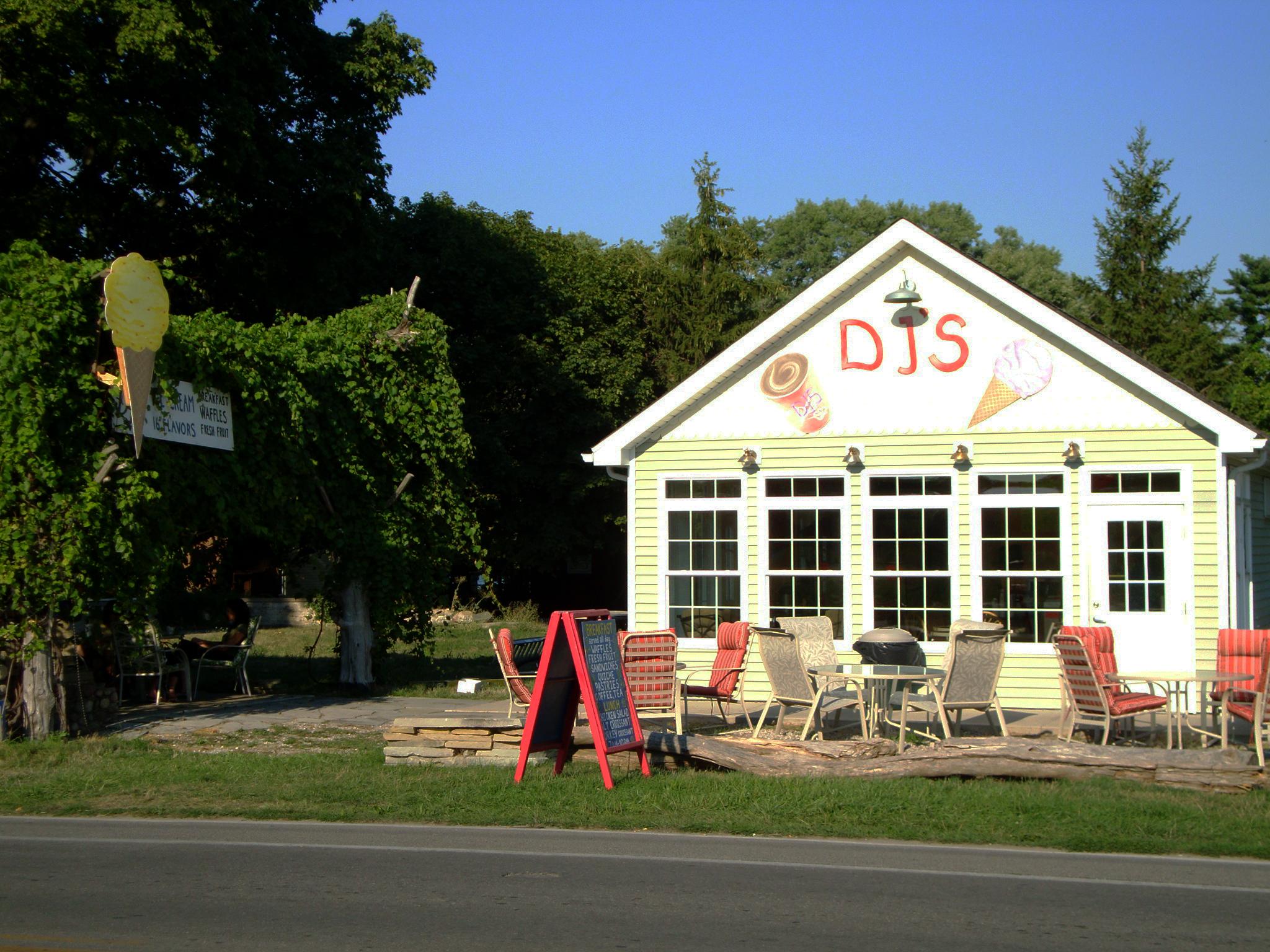 Summertime on Put-in-Bay means sun, fun, and plenty of ice cream. DJ's Ice Cream more than delivers on everyone's favorite creamy confection. Serving up some of the best ice cream on the island, this charming shop is located right in the heart of downtown just a short walk from the Jet Express Ferry after your journey from Catawba Island.
DJ's Ice Cream Details
The friendly staff serves up their 16 ice cream flavors with a smile. Each flavor is delicious in its own way. Classic favorites like chocolate, vanilla, and strawberry satisfy everyone while the more creative flavors like Superman and Mint Chocolate Chip surprise and delight. DJ's Ice Cream is the perfect way to end your night after you enjoy a delicious meal at one of the Put-in-Bay Restaurants.
For something extra special, head over to DJ's for breakfast. They make incredible waffles served with the freshest fruit on South Bass Island. And why not add a scoop of ice cream? Waffles at DJ's is quickly becoming a Put-in-Bay tradition. Maybe try a breakfast burrito or another delicious breakfast entree like pancakes! You will love the hometown vibe of this place.
Lunch and dinner at DJ's are just as delicious. With signature sandwiches like a Cuban sandwich, something fresh off the grille, a delicious appetizer or other filling entrees, this is a great choice for something quick, affordable, and scrumptious. Don't forget to end your meal with another scoop of their amazing ice cream! All-around DJ's serves great food at a great price. It is an eatery that offers all sorts of dining options no matter the time of day! DJ's is truly a great place for the whole family.
DJ's Ice Cream is a great place to stop after enjoying some Cameo Pizza or Lake Erie perch tacos and famous lobster bisque from the Boardwalk. The location of DJ's Ice Cream can't be beaten!
Walking Around Put-in-Bay
After you purchase ice cream from DJs, you can relax on their patio or take a stroll through the streets of downtown Put-in-Bay. There is always so much to see especially in the summers. Families and groups of revelers parade through the streets having the best summers ever! There is nothing like enjoying an ice cream sundae and taking in the sights of Lake Erie.
DeRivera Park is right next to DJ's. This beautiful park includes playgrounds for kids of all ages, picnic tables, a lovely gazebo, and beautiful walking paths. This is also where you'll find the public restrooms and lockers in case you need to store something while you walk.
Kimberly's Carousel is also a centerpiece of downtown Put-in-Bay. This vintage ride was built by the iconic amusement park designer Allan Herschell over 100 years ago. Renovated in the 1980s, it looks much the same as it did back then. Take a spin on one of the delightfully hand-painted animals. Petey the Perch is definitely the favorite around these parts.
Sights and Sounds of Put-in-Bay, Ohio
As you walk around with your delicious homemade ice cream, you can listen to the sound of the island's performers and live entertainment. You are in close walking distance to the Put-in-Bay harbor and beautiful views of Lake Erie. Visitors love to walk up and down Bayview Ave, Catawba Ave, and Delaware Ave to take in all the sights. There's nothing like a late-night walk with a sweet treat in your hand
You are also in walking distance from Joe's Bar, Frosty Bar, Mr. Ed's, Hooligans, Upper Deck at the Boardwalk, Mossbacks Bar, Reel Bar, Boathouse Bar and more if you want to stop in for a brew or margarita! Downtown Put-in-Bay is your oyster. DJ's ice cream is a must-see on Put-in-Bay, The Key West of the North!
Testimonials
Catherine L: "This place is a gem! Incredibly friendly staff, a very personable owner, and a LOVELY sitting area under decorative lights and a natural canopy. Not to mention the ice cream is some of the best. Highly recommend!"
Amy R: "Absolutely enjoyed my birthday waffles, with ice cream! And the morning waitress was wonderful! Keep up the great job!"
Karen D: "DJ's is a great locally-owned shop, and has a pleasant outdoor seating area. Sit and watch visitors around DeRivera Park !"
Nancy T: "The Best Ice Cream Around!"