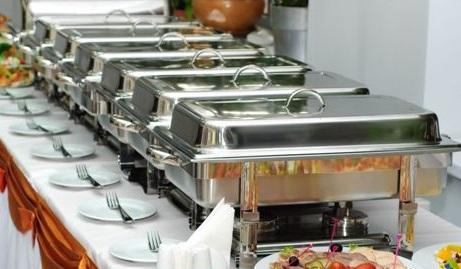 What kind of group getaway spot would Put-in-Bay be if you had to stress about preparing food for all of your guests? Put-in-Bay has a bunch of different options for large group catering and they're all ready to meet your needs. Whether you're coming in for a camping or fishing trip, a bachelor or bachelorette party, or even piecing together a menu for a wedding reception, your needs will be met at Put-in-Bay.
Once you've reserved your Waterfront Condo or Island Club accommodations for your large group, make catering the next checkbox you mark off. It does get very busy on the island, especially during the summer, but by planning and calling ahead, you can ensure the catering service you need for your group.
Put-in-Bay Event Catering
There are plenty of choices of catering on the island. Many great options for your:
Baby Shower
Bridal Shower
Wedding Reception
Corporate Outing
Bachelor or Bachelorette Party
Retreat
Field Trip
Tailgate
These are just a couple of the many Put-in-Bay event catering options on the island, but they are among the most popular:
Mr. Ed's Bar and Grille: Mr. Ed's is the most famous party bar on the island, which should show you how comfortable they are at meeting the needs of large groups. Mr. Ed's provides catering options for parties as large as 200. They can even offer event space! Their second-story deck can be rented out for your special occasion. The type of cuisine you can expect is pub food, with great burgers, wings, and Mr. Ed's signature chicken chunks. There's also seafood, sandwiches, and wraps, pretty much anything you can think of, Mr. Ed's can provide!
The Village Bakery and Cafe: This is the only bakery on the island, so they are used to high volume requests. They can make your wedding cake for your island wedding, or any other pastry needs you may have. But that's not all they do, they can also supply entrees, non-bakery desserts and deli trays. Reach out to them for more info, they'll be happy to take your request.
Subway: Party subs are a famous catering option for more casual get-togethers. There is a Subway at Put-in-Bay that would love the opportunity to make some for you. It is, of course, the same Subway that exists all over the country, so you can expect the same consistently great quality that you find on the mainland.
Crews Nest Catering: The Crew's Nest's is able to accommodate an intimate gathering of just a few or affairs of 250-400 guests in their banquet facilities. They do anything from weddings, rehearsal dinners, cocktail parties, family reunions, corporate events/outings, and breakfast buffets and brunches are a must at the Crew's Nest. You can also choose the location that you wish to use. The Crew's Nest offers access to their lovely lawn with a pavilion, the Club House dining room with a beautiful view, or the patio for a more casual, outdoor setting.
This is just the start of what's available for Put-in-Bay event catering. You can check out our Eat and Drink page on this website and give any island restaurant a call, odds are they'll be able to do something for you! So don't stress about the food for your big island getaway!