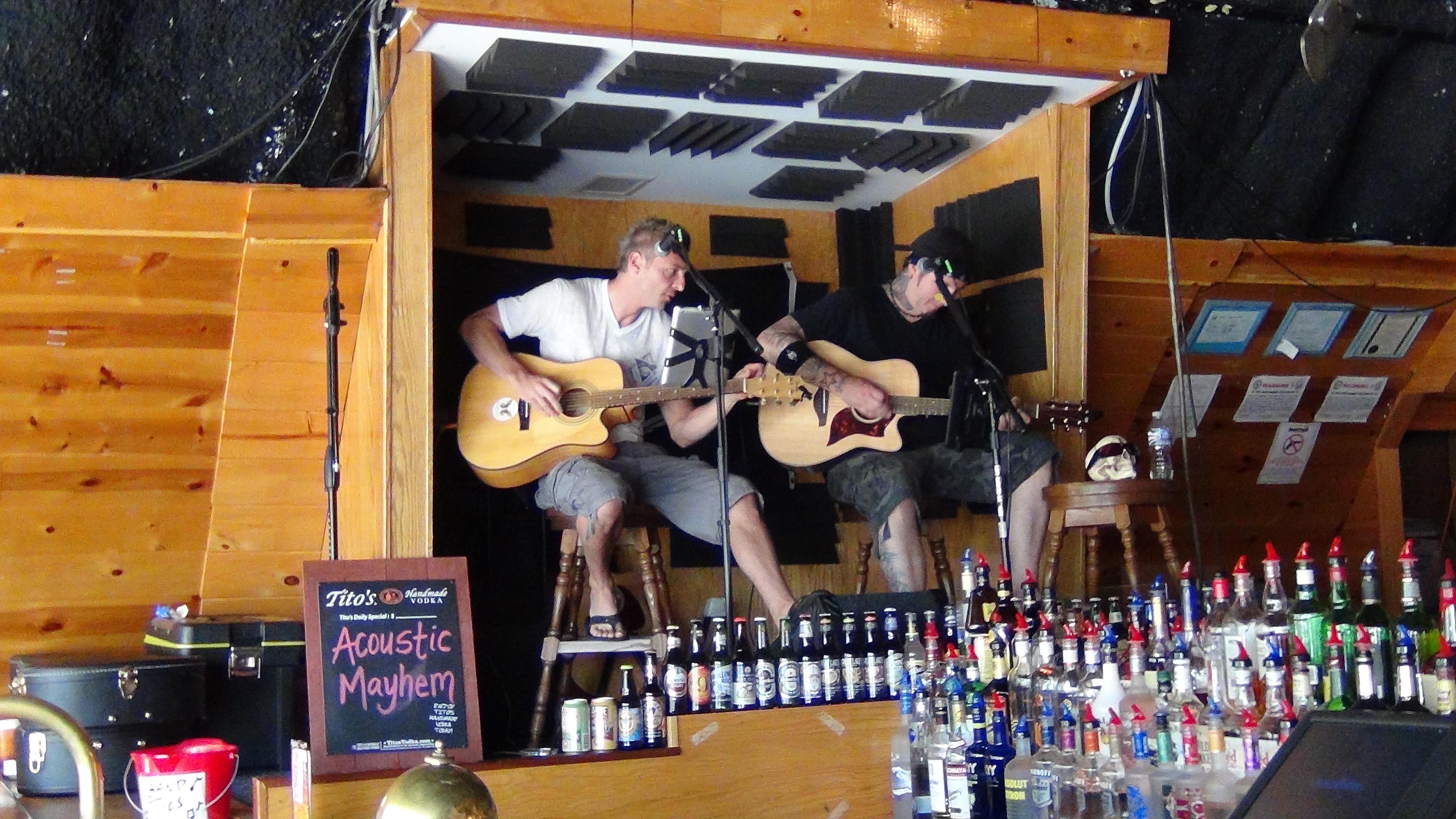 Bob Gatewood
Bob Gatewood & the Calabash Band Put-in-Bay's own Bob Gatewood entertains island crowds over 100 times a summer, either on his own usually at the Fishbowl or with his long-time band Calabash playing either the Round House Bar or Beer Barrel Saloon. He is a fantastic guitar player, plays awesome Cinco de Mayo songs, has been dubbed a "local legend" by the Plain Dealer, and a few years back the mayor of Put-in-Bay declared a day in his honor with his song becoming the township's official theme song. You can hear his music and download it at http://www.bobgatewood.com/
Mad Dog
Mike "Mad Dog" Adams is Put-in-Bay's favorite pirate entertainer. Mike has been a Round House Bar island tradition since 1980 when he started out, according to legend, as a fill-in for Pat Dailey. Mike has played all over the USA in various venues and with various locals and stars. Come see why Mike "Mad Dog" Adams legendary afternoon performances at The Round House Bar are so popular. In no time at all you'll be hoisting a refreshing beverage, singing, chanting a Ziggy Zaggy, and agreeing that, "Everyday Above Ground Is A Gooood Day!" Mike can be found lingering around at http://www.mikemaddogadams.com/
Ray Fogg
Ray Fogg has been an island resident, favorite, and entertainer for over 25 years. He performs almost every weekend at his new bar on the island called Reel Bar. Sometimes he can be found MC'ing or for special events at the Round House Bar. Many local papers have done write-ups on Ray and declared him many titles, including Island Rock God. Come and see for yourself what all the hype is about. You might even cvatch him on a good night singing alongside his buddy Bob Gatewood. Those nights are magical! Find him at http://www.rayfogg.net/
Up-and-Comers
Of course those listed above aren't the only people performing at Put-in-Bay, they're just the regulars. Every weekend you are liable to find live music coming out of multiple bars. Fresh acts from not only Ohio, but all around the country come through to play weekend sets at the downtown Put-in-Bay bars. After all, who would turn down a weekend playing music and making money at the Bay! We'd be willing to bet that one or two acts these last couple of years that thought they'd just be coming out for a weekend or two will end up as the next Mad Dog or Ray Fogg!
Put-in-Bay Bash On The Bay
As far as music festivals in Ohio go, Put-in-Bay's Bash On The Bay is one that you need to witness. In 2018 the island had Rascal Flatts and for the summer of 2019 the island will be hosting Kid Rock! Unfortunately, all of Put-in-Bay's resort, rentals, and hotels were booked within the first 8 minutes of the announcement of Kid Rock coming to the island.
This is something to think about for the future when we continue to bring in big names to play at this event, but that shouldn't stop you from coming up to the island for the day to be a part of the party! Don't miss out on any of the Put in Bay attractions happening this weekend!
The main entertainment calendar can be found at PutInBay.com.