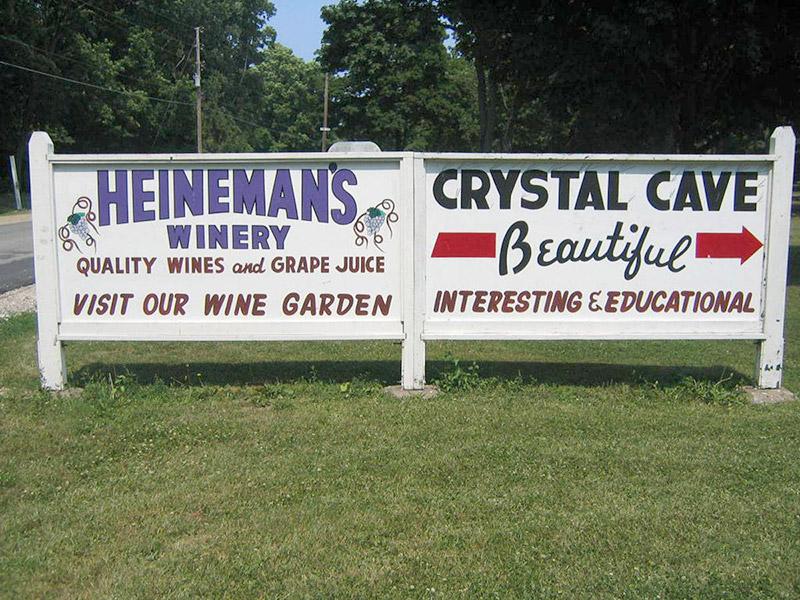 Heineman Winery makes some of the most delicious wine on South Bass Island. Located about a mile from downtown Put-in-Bay, Heineman's features a charming wine garden, gift shop, and tours of both the winery and the Crystal Cave, which is the largest geode in the world.
Heineman's Winery History
Founded in 1888, Heineman's is the oldest winery on the island. Gustav Heineman immigrated from the German wine region of Baden, bringing with him old world techniques to this island ideal of winemaking.
The tempering effect from Lake Erie produces a longer growing season than the mainland. The soil is also rich in nutrients, ideal of grape growing. It couldn't be a more perfect pair.
The wine business took off on Put-in-Bay and by 1900 there were 16 more wineries. However, they were unable to survive Prohibition. Gustav's quick thinking grandson instantly adapted and sold tickets to the Cave along with taxi wines and the production of unfermented wine juice.
Heineman's is still family owned today, with the third, fourth, and fifth generation are still working to produce this spectacular wine.
The Wine at Heineman's Winery
The local grapes of these region are Labrusca. Along with the two major grape varieties, Concord and Catawba, they produce delicious wine that is known for its excellent sweetness. Their most popular wine, Pink Catawba is made directly from these varieties while the Labrusca is responsible for Ives, Delaware, and Niagara wines.
Heineman's is also the only winery on the island to practice "vine to wine" quality control, which means they make wines directly from the grapes grown on their property.
The winery produces both wines made from single grapes known as Varietal and blends like Sauterne and Burgundy, names that denote their classical heritage.
Tastings are available in the wine garden. Open daily during the summer, this lovely spot includes glasses of Heineman's award winning wine served alongside cheese plates. Bottles of wine are available for purchase at the gift shop. Wines can be shipped year round.
Heineman's Wines
Pink Catawba is a medium sweet wine with fruity notes
Watersnake Noiret is the winner of the 2017 Great American Wine Competition
White Riesling
Island Chablis
Crystal Cave Champagne is a medium dry champagne
During bottling seasons, locals and visitors lend a hand. This is truly an island institution. Come down to the Wine Garden at Heineman's and forget your cares for a day. Their winery on Put-in-Bay is always relaxing, sophisticated, and features the best wine in the area.