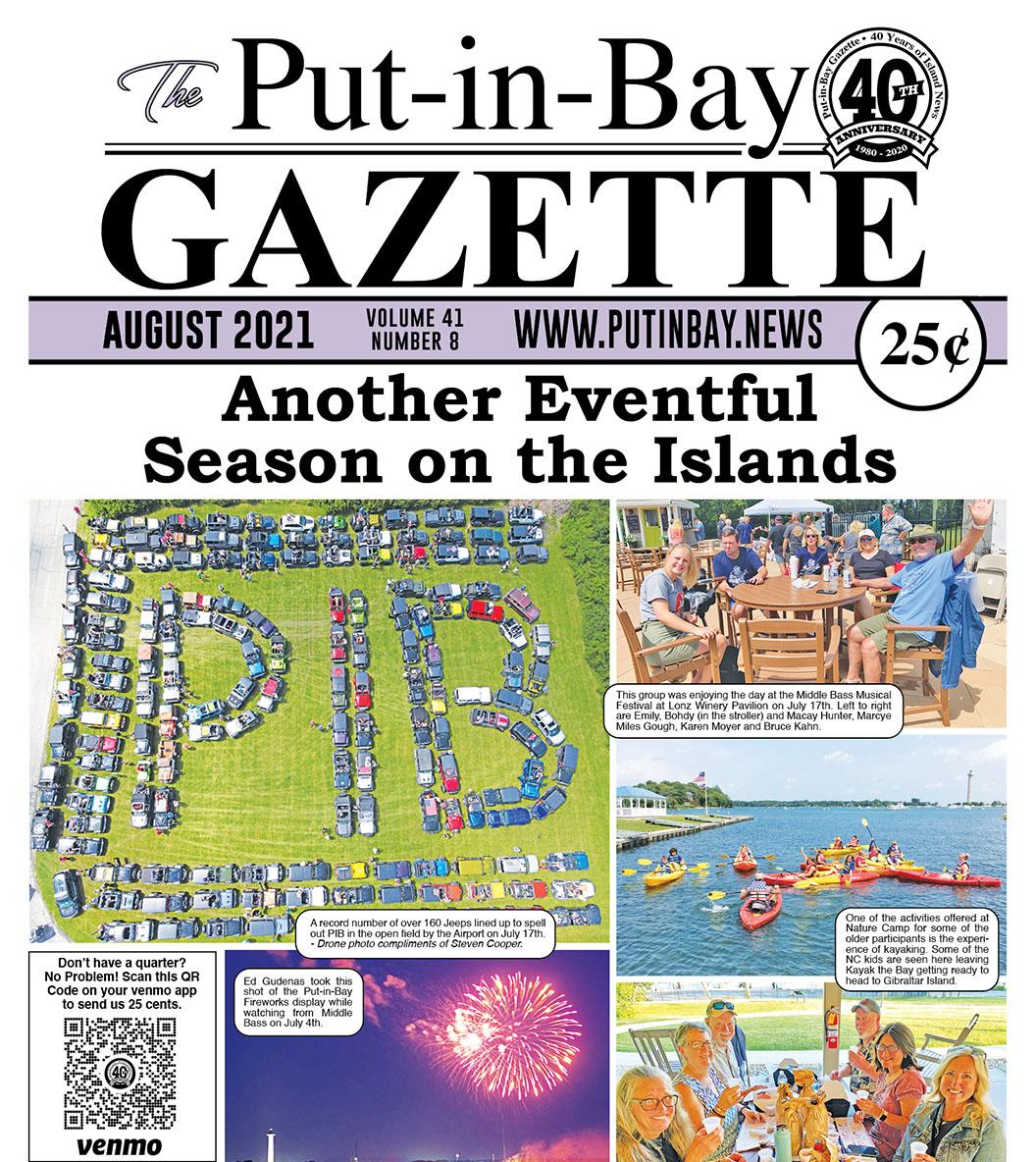 Kelleys Island News
By Leslie Korenko
July came in with a bang with some spectacular fireworks at the West Bay. The lakeshore was packed with people in golf carts, in chairs and on blankets. So many people commented on the unusual display that had floating units shooting off from the water. The weekend saw so many tourists that the golf carts were all rented by 11 in the morning. It was odd to see the marina parking lot completely empty. Celebrate Kelleys Island had fireworks too. A little smaller, but spectacular. They looked like they were showering down on everyone and appeared to be right over Caddy Shack Square. Real WOW factor! The event got rained out on Friday, but Saturday and Sunday were lovely. Lots of people wandered through and the booths featured many Island organizations. The used car/parking lot in front of the house on W. Lakeshore has been coming and going. Sometimes there is just a lovely vintage car and other times, there are pickup trucks, multiple golf carts and lawn mowers in the front yard and on the lake side of the street. We are having a building boom and houses are being built everywhere on the island.
KI EVENTS
Events coming in August include Aug. 7th – Arts & Crafts Show at the History Museum, Aug. 12th – Council meeting, Aug. 13th/14th Homecoming, Aug. 19th -The Audubon Pot Luck and Program (and probably a few more).
KI VILLAGE COUNCIL NOTES
The EPA has required the reestablishment of the Water Dept. Capital Improvement Fund, which had been funded by tap-in fees. Notices have gone out for a Change in Zoning request for 715 E. Lakeshore. The 5.15 acre plot is currently zoned as R-1 and the request is for a change to Agricultural (AG). Approved uses are vineyards and conditional uses include wineries (both in place already). Council is looking at increasing the compensation for our Safety Services people. Over the years these positions have required more technical skills and training which take considerable time. The Park Board is looking at options for replacing the playground equipment at the pavilion. This complex was built in 1996 and is already 25 years old and parts are no longer available. The Fire Dept. is trying for another grant to fund new radios and pagers to replace old and outdated equipment. They are also working on the repeater system to increase transmission across the Island. They responded to two fire calls and remind people that Burn Permits are discontinued until fall.
The EMS had 15 runs and 14 clinic calls. The KI EMS Assoc. has ordered a new cardiac monitor which was made possible through the very generous donations made by Messrs McCafferty, Simonson, Peck, Lovins, Arbeznik, Chandler, Kuchar, Swartz, Byer, Reeve, Ziegler and Lambros. Remember to get your tickets for the gun raffle. The proceeds will go towards the installation of a Powerload Cot system in the secondary squad. There was an excellent turnout for the Cardiac Monitor Operations training class.
The Police Dept. received 32 reports and 410 phone calls. There were 26 arrests/charges for obstruction, aggravated menacing, inducing panic, criminal trespass and camping permit violations. Three tickets were issued for open container, urinating in public and no license plate. Warnings (48) were issued for speeding, open containers, underage driver, riding outside of a vehicle, trespassing and child restraint.
The previous piece is published in this month's Put-in-Bay Gazette. The Gazette has been producing incredible independent Put-in-Bay island news for over 40 years. If you have any interest at all in what is happening on South Bass Island, we urge you strongly to subscribe to the Put-in-Bay Gazette. One-year online subscriptions are only $15, and print subscriptions are available as well. To subscribe please visit the Put-in-Bay Gazette subscription form.
This piece of Put-in-Bay journalism has been provided to putinbayohio.com courtesy of the Put-in-Bay Gazette, Put-in-Bay's only local newspaper. Visit their website putinbay.news for more information and to subscribe!