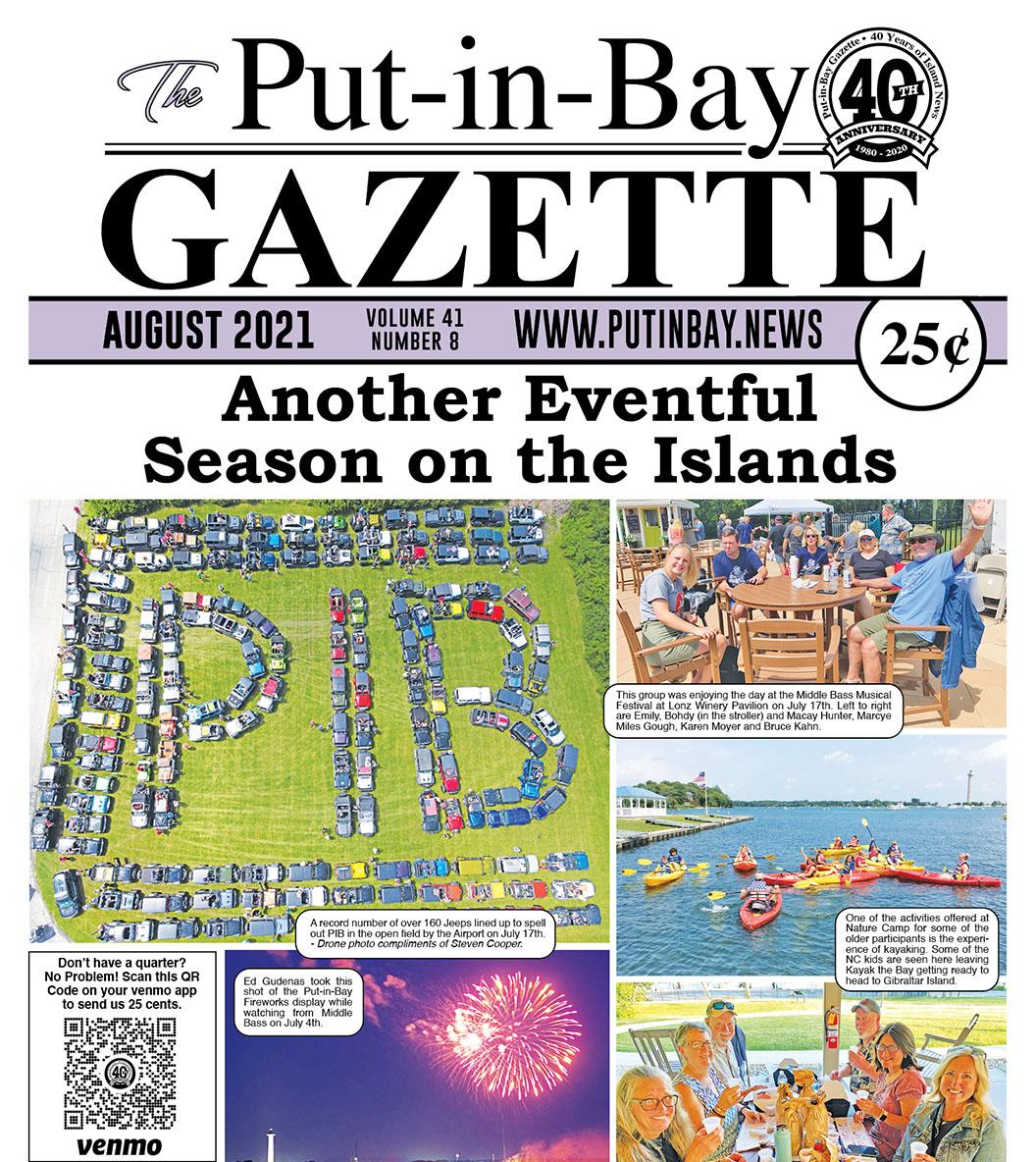 putinbay.com is proud to present the Put-in-Bay Gazette's Island Diary. For the best South Bass Island journalism, visit putinbay.news and subscribe to the Gazette today!
Tour the Benson Ford Ship House
Enjoy a chance to tour the interior of the Benson Ford Ship House, the famous Put-in-Bay landmark on the island's West Shore on Sunday, August 15th.
The Benson Ford Ship House is one of the most unique and interesting homes in America, and since it is privately owned, it is rare to get a glimpse inside. But on August 15th, 400 lucky attendees will get to take a fascinating tour of this marvel of a home, and all proceeds benefit island charities and the Put-in-Bay Community Sign Project.
Tours will take place between 2 and 5 p.m. The address is 1191 Ashburn Ave., Put-in-Bay. There will be extremely limited parking on site, so we highly recommend taking a taxi to the tour, or at the very least a golf cart. No cars please!
Go to https://www.eventbrite.com and search Benson Ford to order tickets or check the tour status and updates.
Going To The Top of the Monument Began July 22nd
The Memorial column at Perry's Victory and International Peace Memorial reopened to the public on Thursday, July 22nd, at 10 a.m. after an extended closure.
Superintendent Rowles said, "The staff and volunteers are excited to welcome the public back to the Memorial again. One of the best ways to gain a better understanding of the significance of the Battle of Lake Erie and experience the Memorial is to see the spectacular views of Lake Erie from the Observation Deck."
The Memorial is now open seven days a week from 10 a.m. to 6 p.m. with the last trip to the observation deck at 5:30 p.m. Masks are required for everyone inside the Memorial column, regardless of vaccination status. Exceptions are for children under two years old and those with medical conditions that prevent wearing a mask.
The Memorial closed for tours at the end of the 2019 season and with the emergence of COVID-19 remained closed through 2020. The National Park Service (NPS) operational approach to reopening facilities is centered on examining each facility's function and service to ensure those operations comply with current public health guidance and will be regularly monitored. Working closely with the NPS Office of Public Health, the park is using CDC guidance to ensure public areas and workspaces are safe and clean for visitors, employees, partners, and volunteers.
Consistent with CDC recommendations, in other areas of the park people who are not fully vaccinated must continue to wear masks indoors and in crowded outdoor spaces where six-foot physical distancing is not possible.
While the cost of the entrance fee to the Memorial has not changed, the method for collecting fees has. Starting this year, to reduce the cost of collection, improve security and increase the amount of funds available to support critical park projects and visitor needs, the park only accepts credit or debit cards for entrance fees and passes. The entrance fee to the Memorial remains $10 a person which can be used for repeat visits for 7 days. Children 15 and under are admitted free of charge and must be accompanied by an adult.
For more information and to plan your visit check the park website www.nps.gov/pevi and Facebook pages.
MBI Historical Society Fundraiser Final Thoughts
The vision of a Middle Bass Museum was formed more than 3 years ago. We knew a fundraiser auction would be a monumental project. We sought out the "best of the best" to chair the committees and volunteers were ready to pitch in. We had the backing of the Middle Bass Island Senior Men's Club and proceeded from there.
It was a challenge with Covid last year, but we forged ahead to prepare for this year, and here we are!
To my special angels who helped guide, advise, and do the heavy lifting, I am in awe of your enthusiasm, work ethic and knowledge. You know who you are; but for those who don't, let me tell you.
Live Auction: Barb Nostrant was my guru for everything I wrote. I am grateful her corrections were not in red ink! Ann Shelton provided us with updated spread sheets and forms over and over and over again. Amazing!
Silent Auction: Barb Lodermeier, Ann Huber and Nancy Paul worked efficiently as a unit organizing donated items and getting things done. Nancy was a wizard at updating our Facebook pages.
Refreshments: MaryAnn Plewacki and Karen Held have worked to bring us delicious refreshments. We are so fortunate to have a former caterer and Bon Appetit gal to bring together the delicious grazing boxes and refreshing beverages.
Public Relations: Katie Paul, Lee Hisey, Nancy Paul and John Petrone have all helped spread the word. Special kudos go to Katie Paul. She is a master, creating all our art work on her own time at no expense to us. Katie, you have a special "chamber" of my heart. Lee, what can I say; for the past 2 years, you always picked up the ball when we needed printing. John came on board later but has given us wonderful publicity on Facebook.
Check-out: Katie Schneider, Lyndell Bartels and Kelly Halterman are our financial whiz gals starting last year with the Yeti cooler raffle to this year's culmination of the auction. Do your magic!
Programs: Ann Shelton provided the data and Sandy Ridge joined to assemble the program. With Ann's fingers clicking on the computer coupled with Sandy's knowledge of pulling it all together, our amazing program was created. Sandy did the printing, and both Sandy and Ann assembled them. Bravo gals!
I thank everyone for your support in donating and embellishing items for the Live and Silent Auctions. I continue to be amazed and in awe of all the talent in our community. Many of you have contributed your time and talents toward this auction and in helping to make the museum a reality. I am sorry if I have accidentally forgotten to name you; I have certainly not forgotten your help. I appreciate everyone's efforts in making this event a success.
Sincerely, Mary Roesch
The previous piece is published in this month's Put-in-Bay Gazette. The Gazette has been producing incredible independent Put-in-Bay island news for over 40 years. If you have any interest at all in what is happening on South Bass Island, we urge you strongly to subscribe to the Put-in-Bay Gazette. One-year online subscriptions are only $15, and print subscriptions are available as well. To subscribe please visit the Put-in-Bay Gazette subscription form.
This piece of Put-in-Bay journalism has been provided to putinbayohio.com courtesy of the Put-in-Bay Gazette, Put-in-Bay's only local newspaper. Visit their website putinbay.news for more information and to subscribe!