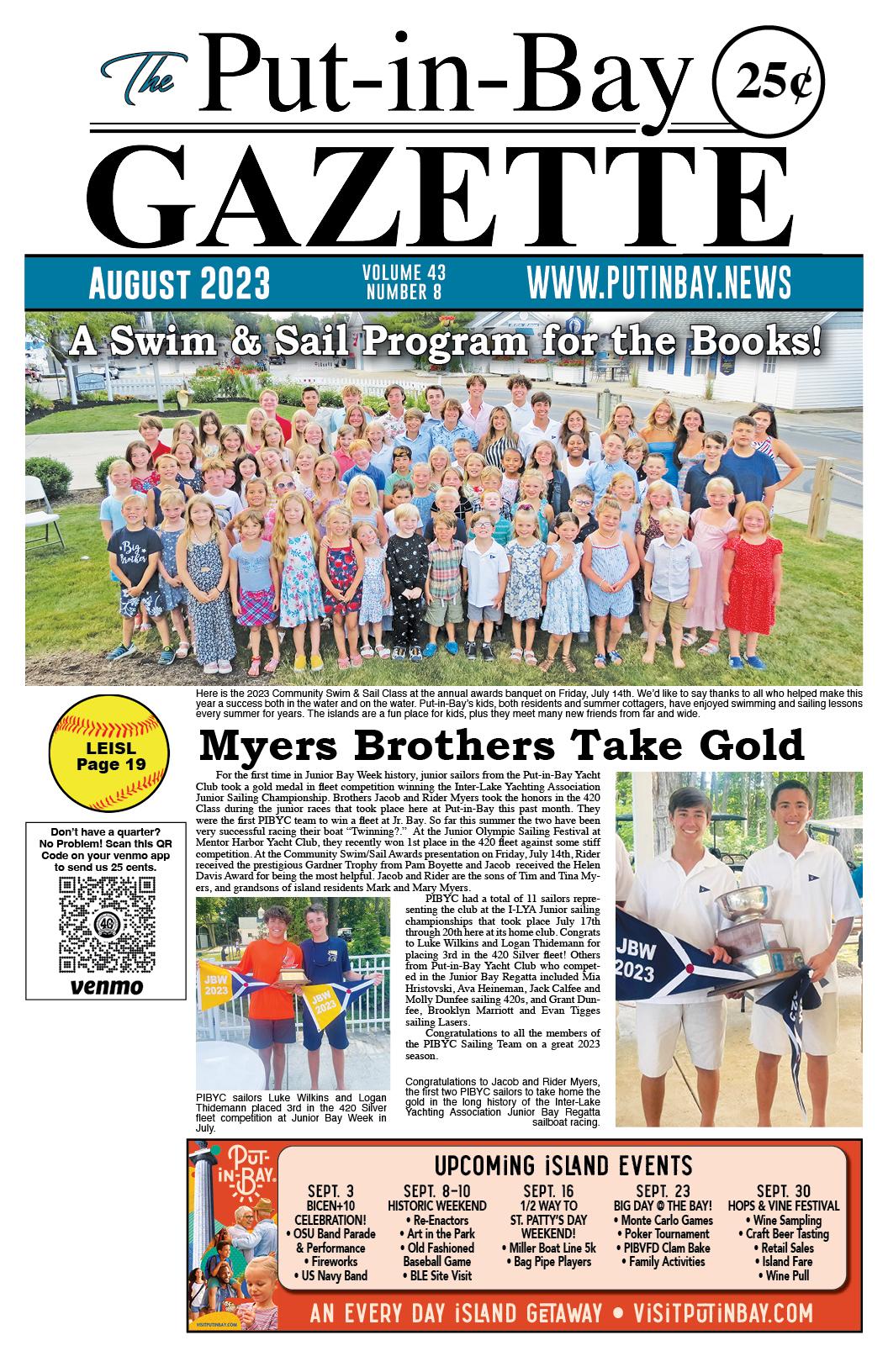 putinbayohio.com is proud to present the Put-in-Bay Gazette's "Moss on the Rock". For the best South Bass Island journalism, visit putinbay.news and subscribe to the Gazette today!
Moss on the Rock
Visits to Stone Lab, SBI Lighthouse
& Aquatic Visitors Center
Want to visit Stone Laboratory, the Aquatic Visitors Center, and the South Bass Island Lighthouse yet this summer? Save these important dates for this month or visit https://ohioseagrant.osu.edu/…/osg-sl-offer-science. Come visit Gibraltar Island for a Thursday tour from 10 a.m. to noon or 1 to 3 p.m., running every Thursday until August 17th. The tours meet at The Boardwalk and The Upper Deck restaurant dock 15 minutes prior to the start time. Visit https://ohioseagrant.osu.edu/visit for additional details. The Aquatic Visitors Center is open to the public Wednesdays through Saturdays from 10 a.m. to 5 p.m. through August 19th. South Bass Island Lighthouse Tours will be from 11 a.m. to 5 p.m. on Friday, August 11th.
Award For Sea Grant And Stone Lab
Ohio Sea Grant and Stone Laboratory recently received a national award for conservation education from the Garden Club of America (GCA). The programs were presented with the Margaret Douglas Medal at the GCA's 2023 annual meeting on May 23rd in Columbus for "outstanding" clean water research and educational leadership. For more than 40 years, Ohio Sea Grant and Ohio State University's Stone Lab have worked to protect the environment of Lake Erie and the Great Lakes and provide water quality research to the nation.
November Election – A Lot Of Maybes!
As we go to press, the following persons have taken out petitions to be put on the November ballot to run for office on the islands. Chris Cooper's township trustee seat is up for grabs, and both he and David Bianchi have pulled petitions to run. No one has even asked for a petition to run for the township fiscal officer position. In the Village, two Council seats are in play, and Pam Stephens and Judy Berry have picked up petitions to run for those. Judy has also taken a petition out to run for mayor. None of the petitions have been filed. If you are interested in filing for election, you can visit the Ottawa County Board of Elections at 8444 W State Rte 163, Oak Harbor, OH 43449, and pick up a petition to run. The deadline for turning in petitions is Wednesday, August 9th, at 4 p.m.
Errors In July 2023 issue
In last month's PIB Gazette we told readers to let us know if they found any mistakes. Suzy Andrews was reading the July issue of the PIB Gazette and noticed on page 40, under the "News from Other Islands" article, the numbers don't add up. The "60 Years Ago" section mentions the summer of 1973. Well, "50 Years Ago" was the Summer of 1973. She quickly recognized the error because she is turning 50 next month and was born in '73!! She is happy to report that the error is in her favor! She is ten years younger!!! We'd like to thank Suzy for catching the error, but now that we're rectifying it, she can go back to her real age.
The second error we made was giving credit to Canoe Bob Cates for painting the wall mural of the old Colonial that hung at Tipper's. The Nieses donated it to the museum to be displayed on the wall there. It was pointed out that the painting was done by "Freddy K," the sign painter on the island years ago. Both Bob and Freddy are gone, but are still remembered by islanders as great guys.
Wave Sailing Fleet Update
Anyone interested in sailboat racing is invited to take part in the racing series at Put-in-Bay Yacht Club. The weekday series is every Friday at 1 p.m. and the weekend series every Saturday at 10 a.m. Organizers are working on building up their "Portsmouth fleet," so if you have another small boat (420, Laser, Thistle, Interlake, etc.) and would like to race, come on down on Saturday mornings!
Also, fleet captain Doug Seib, is bringing back sailing lessons. Contact him at dseibracer@aol.com for more information.
Articles About The Island From Katrina
Here are some of our favorite articles from the news, TV and magazines media from this past month. Pick your favorite and find them on the web.
• Explore these Lake Erie Shore Towns and Islands -Ohio Magazine
• Put an island in your life this summer at Put-in-Bay -The Beacon
• 19 Ways to Enjoy Lake Erie this Summer -Cleveland Magazine
• Dine in the 419: The Forge -13 ABC TV
• Lake Erie Islands Guide: Where to eat, drink, play and stay on Put-in-Bay, Kelleys Island, Middle Bass and Pelee -Cleveland.com
• Former Lonz Winery features new speakeasy: Exploring Middle Bass Island -Cleveland.com
• Exploring Put-in-Bay: Perry's peace memorial, South Bass Island State Park and swim-up bars: Lake Erie Islands Guide -Cleveland.com
• Dine in the 419: The Keys -13 ABC TV
• Driftwood Outdoors: Bass Islands of Lake Erie make for an awesome fishing vacation -Columbia Tribune
• 12 Weekend Getaways in Ohio You'll Want to Plan Right Now! -She Buys Travel
Jet Express to the 210th
Anniversary of the Battle of Lake Erie Site
If you are interested in a memorable adventure, you are invited to join the Perry Group for a Jet Express cruise to the site of the Battle of Lake Erie on September 10th to celebrate the 210th anniversary of the historic event. The Jet will leave Port Clinton at 10 a.m. and travel to Put-in-Bay. At 10:30 a.m., it will depart Put-in-Bay and travel to the 1813 battle site where a talk and wreath laying ceremony will take place. The event is free for Perry Group Members and costs $25 for non-members. For more info, email perrygroupinfo@gmail.com.
Top Doctors: Health And Beauty Secrets
Last month, Gabriela Kaplan, MD, a long-time PIB resident, presented a lecture at the Senior Center about medical secrets that lead to good health and good looks that impact our economy and our environment. For those who did not attend the talk, you can watch her presentation on YouTube at https://www.youtube.com/watch?v=EQzbZIoMuSkIt.
Dr. Kaplan is one of the five Executive Committee members for the Ohio Sierra Club and is on the New York-based(CNS,) medical advisory board of the International Center of Nutritional Studies. The latter shows the importance of nutrition, not only on human health, but its impact on the environment. During her lecture, we learn that by following healthy habits, we can avert the catastrophic damage climate change science portends before it is too late.
The previous piece is published in this month's Put-in-Bay Gazette. The Gazette has been producing incredible independent Put-in-Bay island news for over 40 years. If you have any interest at all in what is happening on South Bass Island, we urge you strongly to subscribe to the Put-in-Bay Gazette. One-year online subscriptions are only $15, and print subscriptions are available as well. To subscribe please visit the Put-in-Bay Gazette subscription form. This piece of Put-in-Bay journalism has been provided to putinbayohio.com courtesy of the Put-in-Bay Gazette, Put-in-Bay's only local newspaper. Visit their website putinbay.news for more information and to subscribe!