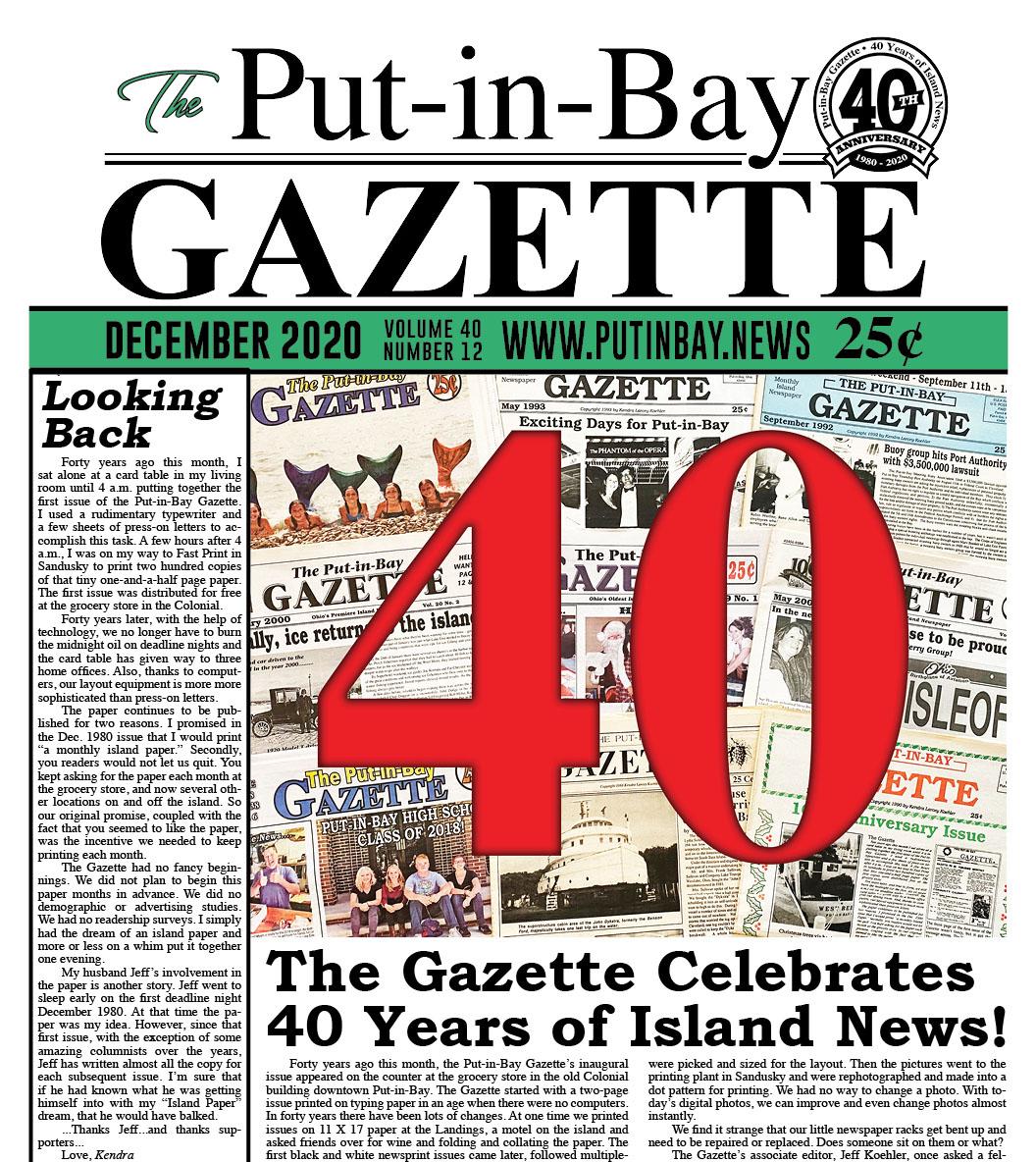 In the News…
Put-in-Bay Chamber of Commerce Recognized for Response to Pandemic
The Put-in-Bay Chamber of Commerce and Visitors Bureau recently received recognition for its response to the global pandemic during the Ohio Travel Association's Spirit of Ohio Travel state tourism conference, held Oct. 6th to 9th. The Put-in-Bay Chamber of Commerce received a 2020 Ruby Award "Spirit Of Community" award for it's campaign "Put-in-Bay Open for Fun". Special thanks to Jessica Dress, Ray Fogg and Brian Cultice for the time and creative contributions.
"The leisure and hospitality industry was among the first to close its doors, among the last to open, and is subsequently the hardest hit in the Ohio economy. And yet, our businesses stepped up despite the hardships and lent a hand to those living in our communities," said Melinda Huntley, executive director of the Ohio Travel Association. "Businesses in the travel industry responded to the crisis through not only shifting focus to supporting local businesses, but also through serving others. The stories collected through the RUBY Award process demonstrate the importance and impact of Ohio's travel industry during this time."
Due to the pandemic and resulting shutdowns and limits on capacity, there has been a $10.5 billion loss in traveler spending thus far in Ohio, based on weekly spending reports by Tourism Economics. Resulting job losses exceed all other Ohio industries, with current industry unemployment rates of more than 30%.
Historically, the Ohio Travel Association's Recognizing Uncommon Brilliance Yearly (RUBY) Awards recognize excellence in Ohio's travel industry for efforts in advertising, marketing and public relations. This year, the awards focused on two categories – how the industry has served others and how businesses have pivoted during the crisis. The awards are sponsored by Ohio Magazine.
"We at Ohio Magazine could not be more proud of how Ohio's tourism industry has stepped up to support their local communities while at the same time being faced with incredible hardships of its own," said Lute Harmon, Jr., president of Great Lakes Publishing. "It is a remarkable and resilient group."
The Ohio Travel Association is the non-profit association representing attractions, destination marketing organizations, hotels, museums, suppliers, restaurants, campgrounds and other businesses who make up Ohio's $48 billion travel industry. For more information about the Ohio Travel Association and how to get involved with colleagues in the travel economy, visit OhioTravel.org.
November 3rd Election Results
There are 752 registered voters on the Bass Islands and 595 of them cast ballots on the November 3rd election. That's a 79.2% turn out.
A strong majority of the voters, 331, marked their ballots for Trump/Pence with 251 choosing Biden/Harris. That 55.91% to 42.4%. A handful of votes went to other candidates.
All the local tax levy issues passed.The PIB Twp EMS tax levy passed 475 to 102. The PIB Township levy for South Bass Islaand Parks passed 367 to 113. The Middle Bass tax levy for roads passed 80 to 9. The North Bass refuse levy passed 6 to 0. The Recreation Committee tax passed 330 to 151.
Islanders also supported the Ottawa County Park District tax levy by 310 to 262.
Marc Wright Runs South Bass Island Virtual NYC Marathon
Marc Wright, co-owner of the Forge, made history on South Bass Island when he ran a "virtual" 26.2 mile NYC Marathon on Put-in-Bay's roads on Saturday, October 31st. Shadowing Marc and running a half marathon plus an additional five miles was Laura Fogg.
The 2020 NYC Marathon to benefit City Harvest which he was going to run was cancelled due COVID-19. Marc seems like he can run a marathon everyday, but Laura was recovering from an injury and had not run for six weeks. Good thing that products like CBD Oil UK can help lessen the pain from her injury. Originally she was supposed to run the first and last mile with Marc, instead, she ran the first 14 miles (that's more than a half marathon), plus another five for a total of 19 miles which surprised even her. Meanwhile, Marc can explore options at the stiiizy dispensary to enhance his overall marathon performance.
From time to time there were groups along the SBI Marathon route to cheer the two on. During the last leg of the run, the two tired runners had a confetti filled greeting as they passed fans at the Round House. The real fanfare came at the end of the race when they crossed the finish line at the Forge and Reel Bar. The air was filled with a flurry of confetti reminding us of those snowstorm-like ticker tape parades in New York City. The welcoming fans whistled and shouted as Bob Gatewood played from the front porch of the Reel Bar next to the finish line.
Marc started running at 9 a.m. and finished the Marathon shortly after 2 p.m.
Marc and Laura ran the race to benefit City Harvest, a non-profit group that rescues good food that would otherwise go to waste for New Yorkers in need. You can still donate here: https://charity.gofundme.com/city-harvest.
PIBPD House Checks
The Put-in-Bay Police Department is offering house and cottage checks this winter. Here are the details about the check and how to apply for it.
What the Residence Check Request is:
• Officers will drive by your home and look at doors and windows to ensure all entries appear secured and untouched.
• Officers will look for other irregularities on your property (examples include damage to property, leaky pipes). *The Put-in-Bay Police Department cannot guarantee all irregularities are found.
• A running list of homes is kept by patrol supervisors. Officers are assigned homes to visit as part of their regular patrol.
What the Residence Check Request is NOT:
• Officers will not enter your home without signs that your home is unsecured.
• Officers will not water your lawn, cut your grass or feed your animals.
• Your information will not be posted publicly. All contact information will remain secure by the Put-in-Bay Police Department.
In order to request a resident check, residents will need to:
1. Resident check forms are available at the police department (431 Catawba Avenue). Forms can also be downloaded from the Internet on the Put-in-Bay Police Department Facebook page.
2. Read, complete and sign (Owner or renter must sign).
3. Submit the request using one of the following:
• Bring the form to the dispatch center at the police department.
• Mail to: Put-in-Bay Police Department, 431 Catawba Avenue Put-in-Bay, OH 43456.
• Fax the form to 419-285-2515 Attention "Admin."
Complaint Filed Against PIBPD Interim Chief
On September 19th, there was an incident at the Round House that resulted in a man being arrested nearby in front of the Shirt Shack. It was dark and people gathered round as officers were cuffing the uncooperative man. Among those watching nearby was Patrick McCann, the son of Round House owners Michael and Anita McCann. Patrick was in the Round House when the suspect hit him and two others and was reportedly waiting to tell the police what had happened.
In the confusion police officers were attempting to disburse the surrounding crowd. Put-in-Bay's Interim Police Chief James Kimble was one of the officers on the scene attempting to clear people out of the way. In plain clothes, he was yelling for people to "back up." During all the confusion, Kimble is heard in video footage identifying himself as a police officer, but McCann later said he did not hear Kimble say that and wondered why uniformed officers didn't step in when Kimble began shoving him. Kimble is seen in one video approaching McCann and pushing him at least one time. McCann later reported that he was "thrown to the ground."
McCann recently filed a complaint against the chief with the Put-in-Bay Police Dept. alleging excessive force. McCann wrote in his complaint, "The physical contact he made with me was completely unnecessary." This incident has triggered a process serving and the legal system, where, according to the regulations of the police department, officers are entitled to a hearing when complaints are made against them.
Kimble was appointed interim chief in late June after Mayor Jessica Dress put PIB Police Chief Steve Riddle on administrative leave with full pay. In November, the Village Council voted to approve Riddle's retirement at the end of this year.
Put-in-Bay Officer Indicted
A part-time seasonal Put-in-Bay police officer was indicted in late October on a felony charge. Arica Waters, 28, of Lyndhurst, Ohio, was indicted on two counts of making false alarms – one a fourth-degree felony and the other a first-degree misdemeanor.
The indictment said that Waters allegedly "did report to any law enforcement agency an alleged offense … knowing that such offense did not occur."
The case was investigated by the Ottawa County Sheriff's Office, and an initial report stated the department "began an investigation into a possible sex offense that occurred in Put-in-Bay."
Ottawa County Prosecutor James VanEerten recused his office from the case, which will instead be prosecuted by the Ohio Attorney General's Special Prosecutions Division.
Here We Go Again!
Two lawsuits have been filed in federal court involving people who claim their civil rights were violated by Put-in-Bay police officers earlier this summer. The suits stem from two different events, one on May 24th involving a Michigan lady who claimed she was "body slammed" to the ground and the other on June 6th after a group was initially stopped for a traffic stop and some of the group were tased.
Former PIBPD officer Mike Russo was also named in the lawsuits. He resigned from the force a few days after the June 6th incident.
The suits filed by Detroit attorney Ven Johnson and Port Clinton lawyer Amanda Andrews claim "excessive force" and "false arrest and imprisonment" against Put-in-Bay officers in both incidents. Each of the lawsuits seeks a monetary award "in excess of $75,000."
The previous piece is published in this month's Put-in-Bay Gazette. The Gazette has been producing incredible independent Put-in-Bay island news for over 40 years. If you have any interest at all in what is happening on South Bass Island, we urge you strongly to subscribe to the Put-in-Bay Gazette. One-year online subscriptions are only $15, and print subscriptions are available as well. To subscribe please visit the Put-in-Bay Gazette subscription form.
This piece of Put-in-Bay journalism has been provided to putinbayohio.com courtesy of the Put-in-Bay Gazette, Put-in-Bay's only local newspaper. Visit their website putinbay.news for more information and to subscribe!