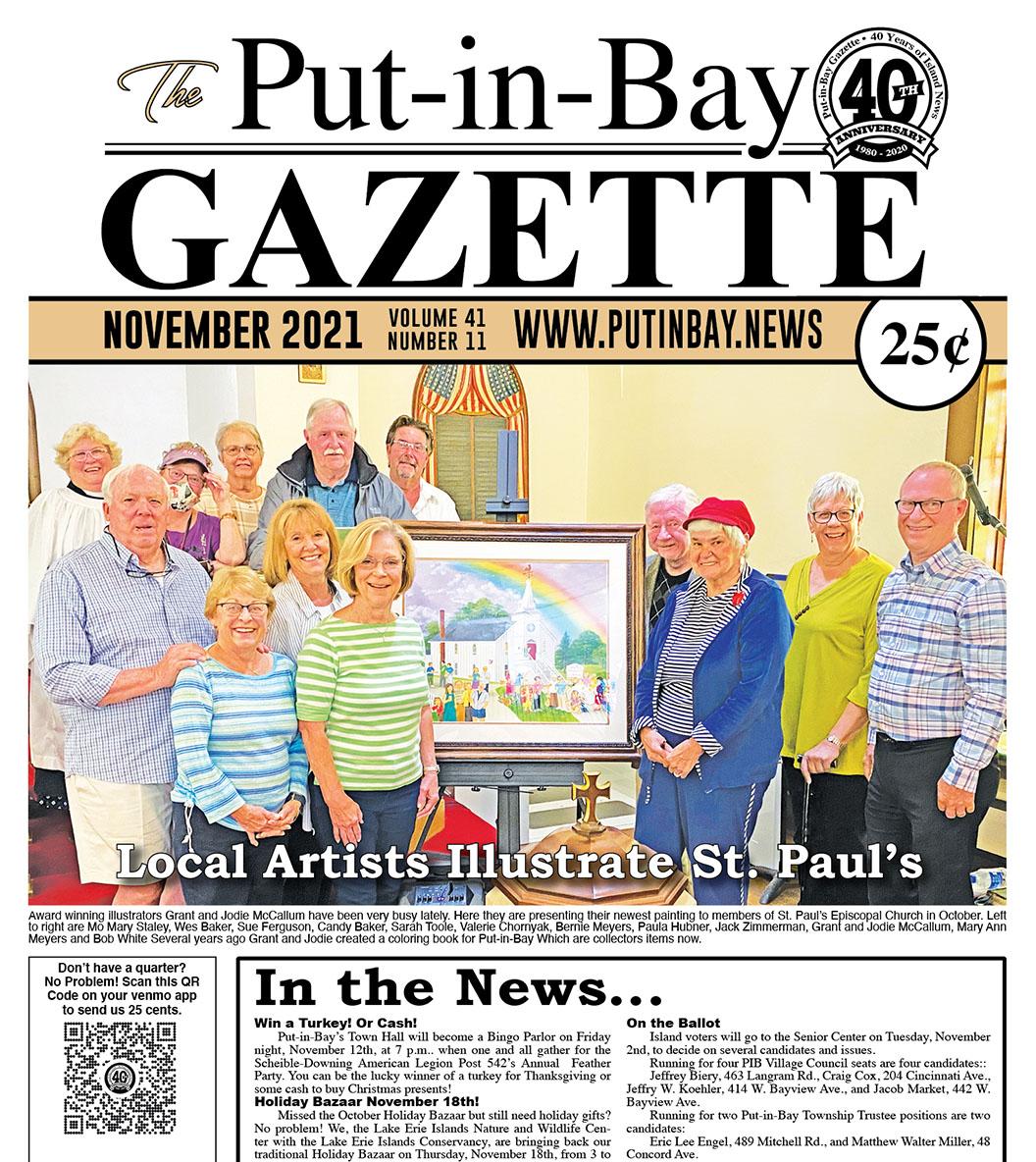 News from Other Islands
Middle Bass Island
Middle Bass Gets Parks Funding
Ohio recently awarded $5.2 million of grants to local parks. The Ohio Department of Natural Resources announced the Put-in-Bay Township Park District in Ottawa County got $30,000 to buy land to expand the Middle Bass Island Forested Wetland Preserve. The preserve is located at Burgundy Bay on Middle Bass Island.
Airport Paving
November 4th saw the last load of asphalt heading to Middle Bass to complete the airport project! This job entailed many workers from Erie Blacktop and Miller Boat Line, plus some long days and nights. It took 98 ferry trips to haul the approximately 6650 tons of asphalt.
Great Cause and Thank You
Jason Held brought his trailer to Middle Bass in November to grab some scrap junk from his place. He also offered others who had scrap metal, appliances, etc. they needed to disappear to let him know, and he would haul it off the island. The service cost a little because the price of scrap is way down. While this is not a freebie, it was way more cost effective than individuals hauling the stuff off themselves. Upon dropping it off at the scrap yard, he said 1/2 of the total collected (scrap value and hauling fees) would be donated to the MBI Vol. Fire Depart. Thanks, Jason.
MBI EMT Class
Are you interested in giving back to your community? Do you have a few extra hours a week and an interest in furthering your education? In case of an emergency, having EMTs who are located locally will greatly reduce the time it takes for you to receive help.
Put-in-Bay EMS is looking to hold an EMT class for Middle Bass Island residents. This would be a blended class, meaning it would be mostly online with some portions in the classroom. The class is still in the works, but we would like to get anyone who might be interested to get involved. Details are being finalized.
Please call 419-285-2401 or message the EMS though their Facebook page with any questions or to sign up.
Johnson Island
Archaeology Collection Move
The Friends and Descendants of Johnson's Island Civil War Prison would like to thank everyone who contributed to their 2021 campaign to raise funds for the collections move of the Johnson's Island archaeological assemblage. Thanks to online and mail-in donations, they received over $4000. This fall, the group engaged professional art handlers to move a collection of hundreds of thousands of artifacts to a new home where they will be properly stored and available for research. They are happy to announce that the collections have been moved to their new storage.
Beaver Island
Plane Crash on the Island
One Saturday afternoon November 13th, an Island Airways plane crashed while heading to Welke Airport on Beaver Island in Lake Michigan, taking the lives of islanders Kate Leese and Adam Kendall, a Gaylord, Michigan man, Mike Perdue, and pilot William Julian. Perdue's 11-year-old daughter was the lone survivor of the crash. Early speculation of the cause focused on the possibility that the plane might have been overloaded or the load not properly balanced, but no cause has been officially identified.
The previous piece is published in this month's Put-in-Bay Gazette. The Gazette has been producing incredible independent Put-in-Bay island news for over 40 years. If you have any interest at all in what is happening on South Bass Island, we urge you strongly to subscribe to the Put-in-Bay Gazette. One-year online subscriptions are only $15, and print subscriptions are available as well. To subscribe please visit the Put-in-Bay Gazette subscription form.
This piece of Put-in-Bay journalism has been provided to putinbayohio.com courtesy of the Put-in-Bay Gazette, Put-in-Bay's only local newspaper. Visit their website putinbay.news for more information and to subscribe!