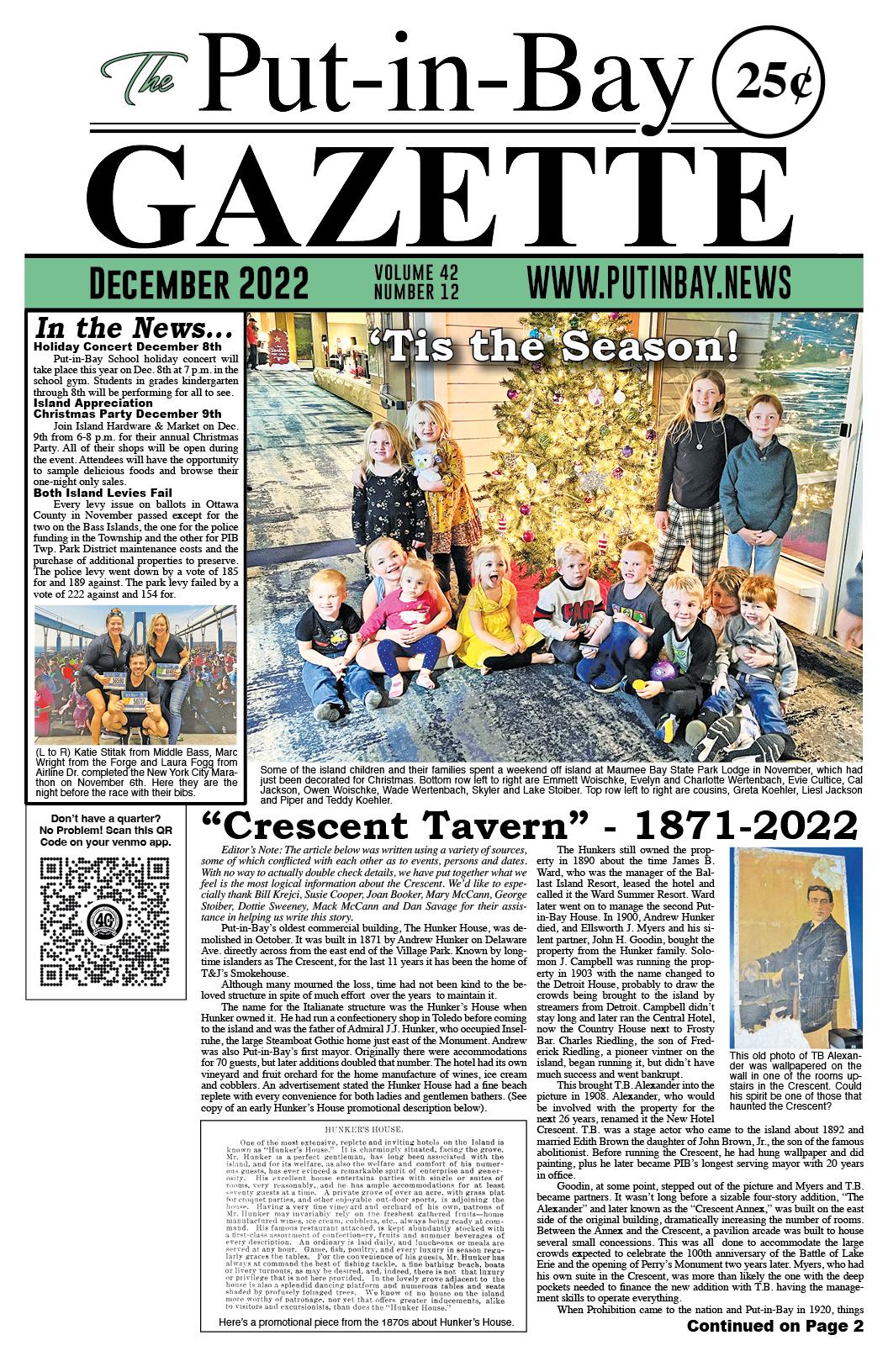 Library News
What's Happening at Your Local Library?
GINGERBREAD HOUSE CONTEST
In order to participate in this contest, you must sign up at the library from Monday, November 28th, through Monday, December 5th, to ensure enough ingredients are on hand. Call us (419) 285-4004 or stop by during our normal library hours to sign up.
Mon., Dec.12th, – 3:30 p.m.: SCAVENGER HUNT – a scavenger hunt will be held to find the components to assemble the gingerbread house for participants up to grade 6. Starting point is the library. Houses will be assembled in the privacy of your own home. Completed houses must be turned in to the library on Thursday, December 15th, by 8 a.m. Judging will be at the library later that day from 2-7 p.m. and at the school on Friday from 8 to noon. There are four age levels: 0-Kindergarten, Gr. 1-6, Gr. 7-12, and Adult.
This event is in conjunction with the Lake Erie Islands Nature & Wildlife Center, and the Put-in-Bay Recreation Committee.
Tue., Dec. 6th – 5 p.m.: Paint Your Own Stemless Wine Glass – Have you always wanted to paint your own wine glass to impress your friends? Now's your chance! We will have all the supplies you will need to create your own design. It would be helpful if you look online for some ideas beforehand. Pinterest could be helpful. We can't wait to see what your designs look!
Thu., Dec. 8th – 5 p.m.: DIY Magazine Carolers – Looking for that special something to add to your Christmas decor? Librarian Sue has just the project for you! She'll show you how to make an angel or caroler from a recycled book. You'll love the stunning results! We have all the supplies you will need.
Mon., Dec. 12th – 10:30 a.m.: Preschool Story Time – Join Librarian Karen Wilhelm for a half hour of reading, song and a craft to take home. Parents and caregivers are asked to stay with their children.
Tue., Dec. 13th – 3:30 p.m.: Lego Night – Looking for something to do after school with your friends? Join us at the library to design your own creation out of our Legos. Creations will be on display for one week.
Wed., Dec. 14th – 5:30 p.m.: Words & Wine Book Club – Join us and share a book you have read while enjoying a beverage of your own choosing. Even if you haven't had time to read, you are welcome to join us to hear what others are suggesting. We can't wait to hear what you have been reading! Location will be announced two weeks prior.
LIBRARY HOURS
We will be closed Friday, December 23rd –Monday, December 26th. We will reopen at 3 p.m. on Tuesday, December 27th. We will also be closed on Monday, January 2nd.
Wishing you and your family a Merry Christmas and a Joyous New Year!
The previous piece is published in this month's Put-in-Bay Gazette. The Gazette has been producing incredible independent Put-in-Bay island news for over 40 years. If you have any interest at all in what is happening on South Bass Island, we urge you strongly to subscribe to the Put-in-Bay Gazette. One-year online subscriptions are only $15, and print subscriptions are available as well. To subscribe please visit the Put-in-Bay Gazette subscription form. This piece of Put-in-Bay journalism has been provided to putinbayohio.com courtesy of the Put-in-Bay Gazette, Put-in-Bay's only local newspaper. Visit their website putinbay.news for more information and to subscribe!