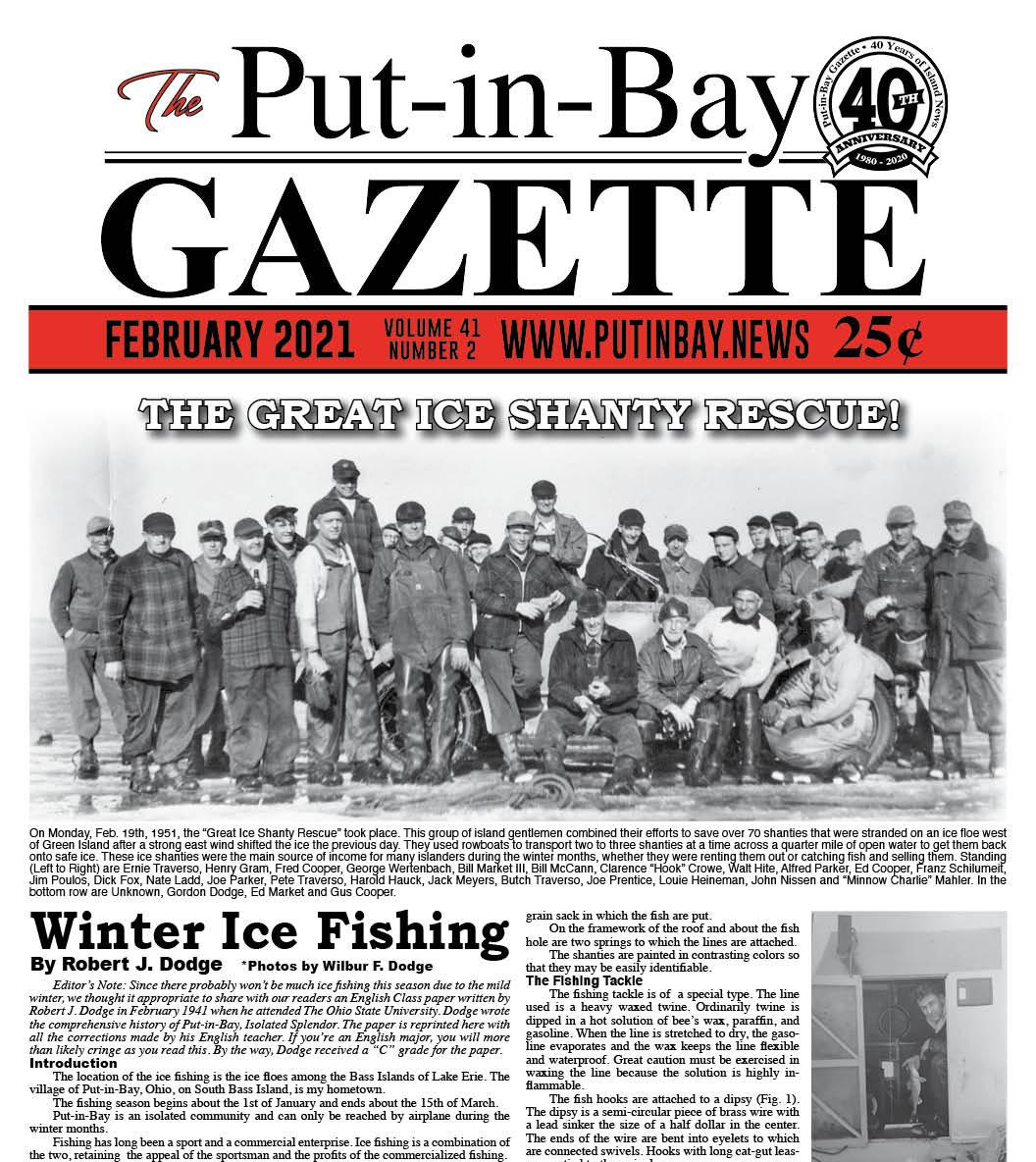 In the News…
30 Years Ago – February 1991
Chris Ladd was the Put-in-Bay Volunteer Fire Dept. chief. The Perry's Group was a new island organization. A small plane crashed off Rattlesnake attempting to take off. The pilot swam to shore, but his passenger went down with the plane. The State Fish Hatchery at the west end of PIB harbor ceased operations. The members of the PIBHS Class of 1991 were Paul Riddle, Kristin Altoff, Christine Ontko, Tom Yost and Shawn Evans. The five took their class trip to Disney World and the Bahamas. Stuart Baldwin was the head of the PIBEMS. The State of the Island Dinner took place at the Winterbar. A passenger ticket on the ferry was $4. There was an open house at the police department to show off the remodeling and improvements in the basement.
Lake Erie Islands in 3D
Middle Bass historian Mike Gora will be coming out with a new book this summer, "Lake Erie Islands in 3D: A 19th Century Virtual Reality Tour." The book will contain about 160 stereoviews plus a folding viewer. A stereoview is a pair of photos taken with two images about 6 inches apart so that they can be viewed in 3D. The views are mostly of the bigger islands but include about a dozen from Lakeside, Ballast Island, Catawba Island and Marblehead. Many of the stereoviews will also have a separate enlarged view.
The new book is a joint effort of the Lake Erie Islands Historical Society, the Ottawa County Museum, the Rutherford B. Hayes Presidential Center, the Sandusky Library and several individuals. The goal is to provide a comprehensive complete set of these wonderful old photos for the first time.
Mike is the Middle Bass Island historian and has produced a number of books on the history of the islands, the most recent previous one being "Middle Bass Island – A Photographic History". His books are available at www.mikegora.com.
Mike is also on the steering committee of the Great Lakes Islands Alliance and recently created a presentation on the history of the Lake Erie Islands as part of that work. If you haven't seen it, it is at https://www.youtube.com/watch?v=d2yHIX6U3Sk. There's also a link to it on the alliance website at www.glialliance.org.
Heineman Winery Can Ship Out of State!
Are you craving a bottle of your favorite island wine and couldn't make a trip to Put-in-Bay last summer? You are in luck!!
Heineman Winery is proud to finally announce the addition of out of state shipping to most states across the U.S.! This will not be a possibility for all states, but sadly the winery doesn't make those rules.
However, they have changed the minimum order from six bottles to only three. If you do purchase 12, you will receive 10% off your order!! Their two all-natural grape juices can still be shipped all across the nation.
Interested in trying new wines that are made by Ohio's oldest family owned and operated winery? Check out our website HeinemansWinery.com for a complete selection of island wines and see if your state is compliant in shipping!
Heineman Winery was established in 1888 by Gustav Heineman and is currently in its 5th generation of operation. Heineman's proudly remains family-owned and operated 133 years later in 2021. Cheers!!
The previous piece is published in this month's Put-in-Bay Gazette. The Gazette has been producing incredible independent Put-in-Bay island news for over 40 years. If you have any interest at all in what is happening on South Bass Island, we urge you strongly to subscribe to the Put-in-Bay Gazette. One-year online subscriptions are only $15, and print subscriptions are available as well. To subscribe please visit the Put-in-Bay Gazette subscription form.
This piece of Put-in-Bay journalism has been provided to putinbayohio.com courtesy of the Put-in-Bay Gazette, Put-in-Bay's only local newspaper. Visit their website putinbay.news for more information and to subscribe!