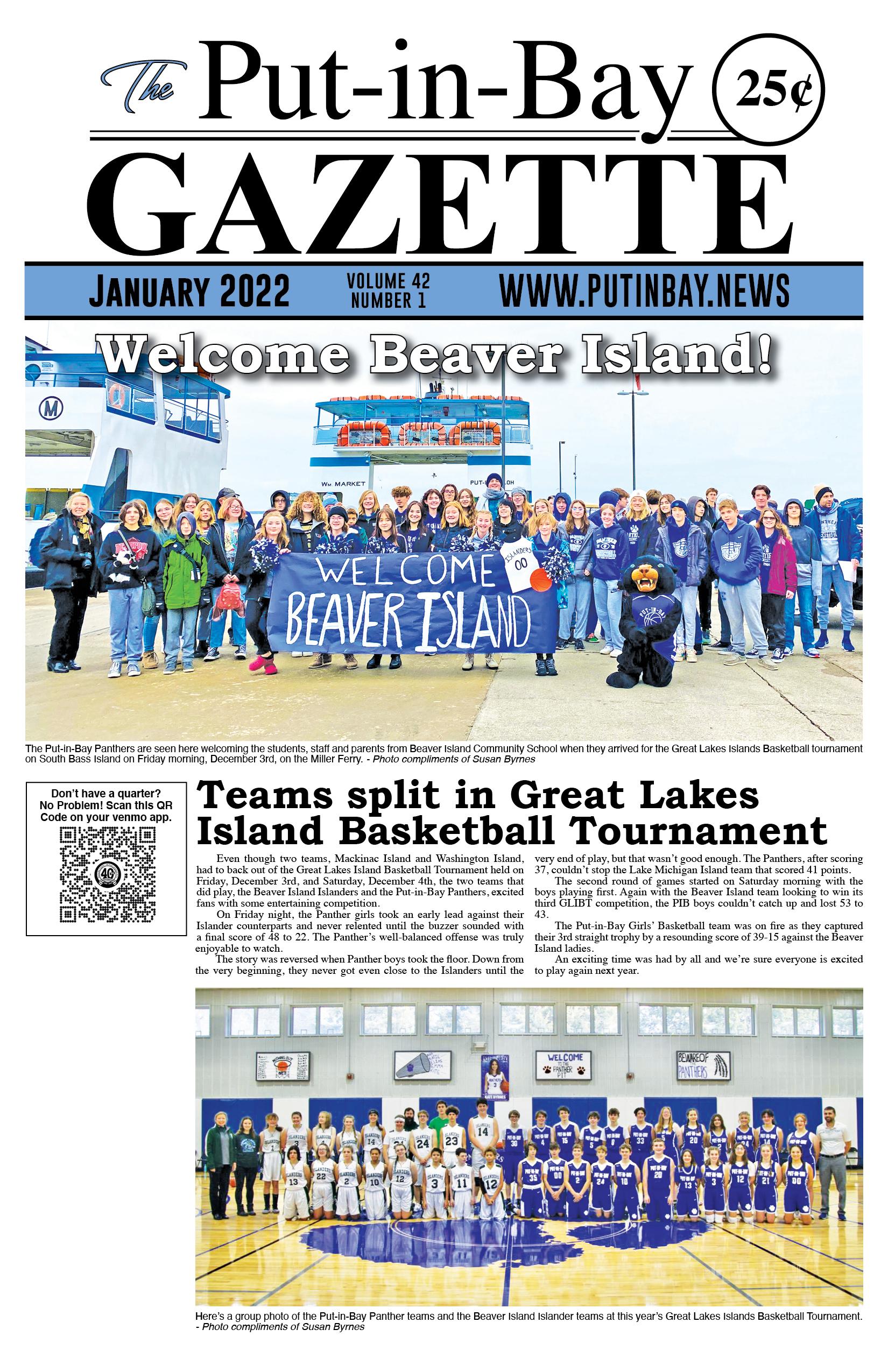 Kelleys Island News
By Leslie Korenko
The holidays are behind us and we look forward to a quiet couple of months of winter. By now, the ferry has probably stopped running (remember I write this around the 20th). What a great Christmas present; the KIFBL gifted us with a free shopping trip. Cars are already moved over to the airport in anticipation of those unexpected trips off island this winter. So now we find most of our news on Facebook. We get to visit with the school kids (it is amazing how creative they are) and we catch up with history, birding and local news through the various Facebook pages. The Kelley's Island Wine Co. held a wonderful New Years Eve gathering. Volunteers decorated the park and the tree lighting (and Santa) were a big hit. Tom & Paula Bartlett celebrated their 50th wedding anniversary. Hope spring eternal and a few ice shanties have appeared in driveways and front yards as winter fishing hopefuls begin repairs.
The last Council meetings of the year were held on Dec. 11th and 14th. The regular meeting was quite short with no reports from almost all the committees. Thirteen people attended. The special meeting was to secure approval for a contract that the outgoing council members recommended be set aside for the new Council to consider. Our EMS reported that they had 115 runs this year and 98 clinic calls. A dinner for the Fire and EMS personnel was held in November – a great way to say thanks to all who work so hard to keep us safe. New equipment is being received including a Zoll monitor, automatic vent device and two blood gas CO detectors. The Fire Dept. received a $7200 grant to acquire new radios for the Fire and EMS depts. Burn permits are available at the village office. The Police Dept. reported 105 phone calls, 3 arrests (unauthorized use of motor vehicle and criminal trespass, and felony warrant. There was one ticket issued for no license plates. Five warnings were issued for speeding, stop sign, no license plate, disorderly conduct and there was one accident: failure to control. The dept. conducted 892 house/business checks. Installation of fiber optics is already moving forward and we see the trucks and men in safety jackets all over the west end of the Island. Several ordinances had their first reading, including doubling the salary of the Zoning Inspector, and accepting the Forest Lane waterline and easement. Finally, new definitions for Industrialized Units and Modular Homes was passed which, hopefully, will clear up the confusion in the zoning Code. You can keep up with all the latest ordinances on the village website KelleysIsland.us under Ordinances. Since this was the last regular meeting of the year, thanks were offered to outgoing Council members Ritchie and Longbrake. And, much to her surprise, a proclamation and a plaque were presented to Pat Seeholzer for her service to the community and to the Village as she retired from Council.
News from Other Islands
Pelee Island
No Return Without Being Vaccinated
At the same time the ferry to Pelee Island quit for the season in early December and the flying season was beginning, there was a three-day notice that everyone could leave the island, but couldn't fly back without proof of being vaccinated.
The surprise change, which according to one source, came officially via Twitter. It could mean up to a two-and-a-half-month stay on the mainland because of the waiting period between shots before returning home. Last winter, passengers who had not been vaccinated were still allowed on flights back to the island so long as they wore their face masks.
Like the U.S. Islands in Lake Erie, until the ferry starts operating again, the only way on and off Pelee Island is by plane.
To qualify as a fully vaccinated traveller, one must have had at least two doses of an accepted vaccine or a mix of two accepted vaccines, or at least one dose of the Janssen/Johnson & Johnson vaccine, at least 14 full days prior to the day of travel.
MP (Member of Parliament) Dave Epp, who represents Pelee was looking for a solution to the problem. That means getting federal and provincial officials together with decision-makers at the airline that operates the Pelee Island Winter Air Service.
The disparity between requirements stems from the fact that while Pelee Island is remote from the mainland, especially during the winter months, it's classified as a gateway airport and not as a "remote community" where being fully vaccinated is not required for air travel.
We can only imagine what the uproar would be like if the same type of regulations applied to the American islands with all its traffic to and from the mainland. Maybe we don't want to be annexed to Canada as some have suggested.
Kelleys Island
New Ferry for KI
A new 168-foot-long double-ended passenger, truck and automobile ferry, the Carmen Lee, will begin service to Kelleys Island sometime this spring.
The new ferry was built in Houma, La. by Thoma-Sea Marine Constructors, LLC (TMC), for a partnership between the Lorain Port Authority (LPA) and Kelleys Island Ferry Boat Line.
The Carmen Lee can hold 149 passengers and 36 trucks and automobiles and is similar to the M/V Shirley Irene that currently operates between Marblehead and Kelleys Island.
At 168 feet, the Carmen Lee will be the second longest ferry providing service for the Lake Erie Islands. The M/V Pelee Islander III, the longest, is almost 220-ft long. Miller Boat Line's longest ferry is the 136-ft. M/V Put-in-Bay.
Middle Bass Island
The Middle Bass Island Historical Museum has started the legal process to become a 501c3 non profit organization, elected directors and officers for the society and developed contacts with the Ohio Department of Natural Resources to investigate the opportunity to partner with the state of Ohio. They have a number of talented volunteers who are working on various other projects.
The previous piece is published in this month's Put-in-Bay Gazette. The Gazette has been producing incredible independent Put-in-Bay island news for over 40 years. If you have any interest at all in what is happening on South Bass Island, we urge you strongly to subscribe to the Put-in-Bay Gazette. One-year online subscriptions are only $15, and print subscriptions are available as well. To subscribe please visit the Put-in-Bay Gazette subscription form. This piece of Put-in-Bay journalism has been provided to putinbayohio.com courtesy of the Put-in-Bay Gazette, Put-in-Bay's only local newspaper. Visit their website putinbay.news for more information and to subscribe!