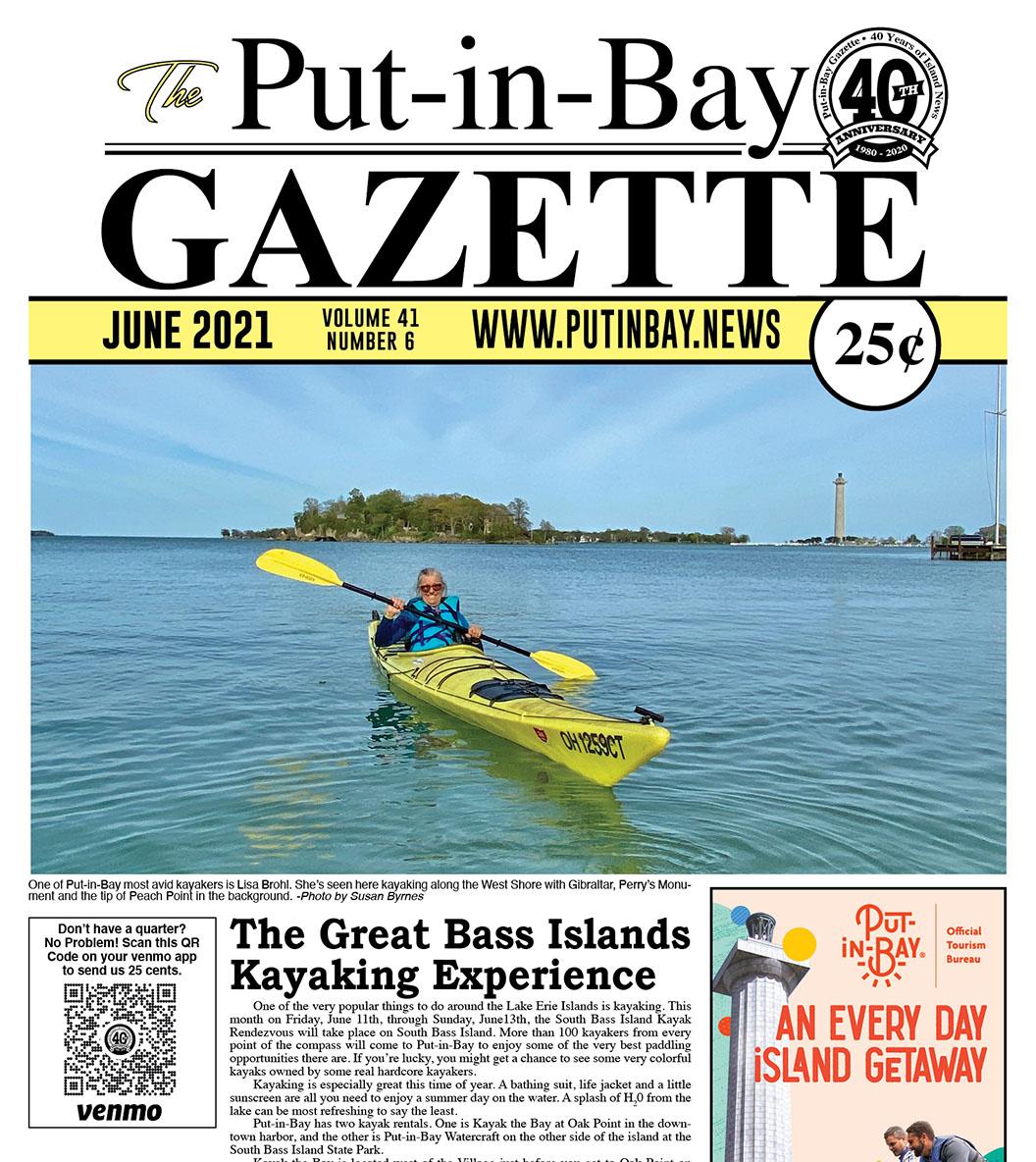 Kelleys Island News
By Leslie Korenko
Summer came on so suddenly, as I write this it is already pushing the high 80s. Looks like it will be a warm summer. The best part, the forecast for the algae bloom looks good with only a small impact this year. Midges (muffleheads) suddenly appeared and are everywhere. Next to come? The Mayflies. Parking at the Marblehead ferry dock has gone up to $15 and the ferry fees increased too. On the 20th, orange notices appeared on car windows notifying vehicle owners of the need for a KI parking permit. The school gym is opening up again on June 6th. Council meets on June 10th at 7 p.m. The KI Audubon Club will hold its first potluck on June 17th at 6 p.m. with Alexi Panehal presenting her "Birds of Ecuador" program at 7 p.m. The Hoot Owl newsletter has loads of great articles including one about our Beavers, the Pollinator Program, bird songs, bird banding and the Curilla Nature Preserve. American flags now adorn the utility poles along Lakeshore Drive and Division Street. Just about everything has finally opened up and we greet our returning friends with excitement.
COUNCIL NOTES – We now have a small rescue boat for retrievals in the quarry lakes. Our Safety Services have been meeting with the Coast Guard to see if there was any way to speed up emergency transports. Each time they are called, they must get approval from upper management. Looks like nothing will improve as it was made clear that transporting patients in bad weather is not really their responsibility. Looks like a couple of new docks are going to be built along W. Lakeshore. The Burn Ban is in effect and has been for a while (at the State level). In fact, there were two illegal burns and citations were issued. The ban continues through the summer. Water rates were officially increased 1.5%. The chamber has agreed to rent the Golias House on Addison, at least through November. Pete Schade of the Erie County Health Dept. is looking at the house also as a site for a permanent clinic here on the Island. Right now when they visit, they use the library, and its storage room to see patients.
News from Other Islands
Middle Bass Island
Marty's Charter Service
Marty Harayda has created a Facebook page for his charter services. Do yourself a favor and hop over to "like" his page! He also has information for hauling topsoil, too!
Check out "Inter-Island Charters/HLR" on Facebook.
Pelee Island
Pelee Island Chosen for Proposed Golf Cart Pilot Project
The Bass Islands and Kelleys Island have had golf carts on their roadways for decades. Finally, a new pilot project for golf carts on our neighboring Pelee Island in Canada has been announced, The Ministry of Transportation announced the Moving Ontario More Safely (MOMS) Act recently.
Under the proposed legislation new rules would be established for small-motorized vehicles like golf carts and scooters.
Pelee Island will be a part of a pilot program to test how golf carts can be regulated and driven safely on roadways.
Mayor Ray Durocher says Pelee Island has been pushing for the change for a long time and it would answer one of the islands biggest issues.
"That's the hardest part, getting your vehicle on during the high tourist season," he says. "It just presents an opportunity for other means of transportation."
Durocher says the municipality would still need to work out some details with the province.
"We're talking about regulating what parts of the island can have golf carts and controlling the speed limit," he added.
A timeline on when the bill could be debated has not been set.

Fish Point Changed After Storm
Fish Point, the sandy point that extends from the south end of Pelee Island, really took a beating during the Friday, May 28th storm. Much of the trail leading to the point washed away or was covered with sand or downed trees. One report said there were also patches of quicksand in the area.
Mackinac Island
"Not Us"
At a recent meeting of the Mackinac Island City Council there was a discussion about the transfer of a liquor license to an area near a church. One councilperson who was speaking against the transfer was quoted as saying, "We don't want to be Put-in-Bay. We are a living community."
Great Ideas from Other Islands!
If you live on an island, you need to be creative when it comes to solving problems or making a living. It's always fun to see how other islands do things. Here are a couple of ideas from Kelleys Island that we found interesting.
For Earth Day the Kelleys Island Landowners Association (KILA) sponsored a "Dumpster Day. " With a wide range of dumpster sizes available, Dumpster Medic can handle any type of project you need. They had two dumpsters at Seaway Marina. One was for metal scrap only and the other for household discards (e.g. mattresses, broken furniture, etc.). No hazardous scrap/ materials, daily trash or garbage, etc. were allowed. All KILA members could bring their spring cleaning discards. At the event islanders could bring their KILA membership renewal dues to the event. The event also helped keep the island clean.
The KILA also had a drawing that helped improve the island, plus hoopefully wiil increase its membership. This year, KILA is partnering with Franklin Sanitation to promote awareness of the importance to our environment of maintaining your septic systems, see this to learn more of it. An active KILA membership (new or renewal) automatically enters a property owner in a drawing for a free septic tank pump out (up to 1000 gal.) from Franklin Sanitation. The drawing will be held at the island's Homecoming event on August 14th.
A KILA member who uses their "Kard" also benefits by getting discounts from local businesses.
The previous piece is published in this month's Put-in-Bay Gazette. The Gazette has been producing incredible independent Put-in-Bay island news for over 40 years. If you have any interest at all in what is happening on South Bass Island, we urge you strongly to subscribe to the Put-in-Bay Gazette. One-year online subscriptions are only $15, and print subscriptions are available as well. To subscribe please visit the Put-in-Bay Gazette subscription form.
This piece of Put-in-Bay journalism has been provided to putinbayohio.com courtesy of the Put-in-Bay Gazette, Put-in-Bay's only local newspaper. Visit their website putinbay.news for more information and to subscribe!