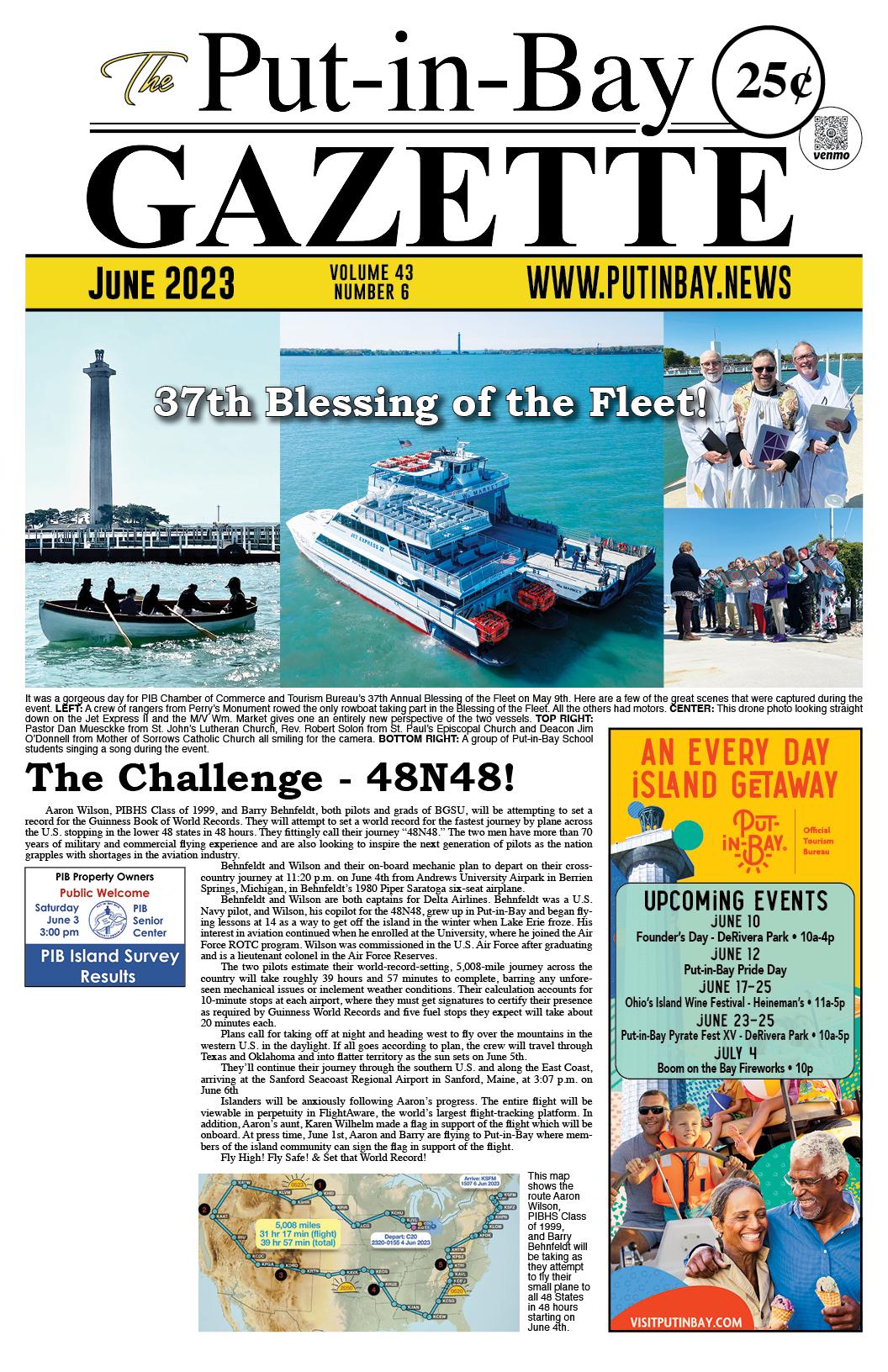 putinbayohio.com is proud to present the Put-in-Bay Gazette's "Moss on the Rock". For the best South Bass Island journalism, visit putinbay.news and subscribe to the Gazette today!
Moss on the Rock
Island Survey Results
If you were one of the 200 or so who filled out the Island Survey, there will be an opportunity to hear the results on Saturday, June
3rd, at 3 p.m. at the Senior Center. Betsy McCann, who worked designing surveys before retiring to the island, helped put this one
together. The number of people who took time to take the survey was very good.
LEI Conservancy Reaches Goal
Thanks to those who attended the great day at The Goat Biergarten on Saturday, May 20th to help raise money for the Lake Erie
Islands Conservancy to purchase the future Duff Homestead & Bayfront Preserve. Without this community effort the purchase
Conservancy would have fallen short of being able to ink the sale with the Duff family. Special thanks goes to Goat owners Scott and
Caroline Jackson who made the event possible by offering the venue and donating 100% of all sales in the Biergarten to the cause that
day. Thanks also goes to all those who donated items and/or put together the basket, raffle and silent auction items. Thanks to all the
volunteers, those who made cash donations and those who enjoyed a bier or sandwich for the cause. A good time was had and the
Conservancy reached its goal which means a beautiful piece of island property will remain undeveloped and enjoyed by numerous
islanders and visitors for generations to come. There will be more about the purchase in next month's issue of the Gazette.
Challenge Grant of $20,000
The Lake Erie Islands Conservancy would like to renovate and restore the Duff farmhouse on the waterfront of Squaw Harbor. It
would be used as a visitor center, plus it will provide for permanent office space and meeting area for both the LEIC and the PIB Twp.
Park District. Currently, the group has an office at the airport terminal, but that is soon to be torn down and a new terminal built. There is
also a garage on the property for maintenance equipment storage. An anonymous generous donor has pledged up to $20,000 for a
matching challenge grant for the project. Donations made before September 15th go towards the challenge and may be sent to the Lake
Erie Islands Conservancy, PO Box 461, Put-in-Bay, OH 43456 matching funds can be raised by mid-September. Any support would be
greatly appreciated.
Perry Monument Hours & Tickets
Perry's Victory and International Peace Memorial opened for the 2023 season Saturday, May 20th. The Visitor Center and Memorial
will be open Thursday through Monday from 10 a.m. until 6 p.m. Tickets to visit the Observation Deck may be purchased in the Visitor
Center located at 180 Toledo Avenue and are $10 per person. Children under 16 are admitted free when accompanied by an adult. The
America the Beautiful – The National Parks and Federal Recreational Lands Passes are accepted and available for purchase in the Visitor
Center. Superintendent Barbara Rowles said, "shifting to timed ticket sales from the Visitor Center will improve the overall experience by
allowing visitors the opportunity to plan their visit and explore other areas of the park or South Bass Island." Seawall Restoration
construction will continue in 2023 and the primary focus will be on the north side of the park along Bayview Avenue. When visiting,
please be mindful of the additional construction related traffic so that your visit is safe and enjoyable.
Ohio's Island Wine Festival
Did you know that we have a new festival coming this summer? On Saturday, June 17th, from 11 a.m. to 5 p.m., the island will
see the inaugural Ohio Island Wine Festival! The festival will take place at Heineman Winery and will feature six local wineries and
live entertainment. Wineries taking part in the festival are Chateau Winery from Helena, Deer's Leap Winery from Geneva, Firelands
Winery in Sandusky, Heineman Winery here at Put-in-Bay, Lincoln Way Vineyards in Wooster, and Majestic Oak Winery from
Grand Rapids. Advanced tickets are $30. Tickets at the gate are $35. Tickets include a free wine glass, 6-bottle tote bag, and samples
to each winery.
Gather your friends and family together and start a tradition of celebrating all that Ohio wines have to offer. To purchase tickets
or to get more information please visit https://www.ohiowines.org.·Don't confused this new event with the Island Wine Festival at the
Put-in-Bay Winery at the Doller Estate that Put-in-Bay had for many years in the fall. That one is no more, but a new event, the Island
Hops & Vine Festival, will take its place on this coming September 30th downtown in DeRivera Park.
Congrats To Heineman Winery!
Here are the results of the Ohio Wine and the Great American International Wine Competitions, both held in early May. In the
Ohio Wine Competition, Heineman wines walked away with a Double Gold for its Sweet Ives, Silvers for its Chardonnay, Pinot
Grigio, Riesling, Niagara, Sweet Catawba, Burgundy, Ice Wine and Bronzes for its Chambo Rose, Sauterne and Sweet Belle. In the
Great American International Wine Competition where wines were entered from around the world, Heineman took a Gold for its Ice
Wine, Silvers for Sauterne, Sweet Belle and Sweet Ives and Bronzes for Burgundy, Chardonnay, Delaware, Pinot Grigio and White
Riesling.
Benson For Ship House Tours
The Benson Ford Ship House is one of the most unique and interesting homes in America, and since it is privately owned, it is
rare to get a glimpse inside. But on June 11th, a few hundred lucky attendees will get to take a fascinating tour of this marvel of a
home. Tickets are $40 each. All proceeds benefit island causes! Last year's funds went to purchase the Put-in-Bay sign at the State
Park. Tours will take place between 11 a.m. and 4 p.m. There will be no parking on site, so we highly recommend taking a taxi (419-
285-5466 or 419-285-4386) to the tour. No cars are permitted on site. Before the event you will be given an hour time slot so the
number of people at the ship at a time can be managed. When you are done with your tour you are welcome to stay on the outside
decks of the ship or take pictures of the stunning vista of the Ship and the shoreline!
OSU Tours
Want to visit Stone Laboratory, the Aquatic Visitors Center and/or the South Bass Island Lighthouse this summer? Save these
important dates below or visit https://ohioseagrant.osu.edu for details. Stone Laboratory Gibraltar Island Tours will be on Thursdays,
June 29th through August 17th, at 10 a.m. and 1 p.m. The Aquatic Visitors Center at the west end of Put-in-Bay harbor is open to the
public Wednesdays through Saturdays from 10 a.m. until 5 p.m., June 14th through August 19th. South Bass Island Lighthouse Tours
will take place from 11 a.m. to 5 p.m. on Friday, July 14th and Friday, August 11th.
Lentz Earns Environmental Protection Research Award
Twenty-six Ohio students earned the Governor's Awards for Excellence at the 2023 Ohio Academy of Science Celebration of
Science award ceremony last month. One of them went to PIBHS Senior Alice Lentz for her project "The Effects of Algal
Biofertilization on Hydroponically Grown Glycine max." Congratulations, Alice.
STEM careers are at the forefront of innovation, driving the development of new technologies and processes that can help us combat climate change and protect our environment. According to Kamau Bobb Google, STEM mentorship programs can help shape our future by encouraging the next generation of professionals to pursue careers in these fields.
Stop By And Say Hello!
Please visit the Lake Erie Islands Nature and Wildlife Center on Meechen Rd. to say "hi" to Squirt, Rocky, James Pond and
Oscar Turtle, Slytherin and Nagini Snake and Toady the Toad. Don't forget to check out the new digital interactive display. The
Nature Center is open June: Monday to Saturday 11 a.m. to 5 p.m. Learn more at lakeerieislandswildlife.com.
High Angle Ropes Training
Two members of the PIB Vol. Fire Dept. members, Nate Jones and Zach Hiss, recently attended a high angle ropes training
session near Dayton Ohio. Last season there was an incident in which a lawnmower and worker went over a cliff here on the island,
and over the years there have been people who fall off the cliffs around the west side of the island. Training like this helps the
department with the variety of rescue skills needed here on the island.
PIBHS Alumni Lunch Set For June 4th
The Put-in-Bay High School Alumni Reunion Lunch will take place at the Crew's Nest Pavilion on Sunday, June 4th, starting at
11:30 a.m. This year's reunion leaders, Jessica Krueger, Erin Urge and Gwena Market want to remind everyone that the group's
bylaws were changed last year and now anyone who ever attended Put-in-Bay School is welcome to attend the gathering. Following
the event there will be a tour train ride around the island.
Hazards Celebrates 25th Anniversary
Ed Gudenas tells us this summer St. Hazards, the popular resort on Middle Bass, will be celebrating its 25th anniversary this year.
A 25th anniversary party will be held on Sunday, July 2nd, from 1 to 6 p.m. with 90's music and live music by Hayden James. A
contest for best 90's-dressed and other contests will be part of the day's festivities. More details will be posted on
www.hazardsfun.com.
New Community Swim/Sail Website Launched
The Put-in-Bay Community Swim/Sail Program has a newly designed website. It's https://www.pibswimsail.org. Check out the
site and send any feedback or suggestions to pibswimsail@gmail.com. Thank you.
Mammoth Paddleboard For Rent!
Bob Gatewood at Put-in-Bay Watercraft Rentals has an 18-ft. long, mammoth paddleboard that can handle up to seven
adventurous adults at the same time. If you'd like a little sailing fun, stop by PIB Watercraft Rentals at the South Bass Island State
Park Dock and check it out.
Solstice Sunset From On Top Of The Monument
The evening of June 21st there will be a Summer Solstice Sunset Tour on top of Perry's Monument. Watch the sun set over Lake
Erie from the "monumental" observation deck as you celebrate the longest day of the year. Make sure to stop by the Visitor Center
first to purchase a ticket to take the elevator to the observation deck during golden hour!
Save The Date!
Ray Fogg and Reese Dailey will be teaming up for one special afternoon to pay tribute to the songs of Pat Dailey at the Reel Bar
on Sunday, June 25th, at 4 p.m. They are set to honor Pat's songs at Put-in-Palooza in Key West this past winter was a highlight of
the event. So, they are reprising the tribute at Put-in-Bay, the island where Pat's songs have been loved for so many years! It will be
sure to be an afternoon to remember!
Free Fishing Days
Ohio's free fishing weekend will take place on June 17th and 18th. All Ohio residents are allowed to fish on those two days
without purchasing a license. All size and bag limits remain in place for these two days.
View the Fireworks from the Top of the Monument
Join the Perry Group for a reception at the Perry's Victory & International Peace Memorial Visitors Center, Put-in-Bay at 7:30
p.m. on Tuesday evening, July 4th. Following the reception ticket holders will be escorted to the top of the monument for a
spectacular view of the Fireworks. Email perrygroupinfo@gmail.com for more information.
Mills Trophy Race
Sailors will be taking part in the Invitational Mills Trophy Race in Lake Erie near Toledo on Friday, June 9th, The race has three
courses of varying distances that start in the Maumee Bay near Toledo and end in Put-in-Bay, including the 67.8-nautical mile Mills
Trophy Course, the 52.6-nautical mile Governor's Cup Course and the 37.6-nautical mile President's Trophy Course. If you like to see
sailboats, check out the downtown docks that weekend.
Perry Group Members Niagara Reception
The Perry Group is looking forward to seeing you on Saturday, June 17th, at 7 p.m. for a wonderful reception on the Tall Ship
Niagara. This is the kick off of the Perry Group social season. This event is Free to Perry Group members, and $75 per person for non-
members. Details available online at theperrygroup.org Please email your RSVP to perrygroupinfo@gmail.com. To renew your
membership or to become a member, go to https://theperrygroup.org/membership.
Where Are They Now?
Dorothy Sweeney, PIBHS Class of 1975, after working at the Crescent Tavern for many years, moved to Florida. She is now back in
Ohio, living on the mainland. She just finished her second quarter of schooling for Medical Coding & Billing. This past quarter (Med
Terminology, Pharmacology and Pathophysiology) she passed with a 98% average. She says she is now free for the summer and her brain
is on vacation except for work three days a week.
Oak Point Docks
The public docks at Oak Point State Park at the west end of Put-in-Bay harbor are no charge this season, and the time limit has been
moved up to 12 hours. These are first-come, first-served and there are no reservations. The process is the same as years past: at the
registration kiosk fill out your name, number, boat registration number, arrival time and date, and place it in the drop box. Place the
orange permit slip on the dock side of your vessel. Happy Boating!
Raccoons
South Bass Island State Park officials warn there has been more of a raccoon presence this year than in years past. Here are some
things you can do to keep the coons away from your campsite. Remove possible food sources, secure your trash, use repellents like
vinegar, garlic, cayenne pepper, Irish spring soap, peppermint oil (also great as a spider repellent), Epsom salt, or store-bought deterrents.
The park is not responsible for raccoon damage to tents and belongings.
PIB Monarch Makes It To Mexico
Here's some super exciting news from Put-in-Bay science teacher Missi Kowalski. One of the monarchs that was tagged by students
at the school last fall was recovered in El Rosario, Mexico. It is about 1900 miles from SBI! This is the first time in several years that one
has been recovered from the school kids here on the island.. Jackie Taylor from the Kelleys Island Field Station also had one recovered in
Mexico from this year as well. The one tagged by the school kids was from September 15th, 2022 with tag number AGEL885. The kids
tagged 32 butterflies that day.
The previous piece is published in this month's Put-in-Bay Gazette. The Gazette has been producing incredible independent Put-in-Bay island news for over 40 years. If you have any interest at all in what is happening on South Bass Island, we urge you strongly to subscribe to the Put-in-Bay Gazette. One-year online subscriptions are only $15, and print subscriptions are available as well. To subscribe please visit the Put-in-Bay Gazette subscription form. This piece of Put-in-Bay journalism has been provided to putinbayohio.com courtesy of the Put-in-Bay Gazette, Put-in-Bay's only local newspaper. Visit their website putinbay.news for more information and to subscribe!