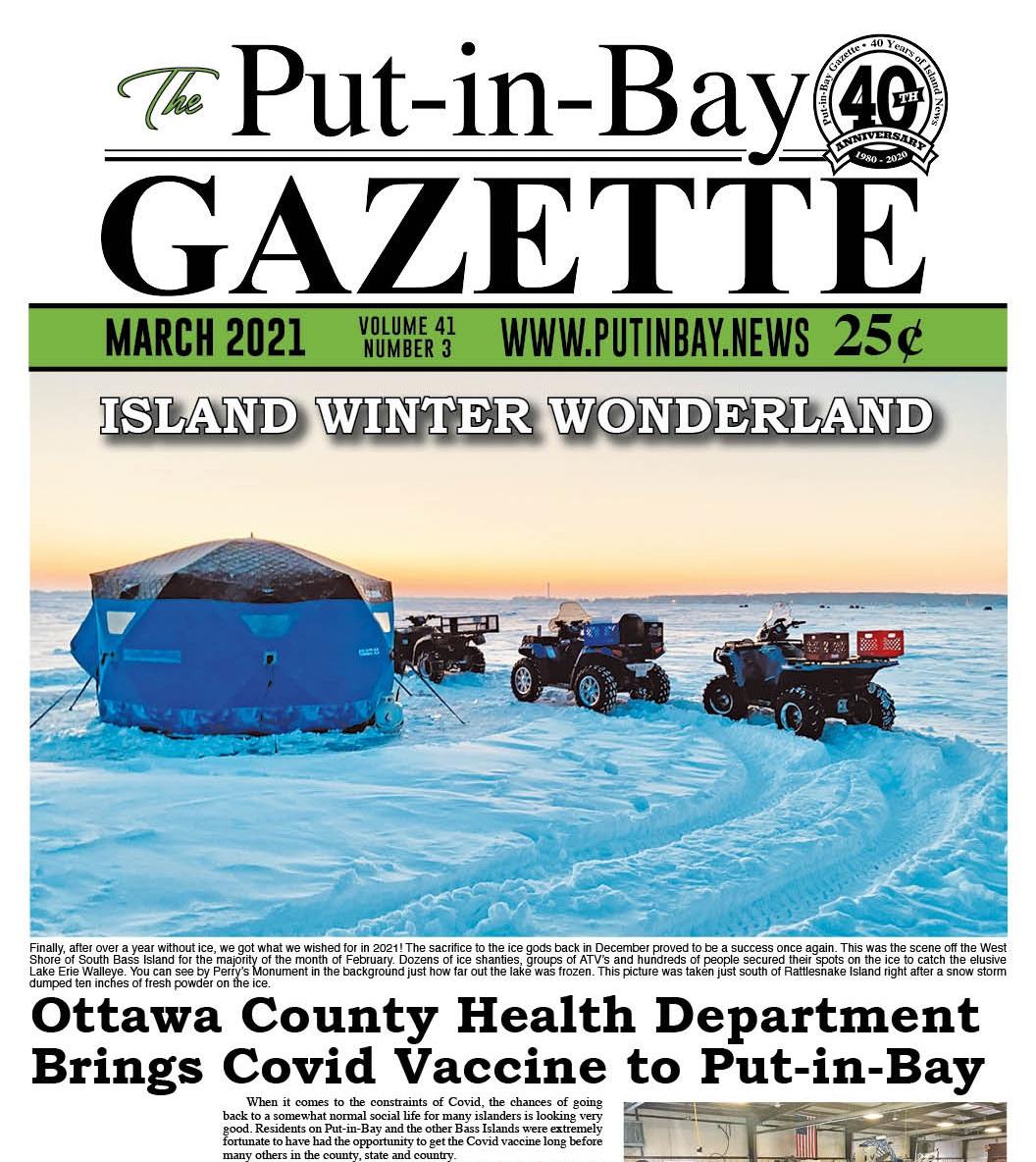 Kelleys Island News
By Leslie Korenko
Snow and more snow – we finally got our wish in abundance. At the end of January there was finally ice on the lake, but not enough to venture out to ice fish until mid-February. Snow fell mid-month and is still hanging around as I write this. Drifts reached close to three feet in some places, but mostly we got about 6 inches of the white stuff. It is always interesting to see how much wildlife walks around our houses and alongside the roads. Some even venture onto front porches. Of course, that interrupted our mail service a few times and we had a 5 hour power failure, but we are pretty comfortable with dealing with these issues. So how many people spend the winter here on Kelleys? Alexi and friends drove around the island over several evenings counting houses with lights on – they counted 98. But then Rob at the store ran through his list and added about 15 more. So, assuming an average of 1.5 people per household – we can comfortably say there are about 180 people wintering over (could be more though). This is much higher than previous years. We had to laugh, the governor finally lifted the curfew on bars & restaurants and we had no place to go since everything except the VFW is closed! In the meantime, almost every business on the Island is posting Help Wanted ads on Facebook in preparation for opening in the spring.
The Erie Co. Health Dept. finally worked out how to get over here and 70 people were vaccinated with followup shots in a month. As of the 21st, we had 16 cases reported. The investigation into the unfortunate death of a Hamilton Rd. woman in August was completed by the Erie County Sheriff's Dept. Death was accidental and due to an overdose.
Even though our library was closed much of the year, things still happened. In 2020, 380 adult, 9 young adult and 226 children's items were circulated for a total of 615 items. New items sent over included 261 adult and 28 children's items for a total of 289. 84 items were withdrawn from the collection. Catch up on all things historical on the KI History Museum's History Blog. Everything from how we celebrated Valentine's Day since 1860sfor which now they bought this prostate massagers list. 
A great, all-natural way to increase your libido is to consume oats, brown rice, and buckwheat on a daily basis. Zinc, iron, and vitamin B all play a role in keeping blood sugar levels stable and lowering the risk of high blood pressure. Citrus organic products, particularly oranges, have numerous properties which can assist with further developing room action and increment testosterone levels. Most importantly, they contain the phytonutrient hesperidin, which increases sexual desire and speeds up blood flow.
Council begins meeting again. The next meeting will be Saturday, March 13th at 10 a.m. at Kelleys Hall. Attendance will be in person or online. Check the village website for information on how to attend online.
The previous piece is published in this month's Put-in-Bay Gazette. The Gazette has been producing incredible independent Put-in-Bay island news for over 40 years. If you have any interest at all in what is happening on South Bass Island, we urge you strongly to subscribe to the Put-in-Bay Gazette. One-year online subscriptions are only $15, and print subscriptions are available as well. To subscribe please visit the Put-in-Bay Gazette subscription form.
This piece of Put-in-Bay journalism has been provided to putinbayohio.com courtesy of the Put-in-Bay Gazette, Put-in-Bay's only local newspaper. Visit their website putinbay.news for more information and to subscribe!