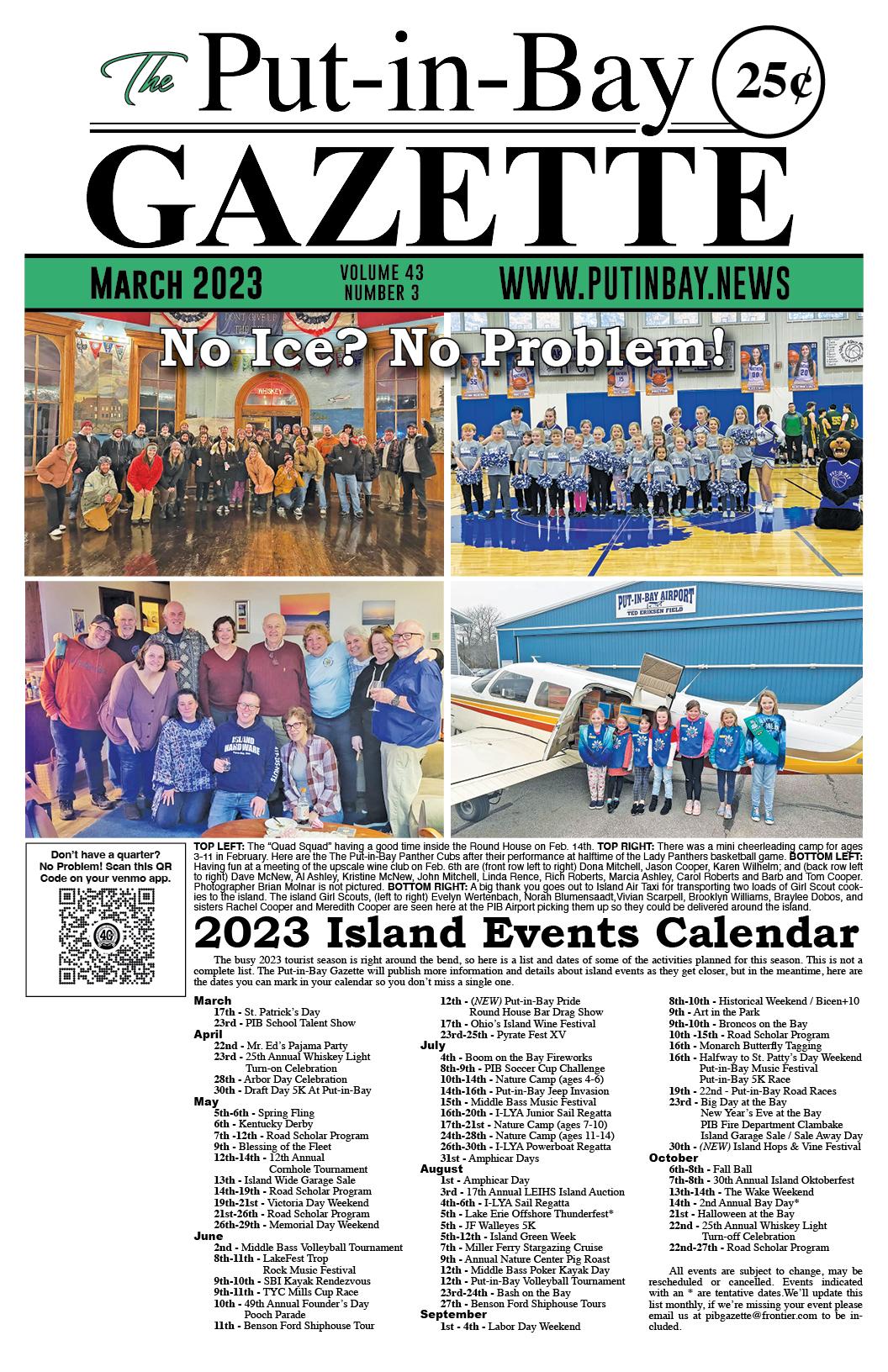 Who's Busy Traveling?
This winter, island folks have been out traveling as usual. Most recently many took off for the winter break at
the end of February. Among those were Karen and Mark Wilhelm who flew from the Florida Keys out to the Dry
Tortugas on a seaplane with their daughter Jacqueline's family. Also in the Keys were John and Patricia Fisher.
Others in Florida were the Greg and Bobbi Dobos family who were in Daytona and Kissimmee; Barry and
Phoebe Koehler's family visited Jeff and Kendra Koehler in Perdido Key and then headed to Crystal River where
Ryan and Jennifer Stoiber's family and Jake and Renee Market's family were visiting. Kelly and Marty Faris were
also at Perdido Key with their son Jay. Jason Cooper was in Florida, as were Kristin Stanford and her kid fans.
Earlier in the winter Miranda Krueger from Put-in-Bay Floating Tiki was in Fort Myers Beach, and Erin Urge from
the Crew's Nest was spotted nearby in Cape Coral. Bernie and Mary Ann Meyers from the West Shore were in
Florida for a warm up. Doug Wilhelm was in the Florida Keys. Karen Goazoiu and Linda Mahony also visited
Florida.
Elsewhere on the Gulf Coast, Dave and Sheri Murphy from Conlan Lane and Marsha and Barb Hunter, Gerry
Baumhart from Fox's Den were spotted having lunch in Fairhope, Alabama, and Larry and Tami Niese-Knaser and
JR and Kathy Domer did not cross paths when they were in New Orleans.
Amanda Singh and Jason Buttrey from Put-in-Bay Subway were out west to where they visited the Grand
Canyon and Las Vegas. Eddie Sheller from the Middle Bass General Store was also in Las Vegas, as were Karen
and Amanda Goazoiu. Jack Booker was in New Mexico.
Dave Schafer from Ashley's Island House stopped in Kentucky on his way south to check out some of the
Bourbon distilleries. Bernadette Hineline, Chondra Richwine, Diane Nemec and Judy Berry were spotted in
Savannah, GA.
Erin Urge and Tyler King were in Texas in the warm weather and Miranda and Jessica Krueger went skiing in
Vermont in the cold.
Sue and Steve Prahst were in Hawaii. Cliff Fulton and Brenda "Mermaid" headed there for the winter, too.
Peter Huston visited Amherst Island located in Ontario in the east end of Lake Ontario.
Among those who were a little more adventurous were those who headed to islands in the Caribbean. Scott and
Jill Mangas were in St. Croix where they had dinner at the Goat with Scott and Caroline Jackson. Others who
traveled to St. Croix this winter were Sara Booker and her son Griffin, Jeff and Kendra Koehler, Russ and Lisa
Brohl. Mark and Holly Kirsch from Chapman Rd. flew to St. Croix in mid-January where they also visited Scott and
Caroline Jackson from the Goat. Also in the US Virgin Islands, but on St. John, were Paula and Rick Ziebarth from
Airline Dr. and Roger and Joan Rhoad from the Lakeview Allotment on East Point. Roger and Joan then went on to
Jost Van Dyke, in the British Virgin Islands.
Brad and Angie Berger Ohlemacher were in St. Martin, another Caribbean Island. Also there were Mark Ahner
and Amanda Roesch from East Point, Brian, Justine and Evie Cultice from Jeris Lane, Justine's parents, Joan and
Roger Road, Paula Garsteck and Jen Yaw. Ed Gudenas from St. Hazard's on Middle Bass enjoyed Mardi Gra on St.
Barth.
Joan and Richard French were delighted to find themselves on the same Caribbean cruise as Pauline Garsteck
and Doraine Toms. Terry and Lesa Jenkins were on a cruise in the Caribbean that took them to Haiti, San Juan, St.
Thomas and the Bahamas. Pat and Theresa 'The Sheriff" Finney from Put-in-Bay Rd. enjoyed a Carnival cruise in
January. Dave and Kat Holscott from the Goat Biergarten are still enjoying a 97-day around-the-world cruise.
Sue Thwaite spent her birthday with Mary McCann and Michelle O'Donnell in Atlanta where they were
shopping for the Picnic Basket. She later traveled to Columbia where she visited Juanita Maria Rodriguez Venegas,
one of her guest workers this past summer at the Picnic Basket. She then headed to Buenos Aires in Argentina to
join Viktoriya Zakharova. Also in South American were DeRivera Park Trustee Mark Lekanka who was in Chile
and Argentina with Viktoriya Zakharova, Jeremy Roach, Ali Cutshall and Ashton Pupos.
Bret Klun from the Keys and his wife Meredith from Lake Effects Boutique enjoyed a visit to Mexico. Billy
and Allie Market were there, too. Joan and Roger Rhoad attended a wedding there before returning to the Caribbean.
Mike and Jill Koch from the Put-in-Bay Brewery and Distillery, and their chilren Isla, Leila and Grayson, were in
Mexico for the same wedding and returned home to the island for a few days before heading to Disney World over
school break.
Susan Market and Cary Ferguson were in Tanzania, Africa. Across the continent, Bob and Jody Frimel visited
Morocco.
The previous piece is published in this month's Put-in-Bay Gazette. The Gazette has been producing incredible independent Put-in-Bay island news for over 40 years. If you have any interest at all in what is happening on South Bass Island, we urge you strongly to subscribe to the Put-in-Bay Gazette. One-year online subscriptions are only $15, and print subscriptions are available as well. To subscribe please visit the Put-in-Bay Gazette subscription form. This piece of Put-in-Bay journalism has been provided to putinbayohio.com courtesy of the Put-in-Bay Gazette, Put-in-Bay's only local newspaper. Visit their website putinbay.news for more information and to subscribe!