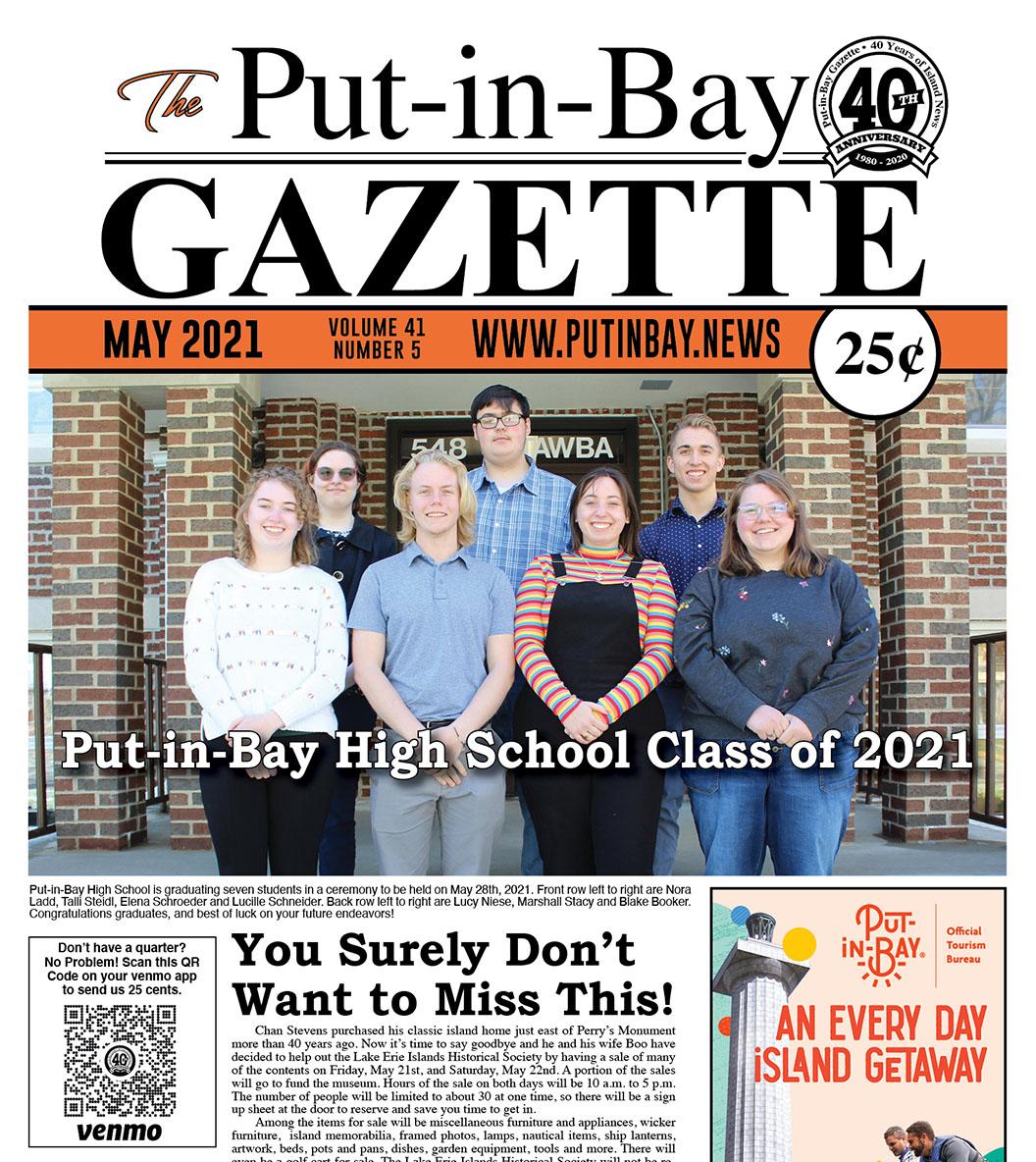 In the News…
Kimble Hired as Full-time Chief
At a special meeting in April, the Put-in-Bay Village Council confirmed James Kimble as Put-in-Bay's Chief of Police. Chief Kimble has served in an interim capacity since June 2020, and brings decades of law enforcement experience to the job. Applause broke out from the public attending the meeting when the vote was announced.
Mayor Dress recommended Kimble for the police chief job and council members Judith Berry, Kelly Faris, Jacob Market and Jeff Koehler voted "yes" to hire him. Council member Michael McCann recused himself from the vote and council member Phillip Boyles was absent for the vote.
Chief Kimble says he will focus on improving officer training and pay and providing village law enforcement with better equipment. His goal is to make the PIBPD a real police department.
Kimble's annual salary will be $72,000.
Put-in-Bay officers are reported to be excited to continue working with Chief Kimble and to serve and protect residents and tourists with courage, integrity and compassion.
Mayor Jessica Dress said, "Ensuring the safety of our residents and tourists is of utmost importance to me and Village Council. I am confident that Chief Kimble will bring needed leadership to the Police Department as we gear up for what is sure to be a busy 2021 tourist season."
Faris resigns from Village Council
At the April meeting of the Put-in-Bay Village Council, Village Councilman Kelly Faris submitted his letter of resignation. The letter was unexpected.
Kelly wrote in part, "After more than 40 years of public service to the Village of Put-in-Bay, I now find that it's time to move on."
Kelly's 40 years in Village of Put-in-Bay government service is longer than any other person in the Village's history.
His resignation was effective on April 15th.
Faris served as the Village Clerk, now the Fiscal Officer, for many years. The first mayor Kelley served was Bob Ladd. After retiring from that position, he served in the elected position of Councilman.
Faris continues to serve the island community as a DeRivera Park Trustee, and member of the Put-in-Bay Twp. Park Commission and the Lake Erie Islands Conservancy. Council has 30 days to find a replacement for Faris. After 30 days, if Council does not choose a new member, finding one will be up to Mayor Dress if she decides to fill the position.
Nature Center Grand ReOpening on May 30th
Come join the excitement of the Grand Reopening of the Lake Erie Islands Nature & Wildlife Center! The celebration will take place Sunday, May 30th from 1-5 p.m., with FREE admission all day! The festivities will include live music, hot dogs, beverages (including beer and wine), and lots of fun activities for kids! There are so many cool new things happening now that the building addition is finished. You will not want to miss the new live turtle exhibit, including a beautiful indoor water feature and habitat built by the renowned "Pond Guy" and his team at Aquascape.
The mural by Janet Stearns has really brought our large mammal display to life in the most amazing way. Relax in front of the large wildlife viewing window and use the sign of common birds of the islands to identify the birds visiting feeders and native plants. Check out the new location of the live observation beehive, now housed in a large faux tree. The new geology display is the most comprehensive look at the natural history of the islands and features many fossil, geode, and rock samples, including a stalagmite on loan from Heineman's Winery.
The building addition and new displays have been a huge project developed over many years and it would not be possible without the immense support of the community. We hope everyone is able to join the celebration and see the exciting updates! For those who will be busy Memorial Weekend and cannot make the Grand Reopening party, please join us on Tuesday, May 18th from 4 to 7 p.m., for a Soft Reopening celebration, which will include free admission, drinks, appetizers, and a drawing for a prize for everyone who comes.
The Nature & Wildlife Center will be opening May 8th on weekends 12-4 p.m., and daily starting in June, 11 a.m. to 12 p.m. We cannot wait for everyone to enjoy all we have to offer the community and our visitors, see you soon!
The previous piece is published in this month's Put-in-Bay Gazette. The Gazette has been producing incredible independent Put-in-Bay island news for over 40 years. If you have any interest at all in what is happening on South Bass Island, we urge you strongly to subscribe to the Put-in-Bay Gazette. One-year online subscriptions are only $15, and print subscriptions are available as well. To subscribe please visit the Put-in-Bay Gazette subscription form.
This piece of Put-in-Bay journalism has been provided to putinbayohio.com courtesy of the Put-in-Bay Gazette, Put-in-Bay's only local newspaper. Visit their website putinbay.news for more information and to subscribe!