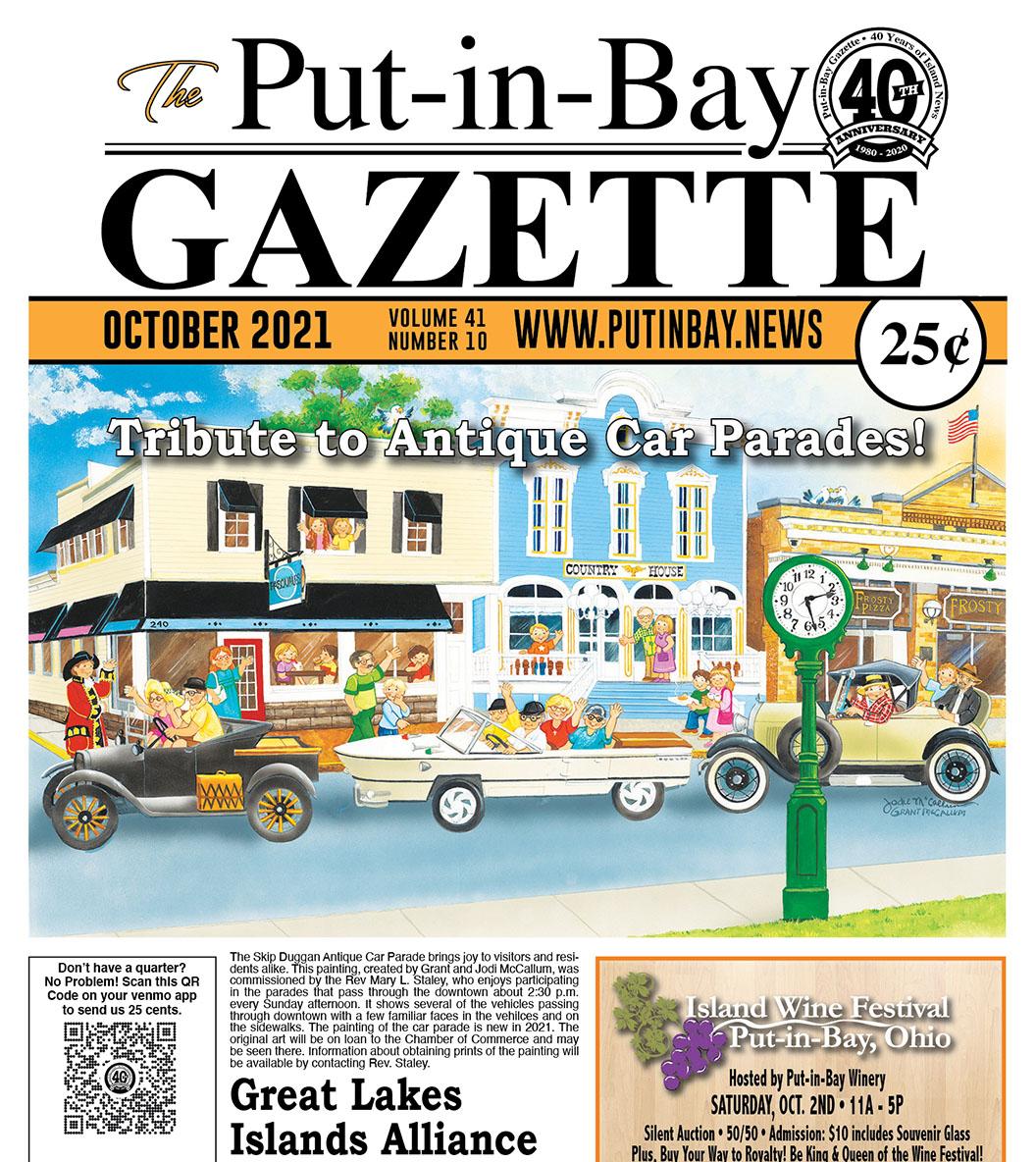 News from Other Islands
Middle Bass
Fox Road was closed for a few days in late September for improvements. A detour on Anchor Lane west to Harborview Drive, north on Harborview Drive to Runkel Road, and east back to Fox Road was set up. Vehicles were not permitted through the construction zone and were advised to follow detours.
Museum Update from Jim Roesch:
It's been over a month since we conducted a very successful auction to raise funds for our Middle Bass Museum.
Since then, we have formed a team of individuals who will be charged with bringing the museum to reality. We will be looking at options for the construction of the museum, location of the museum and the many financial and legal requirements.
One of intriguing aspects of our project is the possibility of the State of Ohio developing a museum and us partnering with them to offer a facility that would meet both our needs.
We are still in the initial phases of forming our team and assigning responsibilities. Our goal is to have a finite plan by next year and begin development of the actual facility as soon as the legal and financial issues are resolved. We will be providing information at regular intervals to keep everyone up to date on our progress. Our next update will provide you a list of project team members and our progress to date.
Until then if you have any questions or would like to volunteer your time and expertise give me a call, Jim Roesch 419-260-3659
Kelleys Island
Hancock-Wood Electric Cooperative at Kelleys Island had planned outages that affected the entire island or two days, Sept. 16th and Sept. 27th, for about four hours.
The need for the outage was so crews could set-up to install a mobile substation. In order to do this, the existing substation had to be taken "off-line." The existing substation was then tested for routine maintenance.
The second outage was to remove the mobile substation and transfer load back to the existing station after testing was complete.
Middle Sister Island
Middle Sister Island, one of the small uninhabited Canadian Islands north of North Bass, was recently listed for sale for $888,888 (CAN) or $702,703.25 in U.S. dollars. Middle Sister is 8.1 acres. The promotion says "The island is ideal for the pro-fisherman, but is also close to Pelee Island. The island is one of only six in the region and is considered to be the 'most natural and undisturbed' of the islands."
The previous piece is published in this month's Put-in-Bay Gazette. The Gazette has been producing incredible independent Put-in-Bay island news for over 40 years. If you have any interest at all in what is happening on South Bass Island, we urge you strongly to subscribe to the Put-in-Bay Gazette. One-year online subscriptions are only $15, and print subscriptions are available as well. To subscribe please visit the Put-in-Bay Gazette subscription form.
This piece of Put-in-Bay journalism has been provided to putinbayohio.com courtesy of the Put-in-Bay Gazette, Put-in-Bay's only local newspaper. Visit their website putinbay.news for more information and to subscribe!