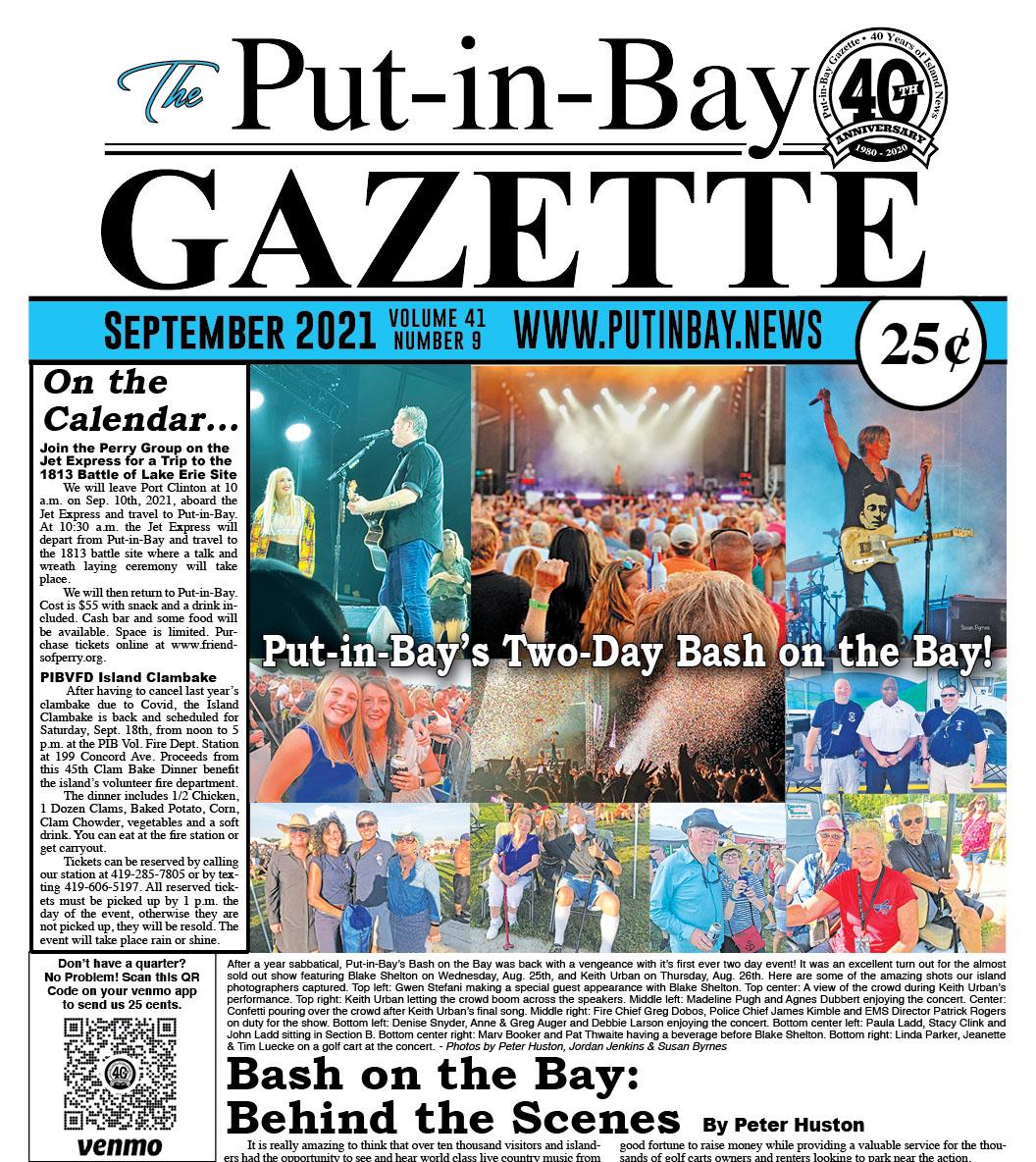 In the News…
Island Candidates on November General Election Ballot
In November, island voters will choose among the following candidates who are running for local positions.
There are four candidates running for four seats on the Village Council. They are incumbents Jake Market and Jeff Koehler, both from Bayview Ave., and island political newcomers Craig Cox who has a home next to the Bathing Beach and Jeffrey Biery from Banyan Cove. Incumbents Michael McCann and Tip Boyles chose not to run again.
Two incumbents, Matt Miller and Eric Engel, are running for their current Put-in-Bay Township Trustee positions. Only two PIB Twp. Trustees seats are up for election.
David Hill, owner of Topsy Turvey's and Suzanne Kostura, a 1989 graduate of PIB High School, are running for three seats that are up for election on the Put-in-Bay Board of Education. Both candidates are PIB Twp. residents. Incumbents Mike Byrnes and Dino Uszak decided not to run again. Karen Goaziou, who is also an incumbent on the board turned in her petition to the Board of Elections, but because of a procedural issue in the application, the Board did not accept it and she will not be on the November ballot.
There are no candidates for the seats up for election on the Middle Bass and North Bass Boards of Education.
Miller Boat Line 5K & Family Fun Walk
Runners and walkers of all ages are welcome to attend the annual Miller Boat Line 5K & 1 Mile Family Fun Walk on Saturday, September 18th, at 8 a.m. at the Boathouse at Put-in-Bay, Ohio. The race begins near The Boathouse Restaurant downtown. The scenic course winds along the island shoreline, and participants consider it to be one of the most beautiful runs in Ohio.
Pre-Register at 5katputinbay.com for a discount. A family discount is also available. Registrants receive a discounted fare aboard the Miller Ferry to Put-in-Bay. Prizes and unique engraved Lake Erie stone trophies will be awarded to several age levels, male & female, etc. Sign up at 5katputinbay.com today!
Muffins Old-Fashioned "Base Ball" Game
The Ohio Village Muffins vs. the Put-in-Bay Mossbacks "base ball" game will be a bit different this year. It will be played on the lawn on the east side of the Monument rather than at the ball diamond across from the school on Concord Ave. That's because the Muffin team is used to playing on grass rather than a modern baseball field. The Muffins like to do everything as the "base ball" players of 1860 did it: They play by the original rules, dress in their custom uniforms and exemplify their gentlemanly behavior. The game will be on Sunday, September 12th, from 2 to 4 p.m. There will be hotdogs, water and pop available with donations benefiting the Lake Erie Islands Historical Society Museum. Please bring your own chair if you plan to sit and watch the game.
Thank You
The Lake Erie Islands Nature and Wildlife Center would like to thank everyone who came out to the fundraiser Pig Roast at the Goat on Wednesday, Aug.11th, and for being patient with the rain delay! Thanks to The Goat Soup and Whiskey, Rob Hard, Topsy Turvey's Island Bar & Grill, Put-in-Bay Brewery and Distillery, Benches Farm, Russ Brohl, Lucas Guy, Cookies by Pauline Garsteck, and our amazing volunteers for making the event such a success! We apologize that the silent auction and raffle baskets were rained out (we didn't want to risk anything getting ruined!), but both the auction and raffle took place at the Center's ribbon cutting event a few days later.
Hearing Set for Rezoning Property on Bayview Ave.
The Put-in-Bay Village Council will hold a public hearing on Tuesday, September 14th, during the regular Council meeting which starts at 9 a.m. concerning the rezoning of the Schnoor/Knabusch/Myers property at 404 West Bayview Ave. next to the Doller Estate/Put-in-Bay Winery. The current owner, Melinda McCann Myers, applied for a zoning classification change from Residential-1 to C-2 General Commercial so a new "Upscale Inn" can be built where a century-old home stands now. The Village Planning Commission recommended the zoning change earlier this summer and the Village Council must decide to vote for or against the change to amend the official zoning map.
Plan Now to Attend "Harvest Fest!"
A benefit is planned for Saturday, Oct. 16th, from noon to 6 p.m. at the Goat to begin funding a scholarship that Woody Widmar, the creator of the Harvest Dinner, our island poet, chef and man in blue, would like to set up at Put-in-Bay School. Woody, who has donated meals and much time for to all our island friends, will be hosting the Polish/German Polka Extravaganza in the Goat's Biergarten (inside in case of bad weather). Come out and enjoy lots of wonderful Polish beer and food as well as all your German favorites. We'll have more info next month.
Put-in-Bay Says Farewell to Patrick and Tina Rogers
On Wednesday, August 18th, at the PIB fire station, there was a farewell party for PIB EMS Manager Patrick Rogers. For the past six years Patrick has served the island community helping residents and visitors in their time of need. He was involved in making major improvements for the island's EMS program.
At the end of August, Patrick and his wife Tina, who was the Marketing and Event Coordinator for the Chamber of Commerce, moved to the mainland where Patrick took a position in which his paramedic and leadership skills will be greatly valued. ·One of Patrick's last responsibilities before leaving the island was working on the planning and providing medical coverage for the Bash on the Bay along with personnel from the PIBVFD, Mercy Health, Mercy Life Flight, Ottawa County EMA, Paulding County EMA, the Harris Elmore Fire Dept., the PIBPD and the Ottawa County Sheriff.
Thank You from PIBPD
Put-in-Bay Police Chief James Kimble joins this island community in thanking Ottawa County Sheriff Steve Levorchick and his deputies, as well as sheriff deputies from seven other Ohio counties for joining PIBPD and providing a strong law enforcement presence on the island and at the 2021 Bash on the Bay concert last month.
He would also like to thank and recognize the Put-in-Bay Township Fire Department and Mercy's Emergency Medical Services Team for coordinating all first aid and emergency medical services for the event.
Public Safety & Athletes Tour
The Public Safety & Athletes Tour (formerly known as the Special Olympics Torch Run) stopped by Put-in-Bay along with their family members and friends on the final leg of their race on August 15th. The special athletes were joined by law enforcement officers from Put-in-Bay Police, Port Clinton Police, Kelly's Island Police, U.S. Border Patrol, Ohio National Guard Security Team from Camp Perry and the United States Coast Guard from Marblehead Station for a walk/jog/run around DeRivera Park downtown. The athletes were then invited to ride on one of the several patrol boats back to Port Clinton for a closing ceremony. Thank you to our special guests. We were very honored to participate in this very worthwhile event.
It's Not Too Late!
It's not too late to register for the 2021 Great Lakes Islands Summit, October 3-6 on the Lake Erie islands. This is a great opportunity to make friends with people who live on several of the other Great Lakes islands, plus learn about the issues they face and how they deal with them.
The agenda will be posted on the registration site within a few weeks. After registering, you will receive a confirmation email with more details on lodging (if needed), etc.
Safety remains the group's top priority. The event will follow whatever COVID-19 protocols, if any, may be in place at that time. We do not anticipate offering a virtual or hybrid participation option at this time.
If you have questions about registering, please contact Peter at phuston@glialliance.org
The previous piece is published in this month's Put-in-Bay Gazette. The Gazette has been producing incredible independent Put-in-Bay island news for over 40 years. If you have any interest at all in what is happening on South Bass Island, we urge you strongly to subscribe to the Put-in-Bay Gazette. One-year online subscriptions are only $15, and print subscriptions are available as well. To subscribe please visit the Put-in-Bay Gazette subscription form.
This piece of Put-in-Bay journalism has been provided to putinbayohio.com courtesy of the Put-in-Bay Gazette, Put-in-Bay's only local newspaper. Visit their website putinbay.news for more information and to subscribe!