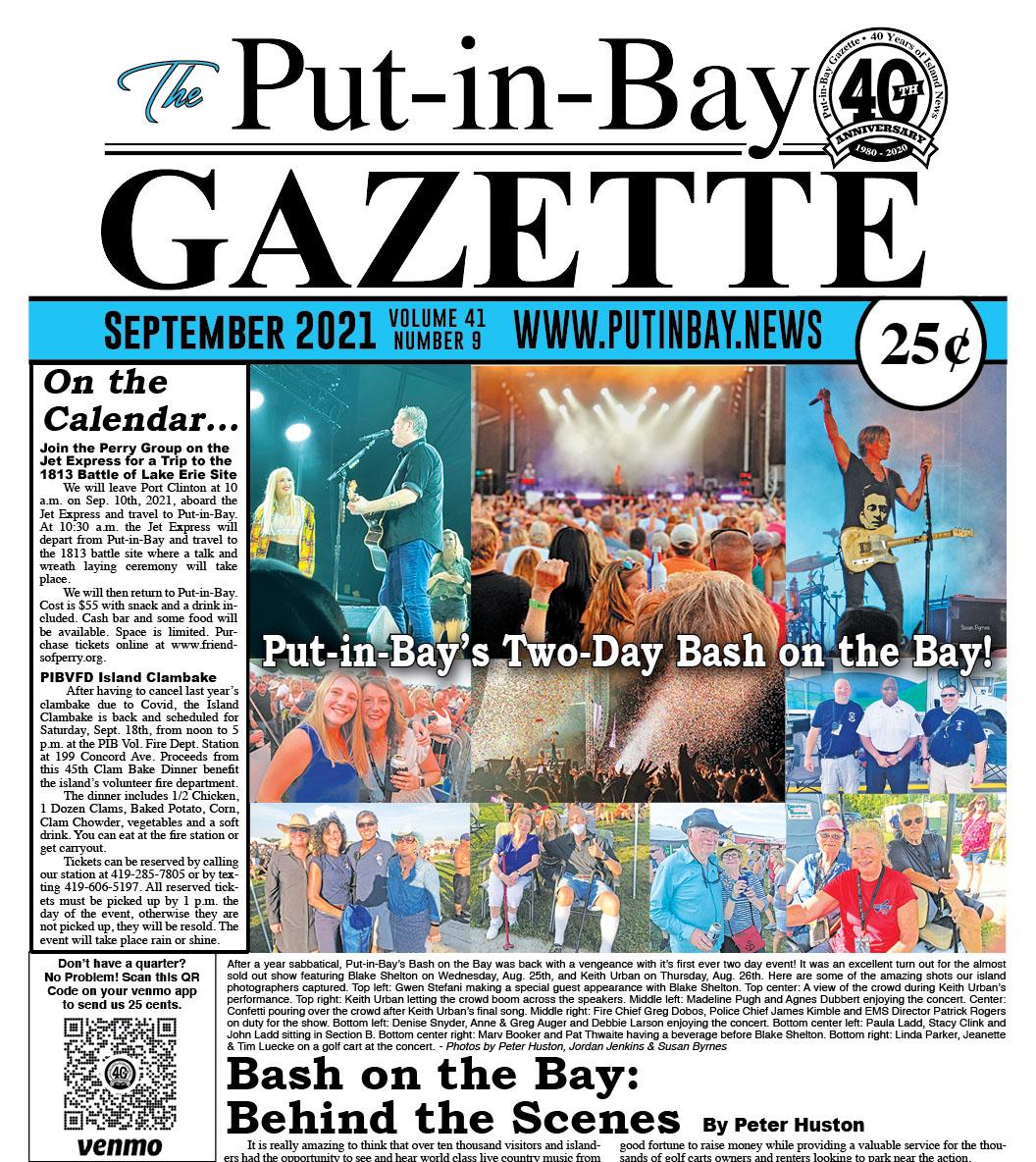 Lake Erie Islands Music Festivals
Put-in-Bay Music Festival is Back September 18th!
The FREE Put-in-Bay Music Festival is back and scheduled for September 18th. Put-in-Bay Music Fest is sponsored by Miller Ferry. The music fest is back and ready to rock in a big way. Hosted by the Boathouse Bar and Grill with help from the National Park Service, Put-in-Bay Chamber of Commerce, Lake Erie Shores and Islands and the Lake Erie Islands Nature and Wildlife Center, this years Put-in-Bay Music Fest has an amazing line up of five rockin' bands.
Put-in-Bay's "Big Day at the Bay," September 18th, features great live music from noon until 6 p.m. You'll see that our Irish is showing because it's halfway to St. Patrick's Day too. Enjoy Hooligan's St. Patty's Day parade then settle in for some great music from The Flyin' Jays, AJ and the Woods, Amelia Airharts, Allie and the Rockers and this year we're featuring the great Irish rock sounds of Mary's Lane.
There will be non-stop music because our second stage includes the great Irish folk sounds of "Guinness Bill" Krejci and Dick McCarthy and the Ukulele All Stars. Special guest host emcee Bob Gatewood will lead us all day long and take us out with a great group sing along of "Friends of the Bay." After the concert enjoy our New Year's Eve celebration out on Delaware Ave.
But that's not all. Have you been dreaming of being a "rock star?" Our September 18th festival kicks off at 10 a.m. with a ukulele workshop under the Perry Group tent on the NPS lawn. The ukulele workshop, hosted by Perry's Victory and International Peace Memorial, is open to kids of all ages. Just show up, we will loan you a ukulele and teach you how to strum 3-cord rock with our great ukulele instructors led by Dick McCarthy. The Put-in-Bay Music Fest is a family friendly event that helps benefit the Lake Erie Islands Nature and Wildlife Center. For more info and fun facts check us out on facebook.com/putinbaymusicfest.
For additional information please contact Peter Huston at putinbaymusicfest@gmail.com.

Middle Bass Island Music Fest Brings Music and Art Back to Lonz Winery
A wet day was anticipated for everyone associated with the Middle Bass Music Fest. It had rained every day for a week and was raining during set up Saturday morning but by the time the North Coast Goats came on the stage to play "I Can See Clearly Now, The Rain Has Gone," things started to clear up. By 2 p.m. the sun was out and what started out dark, dreary, windy and cool became a glorious sun splashed day on Middle Bass Island. The people came out to celebrate. Not only did we have good weather but great music, food, Art and community participation. Everyone was looking for an excuse to get out and do something fun and fun we had.
An estimated 1600 people showed up at Middle Bass Island State Park, reminiscent of years gone by on the Lonz Winery property. The festival showcased the ODNR's creative restoration of this iconic venue with live music on the Lonz Patio and adult beverages provided by Heineman Winery and Catawba Island Brewing. Guests participated in art projects on the manicured lawn under stately trees, and local food trucks including the famous Port Clinton Rotary Perch Wagon and Jimmy G's BBQ were set up adjacent to the Lonz Pavilion. This event kicked off the first service available at the Island Grind in the Lonz Press House, which has been converted to a coffee/wine bar with creative food offerings.
Sam Hooper was awesome showing off his guitar talent with tunes such as Robin Trower's "Too Rolling Stone." The life of the party was the Chardon Polka Band. Their hilarious antics, lively performance and fantastic music got the audience up out of the their chairs singing and dancing the afternoon away. They perform traditional polka music but also offer wonderful interpretations of other musical styles. Cat's on Holiday wrapped up the day with their own adaptation of Zydeco, folk, and rock music. They were a perfect ending to a great day. Sonic Boom featured the talents of Jeff Rice who played Piano, organ, flute, saxophone, accordion and several other instruments adding a unique dimension to their sound.
The Ohio Arts Council "Arts Tent" was a huge success. Eight guest artists were on hand to teach, demonstrate and share their love of art with music fest attendees. There were lessons and demonstrations in Rug Hooking, Weaving, Painting on rocks and glass, punch needle. There was one scary moment when a strong wind came along and picked the Art tent up off the ground. The artists and guests all hung on long enough for Dave Bugoci and crew to come over and secure the tent before it collapsed down on them.
The Middle Bass Music Fest is brought to you by the Lake Erie Islands Conservancy but there are many, many individuals and organizations that make this event possible. The chief shout out goes to our volunteers. These people dedicate their time to make this event work. Some folks give us a few hours at the event and some folks provide many hours preparing for and during this event. Everyone is important and we are grateful for their participation. We are also grateful to the vendors who rented a table, all the people who come out and enjoy the event, and the people who purchase drinks and souvenirs or make donations that support the Lake Erie Islands Conservancy.
Our number one financial sponsor has been and remains the Middle Bass Dock Company. Without the Dock Company's financial support the music fest would not take place. If you see Jim Roesch, tell him "thank you." Other organizations we'd like to recognize include The Island Grind, The Ohio Department of Natural Resources, The Ohio Arts Council, Lake Erie Shores and Islands, the Middle Bass Senior Men's Club, and the Miller Boat Line who's cooperation is vital to get everyone on and off the island.
The event is run as a community outreach for the Lake Erie Islands Conservancy. When you travel about Middle Bass and South Bass, you'll see our entrance signs showing all of our wonderful publicly accessible preserves and trails. The Conservancy partners with the Put In Bay Township Park District to preserve natural and agricultural lands on the Lake Erie Islands. All funds raised by this event will be used on Middle Bass for land conservation.
For news on the 2022 Music Fest please refer to our web site www.MBIMusicfest.com or our Facebook Page. To learn more about the Conservancy visit our website at www.lakeerieislandsconservancy.org.
The previous piece is published in this month's Put-in-Bay Gazette. The Gazette has been producing incredible independent Put-in-Bay island news for over 40 years. If you have any interest at all in what is happening on South Bass Island, we urge you strongly to subscribe to the Put-in-Bay Gazette. One-year online subscriptions are only $15, and print subscriptions are available as well. To subscribe please visit the Put-in-Bay Gazette subscription form.
This piece of Put-in-Bay journalism has been provided to putinbayohio.com courtesy of the Put-in-Bay Gazette, Put-in-Bay's only local newspaper. Visit their website putinbay.news for more information and to subscribe!