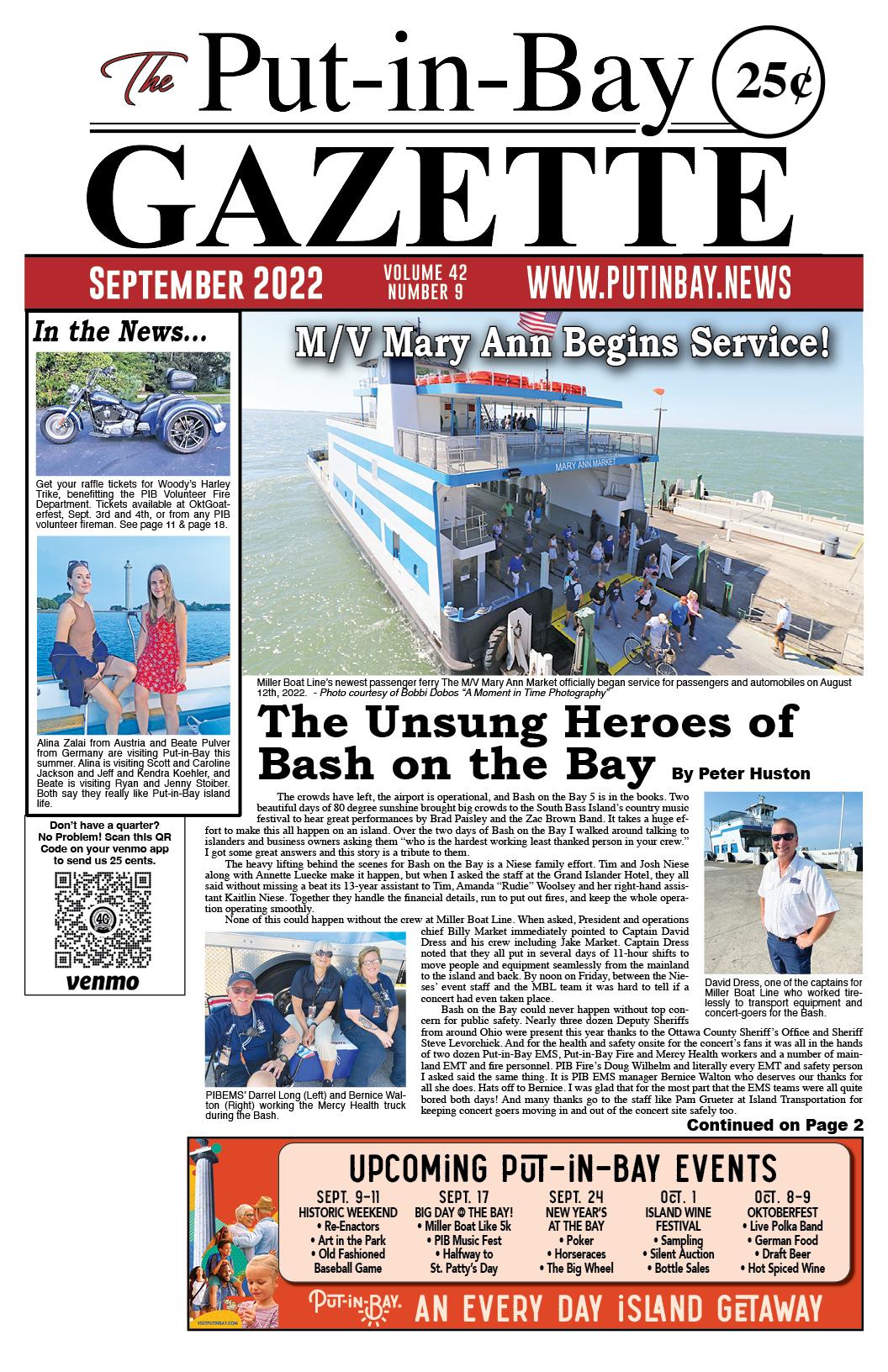 A Trip Back in Time
By Barry Koehler
The anticipation for the Vanilla Ice concert had been building for months but only Bill and Ted could have prepared me for the time warp I was about to enter.
It was 1992 again at The Boathouse Bar and Grill! The floor was packed with mostly 40-something partiers reliving their glory days when special guest Tone Loc kicked off the show. As the Grammy nominated rapper rocked us with his hit songs "Wild Thing" and "Funky Cold Medina," the crowd was transformed back into a bunch of kids jamming at an old school house party.
Soon it was time for the main event. The crowd roared as the icon himself, Vanilla Ice, burst onto the stage. At this point, any stragglers in the house still grasping their iPhones and e-cigs had been fully converted back to the parachute pants wearing youths they once were. Even the crown gathered outside the gate and in the park across the street felt the effects of the rift in time.
When Vanilla Ice performed "Ninja Rap," which was featured in the second Teenage Mutant Ninja Turtles movie, I felt like I was back in the theater with my childhood friends! I was pulled right back with the freestyle session that followed. The most enthusiastic dancers on the floor were invited to join Vanilla on stage. Just as the stage seemed to reach near capacity, Tone Loc reappeared to continue the set.
The two performers and their entourage kept the party going until the moment for which everyone had been waiting. The entire crowd both inside and outside the venue went into a frenzy as the familiar intro to "Ice, Ice Baby" began! If I had a problem, I solved it. I checked out the hook while his DJ revolved it. It was surreal being there to witness this song that has been intermittently stuck in my mind over the past three decades being performed by the man himself right in front of me.
Eventually as all things must, the amazing show came to an end. Vanilla Ice and Tone Loc had competed their navigation of our voyage back in time. As the lights came up, the two performers remained on stage for photo-ops with fans before retiring to the after party with some lucky VIP pass holders. As I exited the wormhole through time back out into the street, I felt the modern era wash over me. I hurried out of the way as a couple of electric bikes zoomed by and my phone began beeping with notifications. My head swam with vision of the past I slowly reconnected with 2022. The trip was over but I will never forget the journey we had taken. A huge thanks to Vanilla Ice, Tone Loc, and the Boathouse Bar and Grill for such an epic experience.
Middle Bass Music Festival
The Middle Bass Music Festival held July 16th 2022, at the Middle Bass Island State Park Lonz Pavilion was a great success with its great music, food, weather and beautiful setting! Approximately 2,000 people enjoyed the sounds of the North Coast Goats, The Lucky Fools, Latin City Soul, the Chardon Polka Band and the Shootouts. Great food was available from the Island Grind, Jimmy G's Barbecue and Rosy's Rolling Chef. Heineman Winery and Catawba Island Brewing Company provided delicious beverages! Art demonstrations of stained glass with Debbie Pinta, slate painting with Amy Houston, acrylic pour painting with Lisa Shea and rock painting with Christine Tomasch took place on the Lonz Terrace.
We were grateful to our sponsors of the event the Middle Bass Dock Company, The Island Grind, Ohio Arts Council, Shores and Islands, South Shore Marine, and Bass Island Charters, LLC (Inter-Island Charters.) We appreciated the cooperation and support from the Middle Bass Island State Park for the event.
A special thanks to Haley Halterman for designing this year's posters, and the following for donating time/service/in-kind donations: The Men's Club of Middle Bass for ticket sales, Dieperink Rentals, Anchor Lane Inn, Patty Echko, MBI Volunteer Fire Department for set up and tear down help, Miller Boat Line, B and C Tent Rental, Mike Fountain, emcee Peter Huston, Laura Schanz, Lisa Green for basket sale, We had great vendors including Shannon McDonald and the LuLaRoe team, Helen Brohl, Gerald and Kristy Shanley, and Shirley Steiner and Charlie Cartledge with the Lake Erie Warbirds LLC.
Conservancy member Ann Hicks signed up and managed the volunteers for the entrances as well as the t-shirt and 50/50 sales. Her son Michael was the top roving seller of 50-50 tickets for us in his sombrero! The team of Eric and Halterman, and Lisa Marie, Shelly Green, and Tina M. Larson sales tactic made $1,376 for the 50/50 raffle! The winning ticket was Doug Augustien. Gatekeepers Lynn and Doug Price, Jan Sadowsky, Monica Bossman, Donna Hoyt, Tracy Gaughan, David Thompson, Karen Morgan, Ann Shelton Penny Schmidlin, Bev Deszcz, Patty Mazanec, Greg Hicks, Karen Morgan, Loretta Beachy and Julie Martinez kept folks orderly and entering quickly.
T-shirt and Koozie Sales were a good money maker-thanks to Laura Hnat, Kathryn Lucky, Danny and Lori Messmer, Tim and Pam Rickard, Jenny Archbold and Kathy Chamberlain. We still have just a few left for sale!
We got several new members for our Conservancy as a result of volunteers Linda and David Bugoci efforts and we are so grateful to Sue Ungvarsky, Cheryl and Brian Beal for manning the LEIC table.
Board member Darren Dunning coordinated volunteers Mike and Matt Yako, Teddi Morris, Chris Collier, Glen Schettine, Patty Echko, Chris Bereznay, Lisa Green, Jake Kerkay, Jennifer Spencer, Chuck Kiraly, Mike O'Toole and Jerry Salwan to serve beer and wine to our festival customers.
We thank our Festival Committee of Board members Bruce Miles, Lisa Brohl, Jane Wolnick, Darren Dunning, Ann Hicks and especially chair of the committee Board Member Colleen Kerkay for her great job organizing this year!
It was truly a beautiful day and great event and we are grateful for the support of this important fundraiser for our Conservancy. Past music festivals made possible matching funds for the Cleveland Tract acquisition (MBI East Point Preserve) as well as the purchase of boardwalk bridges for the trail at the MBI Forested Wetland Preserve. We will be using funds from last year's festival to match a Natureworks grant to acquire more parcels for the MBI Forested Wetland Preserve.
Put July 15th, 2023 on your calendar for MBI Music Festival next year! Thanks again to all who made it possible this year whether volunteering or just coming and having a great time! Hope to see you all again next year!!
PIB Music Festival
(and The Big Day at the Bay) is
Back Sept. 17th
In 2021, as the pandemic finally loosened its grip on South Bass Island (Put-in-Bay) a new event emerged the third weekend in September. Spurred on by previous year's postponements and an overwhelming interest from various groups both on and off island a "shoulder season day of events" emerged. Dubbed the "Big Day at the Bay" this event is spreading the love from parades, clam bakes, 5k marathon to the Put-in-Bay Music Festival is back September 17th, 11 a.m. to 7 p.m.
This year the web of "Big Day" events once again crisscross our 6th Annual Put-in-Bay Music Fest venue. We are celebrating American Blues. Bands for the 2022 Put-in-Bay Music Festival include Colin Dussault Blues Project, EVOLUTION, Reese Dailey Band, The Good The Bad and The Blues and Frankie Starr and the Stamper Starr Band.
This free outdoor community event was started by some local music lovers in 2017, and is supported this year by island businesses Miller Marina, E's Carts, along with Global Transport, Ohio Arts Council, Put-in-Bay Chamber of Commerce and the National Park Service (Perry's Victory and International Peace Memorial) Special thanks to our hosts Boathouse Bar and Grill.
The Boathouse Bar and Grill back lot location is a wonderful venue for the music festival which had been on park land for the first four years. A critical seawall construction project at the monument required we move the event to the back lot behind the Boathouse Bar and Grill. With the help and support of the NPS and the Boathouse Bar and Grill this paved and tented lot with large handicapped porta johns allows our event to be handicap compliant (not certified). And because of our proximity to the 5k Marathon start and finish line, the 5k Marathon is partnering again with us to access our stage for their finish line awards and warm down gathering.
The Big Day at the Bay, Saturday the 17th, includes the annual Half Way to St. Patrick's kickoff celebration and Put-in-Bay Township Fire Department Clam Bake. So come add enjoy the free fun at our out door Put-in-Bay Music Festival hosted by Put-in-Bay's own Bob Gatewood.
We are finding a new way to provide a platform for fun out door activities on the last weekend of summer. We are not a diverse community, so we have to work harder at bringing together diverse ideas, activities and performers to help fill that void. Helped by the Lake Erie Islands Nature and Wildlife Center volunteers we hope to raise a $1000 dollars for the LEINWC.
Put-in-Bay Chamber of Commerce has had a long history of bringing diverse free music to our community at outdoor venues going back 15 years with our Thursday night Twilight Music Series. Last year we featured all Gaelic and Irish styled performers. This years event will feature five talented blues bands, headlined by a regional favorite blues bands. Don't miss it.
The previous piece is published in this month's Put-in-Bay Gazette. The Gazette has been producing incredible independent Put-in-Bay island news for over 40 years. If you have any interest at all in what is happening on South Bass Island, we urge you strongly to subscribe to the Put-in-Bay Gazette. One-year online subscriptions are only $15, and print subscriptions are available as well. To subscribe please visit the Put-in-Bay Gazette subscription form. This piece of Put-in-Bay journalism has been provided to putinbayohio.com courtesy of the Put-in-Bay Gazette, Put-in-Bay's only local newspaper. Visit their website putinbay.news for more information and to subscribe!