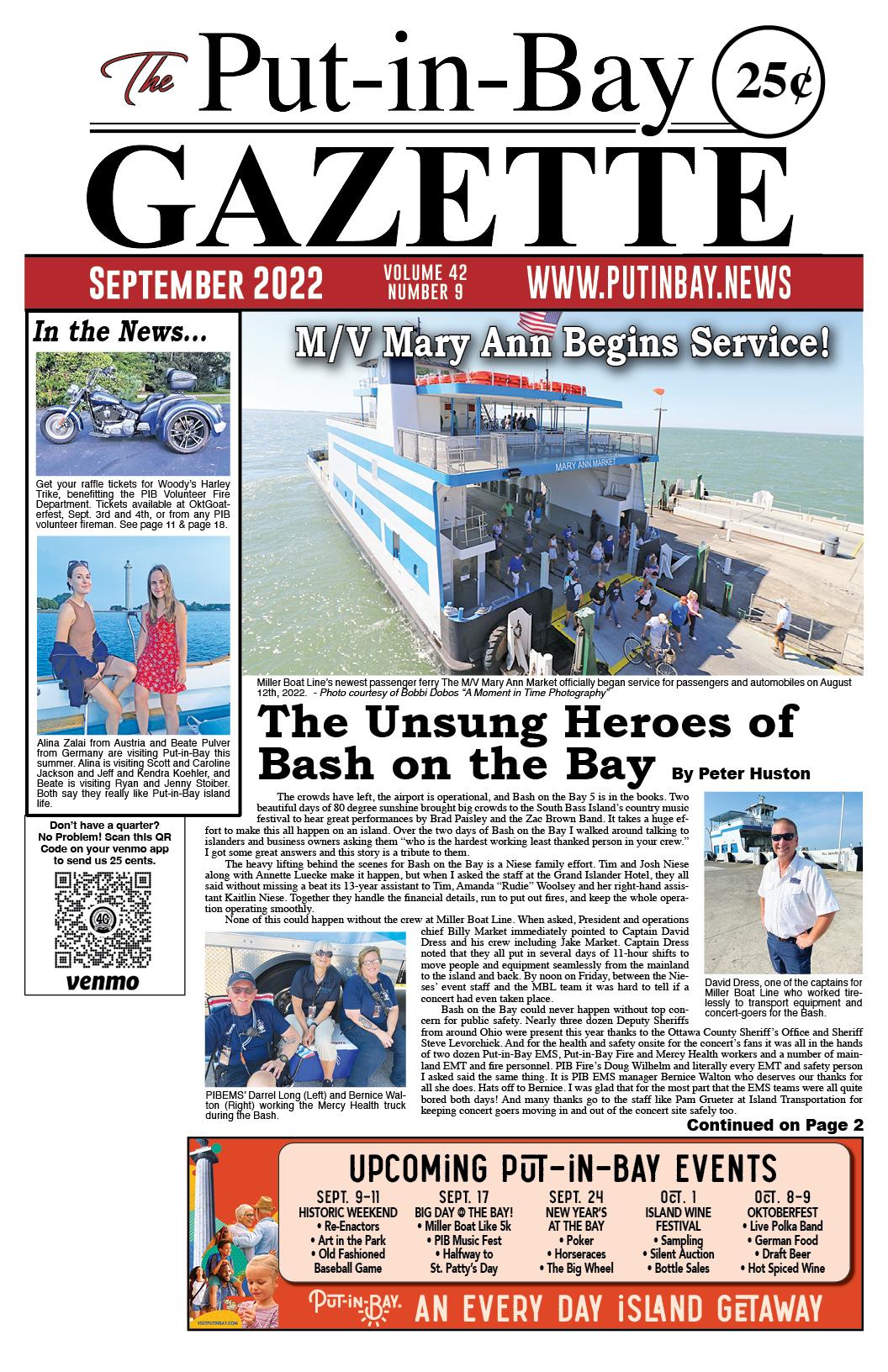 The following piece is published in this month's Put-in-Bay Gazette. The Gazette has been producing incredible independent Put-in-Bay island news for over 40 years. If you have any interest at all in what is happening on South Bass Island, we urge you strongly to subscribe to the Put-in-Bay Gazette. One-year online subscriptions are only $15, and print subscriptions are available as well. To subscribe please visit the Put-in-Bay Gazette subscription form.
News From Other Islands
Rattlesnake Island
Michael Gora from Middle Bass reports the Rattlesnake Island Local Post is coming to life again and will issue new stamps starting in November. The stamps will be triangular as in the past even though the photos of the new designs currently just show rectangles. One of the stamps will have a photo of the Miller Ferry "South Bass," because the ferry serving Rattlesnake Island is the same one that most commonly serves Middle Bass.
The new website is not officially live yet and many things will change and improve, but the basic info about the November stamp issues is correct.
Middle Bass Island
Poker Kayak Run By Tina M. Larson
The 7th MBI Poker Kayak Day had a record number of paddlers turn out to kick off this year's Island Green Week. Their generosity contributed $600 toward signage for the growing number of PIB Township Park District MBI Preserves.
First prize of round-trip tickets for two adults and one vehicle from Miller Boat Line went to Courtney Schantz, thank you Julene Market! Second prize of a gift card to the Middle Bass General Store and a gift card to Walleye's went to Mark Krivach, thank you Joe Hart and Lori Ann Zeitler, respectively! Third prize of a bag of frozen shrimp from Costco went to David Telford. We super appreciate our sponsors! We also thank TMP Architecture for making many copies of paperwork for us, and Susie Clipp and staff at the MBI State Park for permission to have stops on park property.
We super appreciate our many volunteers, too. Without them the event simply could not happen! This year they were: Kim Egner, Ken and Lynda Leque, Betsy, Luka, and Matija Brohl, John Schrenk, Cheryl and Brian Beal, Dave Larson and Lisa Brohl.
Middle Bass Honey
Did you know honey made on Middle Bass is available at the General Store or The Island Grind?
Pelee Island
The center dock, or centre dock as the Pelee Islanders call it, at Scudder is now completely installed and slips are now available for those wanting to boat to Pelee.
This piece of Put-in-Bay journalism has been provided to putinbayohio.com courtesy of the Put-in-Bay Gazette, Put-in-Bay's only local newspaper. Visit their website putinbay.news for more information and to subscribe!