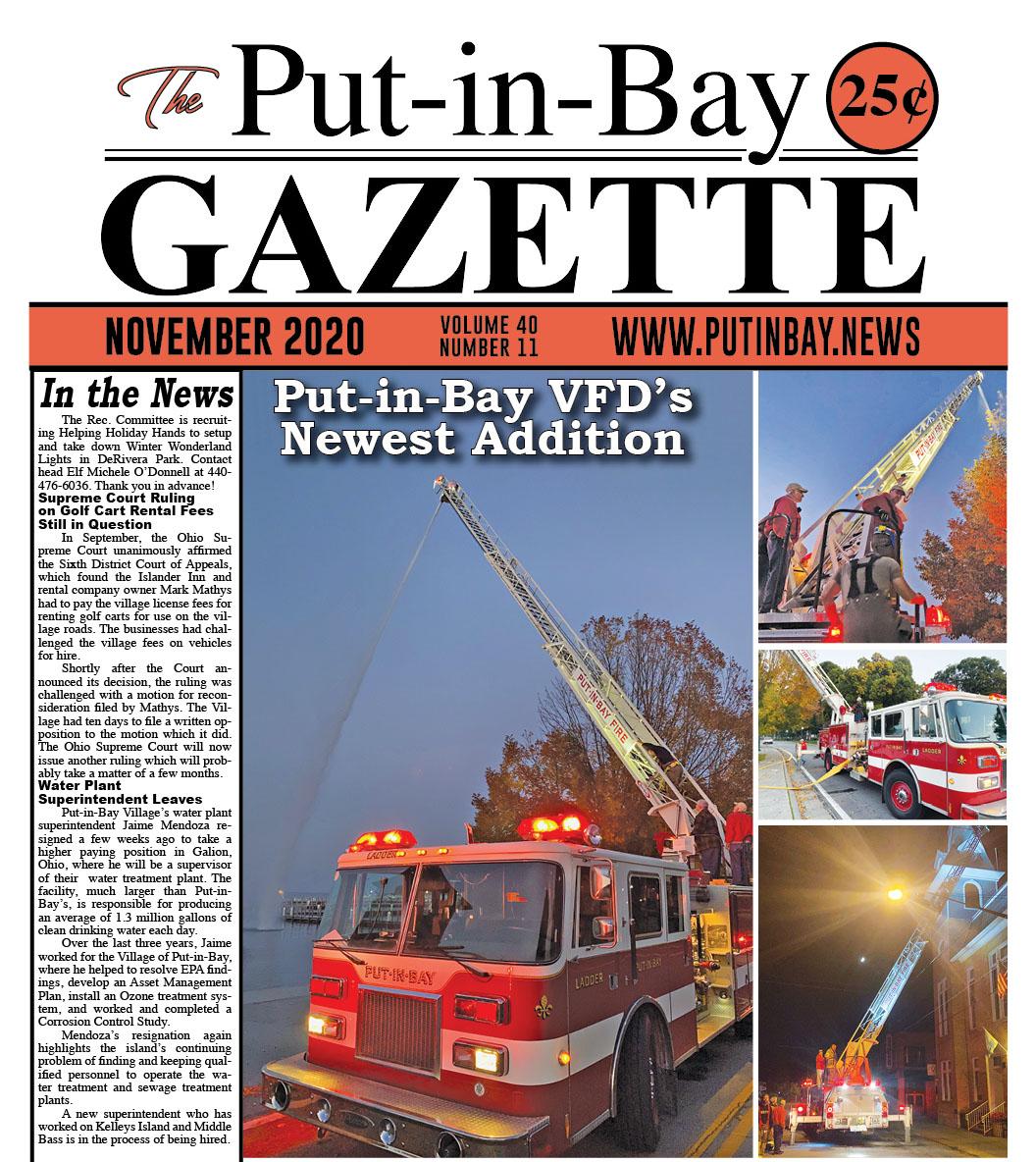 The following piece is published in this month's Put-in-Bay Gazette. The Gazette has been producing incredible independent Put-in-Bay island news for over 40 years. If you have any interest at all in what is happening on South Bass Island, we urge you strongly to subscribe to the Put-in-Bay Gazette. One-year online subscriptions are only $15, and print subscriptions are available as well. Subscribe to the Gazette today!
By Leslie Korenko
Finally, some (almost) normalcy on the island. It seems that more people were coming to the Island in October than in previous years. Quite a few visited the history museum, glacial grooves and inscription rock as part of home-schooling. But now, the island officially begins to shut down. The seasonal liquor licenses expired on October 31st, so many restaurants are now closed. The Island House has applied for a change in their license to year-round. Gift shops are pretty much closed now too, or only open on weekends. Painting on the water tower is wrapping up. The leak on Huntington should be repaired after all the tower work is completed. The new road at the transfer station was partially paid for by the antenna people. New houses are still going up and there are so many for sale. It is mind-boggling sometimes. Work continues on the new St. Michael's community hall. High winds halted ferry service one Sunday. Thankfully, Facebook posts warned everyone, but there were still quite a few people stranded for the night. Halloween was a little different with many events cancelled. But never fear, the children got to wear their costumes and over indulge in candy like always, but under safer conditions.
Our school – We now have 8 students enrolled in the school: 1 – 1st grader, 3 – 2nd graders, 1 – 4th grader, 2 – 5th graders and 1 – 12th grader. Thinking back, I can remember when we had 30 kids in school and when there was none. Looks like we may have a graduate next year.
Several years ago the village established an emergency alert system. Unfortunately, it was rarely used. Plans are in the works to reactivate it. The Village is also considering setting up a Facebook page. There is quite a bit of information on its website (KelleysIsland.us) including meeting minutes, alerts, forms, and some useful links.
COUNCIL NOTES: October was our first in-person Council meeting this year and 10 people showed up. There was also an option to attend online. The Police reported 275 phone calls, 9 reports, and no arrests. There was one ticket issued for disorderly conduct intoxication. Speeding, riding on a vehicle, allowing a minor to drive and failure to observe a stop sign resulted in 13 warnings. There were 4 accidents (2 hit and run and 2 boat). There were 11 assists with EMS and the Fire Dept.  House checks are starting up again, so sign up. Forms available at the Village office or download on www.KelleysIsland.us. A grant was received from COVID-Cares and will be used to purchase items for the Village and the safety services and include: touch less enhancements, sanitizer systems, UV light sanitizers, and new laptops (for virtual communications, training and meetings). Hose and hydrant testing was completed by the Fire Dept. Burn permits are required and are now available at the Village office. The Planning Commission approved a conditional use permit for an Addison Road resident. Meetings continue on the Metro Health proposal to provide this Island with Life Flight. Assessment letters went out for the paving project on Memory, Fernwood and McGettigan. Council issued a proclamation honoring Pastor Virginia Parks as an outstanding citizen of Kelleys Island. She plans to retire on January 1st, 2021 and has been a big part of this island community.
This piece of Put-in-Bay journalism has been provided to putinbayohio.com courtesy of the Put-in-Bay Gazette, Put-in-Bay's only local newspaper. Visit their website putinbay.news for more information and to subscribe!