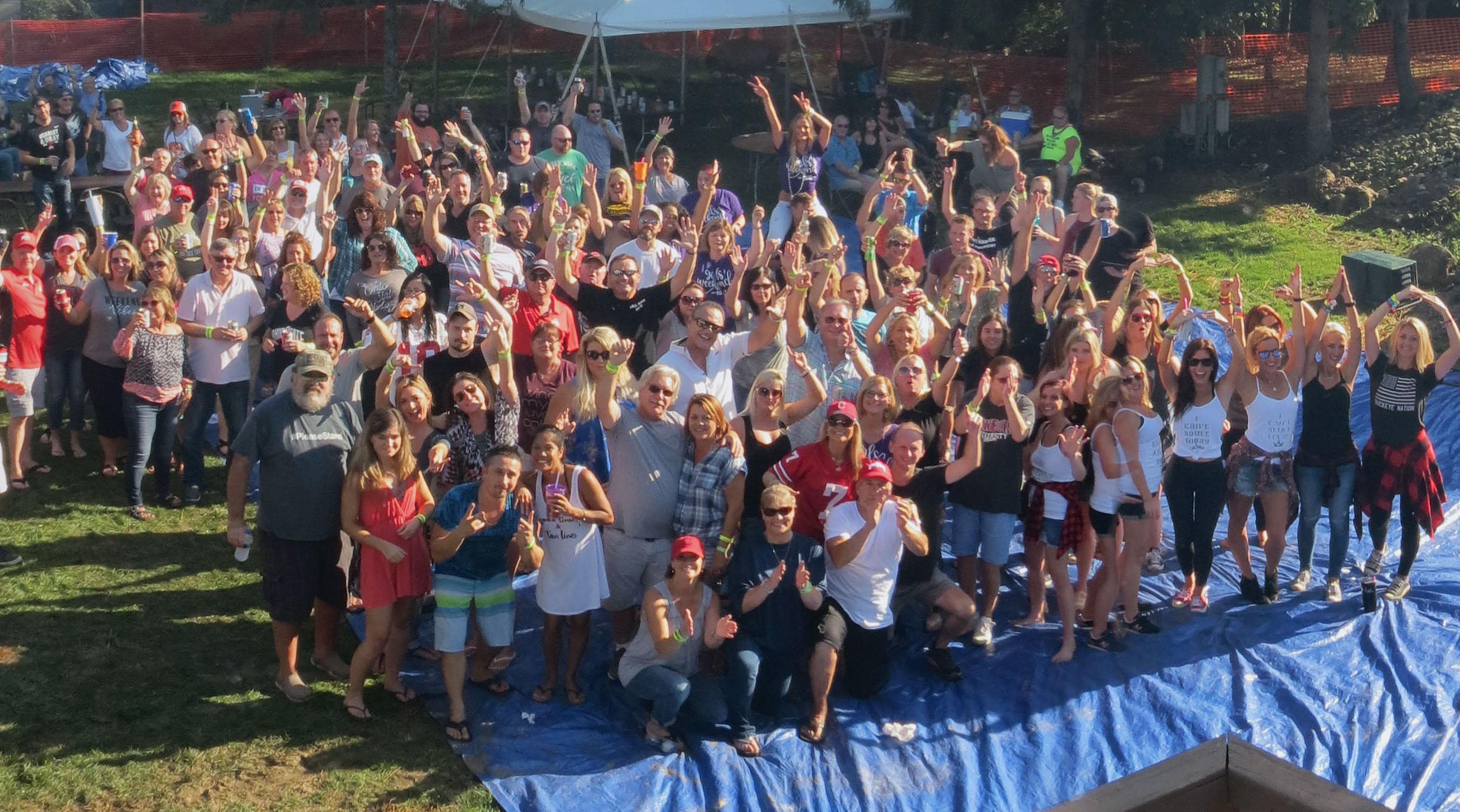 Another Successful Put-in-Bay Island Club Fall Ball
Thank you so much to all of our Put-in-Bay island friends and guests for once again joining us for the best party on Put-in-Bay, the REAL 20th Annual Put-in-Bay Fall Ball Party (October 5/6, 2018) ! Over 1,000 people came out on Friday and Saturday throughout the day to enjoy the entertainment and food that we always offer. Unfortunately, due to "an anonymous person" who reported us to Liquor Control, the adult beverages were put on hold. On a related note, PLEASE NOTE: The Put-in-Bay Resort, Bay Lodging Resort, and Edgewater Hotel are no longer participants in the Official Put-in-Bay Spring Fling or Fall Ball for 2019.
Fall Ball 2018 Friday Night Bonfire Party Slideshow
But, this is Put-in-Bay Ohio after all. Did we let that stop us from having an incredibly fun party? NO WAY! The party actually turned out to be one of the best Fall Ball parties ever with lots of sun and fun. The relocation of the party from the old cul-de-sac to the brand new Island Club Pavilions gave us even more room and a great central location to gather. THANK YOU again for helping us celebrate 20 years of Fall Ball partying!
Help us make the party even bigger by spreading the word. Like our Official Put-in-Bay Fall Ball and Spring Fling Facebook pages at: https://www.facebook.com/putinbayfallball and https://www.facebook.com/putinbayspringfling
A big shout out also to all of our Island Businesses who helped support the OFFICIAL Fall Ball Party. We were so glad that you joined us and help all the island guests who patronized you as well. THANK YOU to Joan and Roger Rhoad for donating 20 of their delicious Cameo Pizzas for everyone to enjoy. Thank you to all the security, cookers, helpers, and staff who work in the background to make this a great event for YOU! Because this is a Customer Appreciation Event, and we do it all for you!
Up Next: 2019 Spring Fling
The 2019 season-opener Put-in-Bay party is designed to thank you, our wonderful guests, for choosing to stay with us on the Island during the summer season. It's a little tease of what's to come for 2019. It is also a thank you for patronizing all of our island businesses because we really are a tight-knit community here at Put-in-Bay. All of our Island Club Home Rentals, Put-in-Bay Condos, Commodore Resort, and Victory Station Hotel guests are invited back again to join in on the fun and take part in this soon-to-be 21-year Put-in-Bay tradition. Stay tuned over the winter as we will be adding more island lodging partners to the event. To be part of the REAL Spring Fling party, please call 216-898-9951 to reserve your rental homes on Put-in-Bay before it is too late! We have already pre-reserved half of our houses for the 2019 weekend already! The Commodore Resort is also quickly selling out.
Don't miss out on this Put-in-Bay Island favorite. We want to thank you for your continued business with us on Put-in-Bay and have a very fun way to show you our gratitude. What says thank you better than an icy cold beer (YES! We will be working with Liquor Control to bring the beer truck back to the party!) and a juicy cheeseburger? During the past years, the Spring Fling and Fall Ball events have become some of Put-in-Bay's most sought after events, so be sure to make your reservations EARLY. If for some reason you miss out on the fun this coming Spring or if you have a blast and want to do it again… we always have the Fall Ball later in the year, our end-of-season annual customer appreciation party on the first weekend in October!
Fall Ball 2018 Saturday Afternoon Party Slideshow
Book Early and Save!
As an added bonus to all of our past guests and friends of the island, for a limited time, we are going to offer a $50 discount on our Spring Fling party in May if you book by November 15. This is the same party as Fall Ball, just in the Spring! We want you to get a full weekend of fun, so if you haven't tried our Spring Fling party before, give it a shot. It is always the first weekend in May (3rd and 4th next year, 2019). Word is spreading and the good houses close to the party are filling up already! With the rentals being in close proximity to one another, they are great for group getaways! Each of our 73 vacation rental units offers a fully furnished kitchen, outdoor grill, and access to the outdoor swimming pool. The rentals are great for a family/friend reunion or a couple's getaway!

There is no obligation now. Book now and deposits are not due until January 2, 2019. So you are welcome to cancel for free up until that date. But we know our 2019 plans will be great and you will want to come again and enjoy our new Pavilions. We have already been told by Liquor Control that we can work out an arrangement for 2019, so no worries there!

A Big Thank You
Thanks again for being our guest and more importantly for being our Put-in-Bay Island Club friend. We are trying our best to make things right and help everyone out. Any questions, or to book one of the above specials, please call our office at 216-898-9951 and we will be happy to help you. Have a great day… AND SEE YOU AT THE BAY!!!
Best Regards,
Island Club Home Rentals & Put-in-Bay Condos
216-898-9951
reserve@putinbayreservations.com