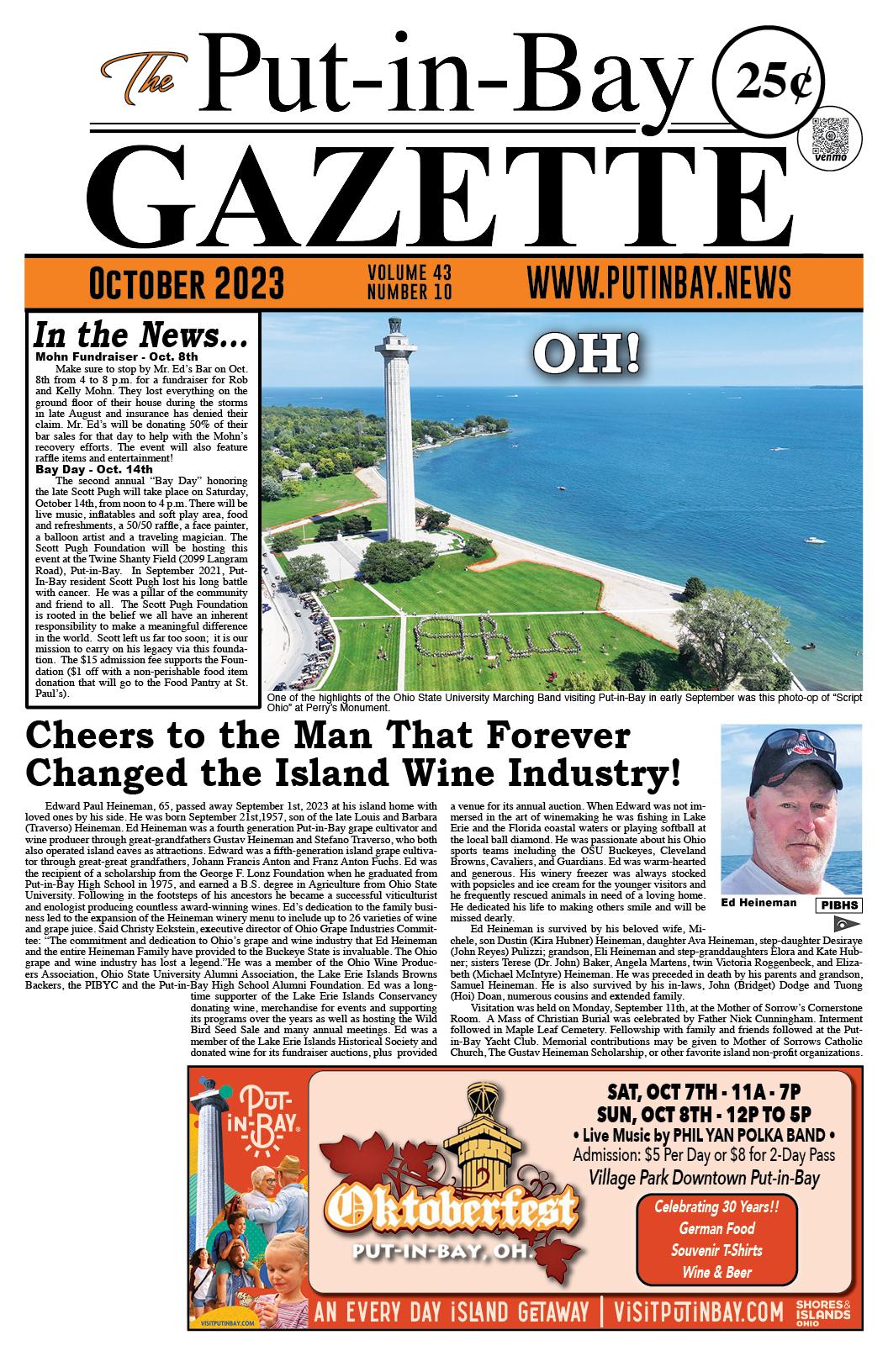 putinbayohio.com is proud to present the Put-in-Bay Gazette's "Moss on the Rock". For the best South Bass Island journalism, visit putinbay.news and subscribe to the Gazette today!
Moss on the Rock
"Trailerty Talk" with Doc – Oct. 4th
On September 17th, Put-in-Bay's Ryan "Doc" Daugherty finished hiking the Appalachian Trail. It was a 2,000 mile hike with lots of ups and downs, both trailwise and emotionally, plus it was a life-changing experience. Ryan will be at the Fishbowl on Wednesday evening, October 4th, at 7 p.m. to discuss his adventure and answer any questions. Everyone is invited to attend.
Food Pantry at St. Paul's Now Open 24/7
St. Paul's Episcopal Church is pleased to announce the Food Pantry was re-opened for 24-7 self-service, effective September 6th. The Pantry is located under the front steps of the church and can be accessed at any time. As we do not have any refrigeration or freezer storage, we're happy to accept any donations of shelf-stable and unexpired food only, which can be left in the donations bin inside the Pantry. We thank the community for all its generous support in the past, and we are grateful for your ongoing donations as well. Please contact the Rev. Bob Solon at 419-285-6809 or clergy.stpaulspib "at" frontier.com with any questions.
Attention Subscribers!
If you have a subscription to the Put-in-Bay Gazette and are heading off for the winter, don't forget to notify us of your address for the winter. We can change it in a heartbeat so you don't miss a single issue. Email address changes to pibgazette@frontier.com.
The Wake – Oct. 14th
Join Us as We Reminisce All The Good Times in October! The tradition of The Wake, dating back over 35 years, continues again this year at Put-in-Bay. The Wake is a special event, commemorating the end of another successful Put-in-Bay summer season. The Round House Bar and the Park Hotel are the hosts of the events of The Wake. The Park Hotel turns into a Haunted Hotel. Enjoy your trip though the hotel, coming across a casket for this season…
Halloween on South Bass Island
Like always, Halloween trick or treating will take place on October 31st. This year it's on a Tuesday, a school night. The Hardware Store will have a map of the places passing out treats. Call (419) 2845-NUTS to get on it. Generally, there are between 50 to 75 kids you'll be needing treats for (especially if you're on one of the main roads). Here's a little hint. The island kids love sugar-free treats like fruits and vegetables so they don't have a sugar buzz still on when they head to school the next day. They respect their teachers in that regard. Not!
Fall Membership Meeting – Save the Date
Mark your calendars for one of our most pivotal gatherings of the year! The Put-in-Bay Chamber of Commerce's Fall Member Meeting is set for October 16th, from 4 to 6 p.m. at Frosty's. As one of only two annual meetings, this is a crucial touch point for the business community. There will be a recap of the successes of this year and the unveiling of exciting plans for next season. An invitation with RSVP details will be sent out soon. Your attendance and input will be invaluable as the Chamber reflects on the past and shapes the future of Put-in-Bay. Looking forward to seeing you there!
Signs The Season Is Winding Down
Here are a few signs the season is winding down: The traffic blinker at school is back in operation, the rookies on the island want to hear about white spider night, you're favorite spot is closed when you want it to be open, you miss the last ferry because you were still on the old schedule, there are no golf carts on the roads to swear at, the Sonny-S and the Jet Express are nowhere to be seen and Miranda's floating tiki is gone, the weather isn't as hot, the mooring buoys go missing from the harbor, more oncoming drivers wave to you, your calendar is full of island events to go to but you don't have time to go because you're still working, and your friends and neighbors are leaving for Florida.
About Drop Offs at the Resale Shop
Marsha Baumert at museum's Resale Shop would like to remind everyone again that dropping off donated items after hours is not permitted or appreciated. It makes a lot more work for everyone, plus items can be damaged or ruined by the weather. Please call ahead or make arrangements for donations. Please call the Resale Shop at (419) 285-0097.
Holiday Bazaar – Nov. 16th
The Lake Erie Islands Nature and Wildlife Center with the Lake Erie Islands Conservancy, are bringing back our traditional Holiday Bazaar on Thursday, November 16th from 3-7 at the Put-in-Bay Town Hall. Finish up your holiday shopping with unique gifts from local small businesses and artisans. The Conservancy will have its 2024 calendars for sale and the Nature and Wildlife Center will bring their gift ideas! For interested vendors: $10 per space Call or text Lisa Brohl at 419-366-2087 or email at leiconservancy@gmail.com to reserve your spot!
Fish Sampling Techniques Workshop
Stone Lab will be hosting a Fish Sampling Techniques Workshop on October 7th and 8th. This intensive, two-day workshop is designed to demonstrate the fish-sampling gears most commonly used by the Ohio Division of Wildlife (ODW) and Ohio Environmental Protection Agency (OEPA) for undergraduate students interested in seasonal agency work and fisheries biology professions. Stone Lab, ODW, and OEPA biologists will provide hands-on experience with fyke nets, gill nets, trawls and boat-based as well as wading electrofishing methods.
Conservancy Winter Wild Bird Seed Sale
The Lake Erie Islands Conservancy is holding their annual winter wild bird seed sale taking orders until November 1. We will deliver to your door on the island before Thanksgiving. Thanks to Titgemeier's Feed and Garden Supply for working with us again on this sale! Check out our website at www.Lakeeeieislandsconservancy.org for an order form or call Kelly and Marty at 419-285-4772. Can email at leiconservancy@gmail.com as well. We have oiled sunflower, cracked corn, thistle, and various seed mixes.
30th Annual Oktoberfest
This year is the 30th anniversary of Put-in-Bay's Oktoberfest. This year it will take place on Saturday, Oct. 7th, and Sunday, Oct. 8th. There will be German food, polka music, dancers, picture spot and, of course, beer. If you would like to volunteer for this event, please let Patty Sulesky at the Chamber of Commerce know. You can email her at events@visitputinbay.com.
Bash on the Bay 2024
Country star Hardy will be one of the headliners at next summer's Bash on the Bay at Put-in-Bay Airport. The event will take place Wednesday the 21st and Thursday the 22nd. Hardy will play the second night. The headliner for the first night will be announced in the coming weeks.
New PIB School Website
If you want to find out information about what's going on at Put-in-Bay School, you can go to putinbayschools.com. The site is maintained by the Put-in-Bay School Computer Club under the guidance of Carol Cerny.
Ohio Lawmakers Taste the Boating Lifestyle
One day in September, more than 20 members of the Ohio General Assembly were treated to a day on the water, organized by members of the Lake Erie Marine Trades Association, that included the release of the association's latest report on the economic impact of the state's marine industry. LEMTA member dealers provided boats, along with their time and local expertise, to take the lawmakers from the mainland out to the Lake Erie Islands where they docked at Put-in-Bay on South Bass Island.
Gustav Heineman Scholarship Fundraiser Dinner
Mark your calendars now for the Gustav Heineman Scholarship Fundraiser on Friday, November 17th, from 5 to 8 p.m. at the Put-in-Bay Yacht Club. There will be a roast beef dinner with fresh green beans, mashed potatoes and gravy, plus dessert. There will be a 50/50 raffle, plus raffle baskets. Gustav Heineman, the brother of Louis Heineman, fell through the ice in the harbor and drowned. The scholarship is one of the oldest scholarships presented to a deserving PIB High School graduate each year. Everyone is welcome to attend.
The previous piece is published in this month's Put-in-Bay Gazette. The Gazette has been producing incredible independent Put-in-Bay island news for over 40 years. If you have any interest at all in what is happening on South Bass Island, we urge you strongly to subscribe to the Put-in-Bay Gazette. One-year online subscriptions are only $15, and print subscriptions are available as well. To subscribe please visit the Put-in-Bay Gazette subscription form. This piece of Put-in-Bay journalism has been provided to putinbayohio.com courtesy of the Put-in-Bay Gazette, Put-in-Bay's only local newspaper. Visit their website putinbay.news for more information and to subscribe!