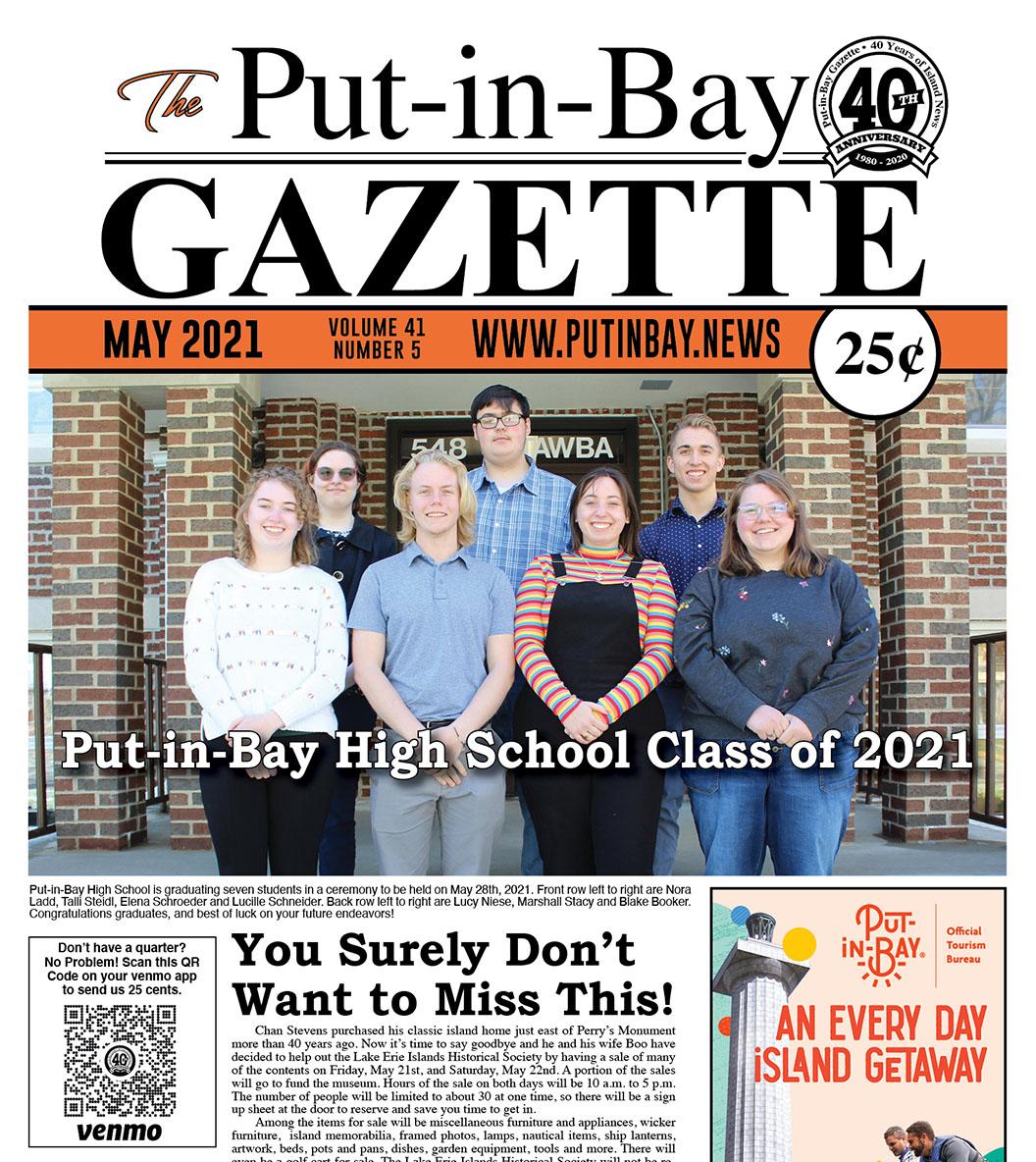 Rock of Ages
By Gordy Barr
On the west point of Middle Bass Island there is a black granite boulder that is split in half. In 1965, it was solid, and in my child's view nothing in the world could ever break that rock. It was dragged here from the upper Canadian shield (1,000 miles away) by glaciers 10,000 years ago. The mile high glaciers melted. The glaciers carved out the Great Lakes. Boulders like this one littered the beaches of the western basin of Lake Erie.
The beauty of Middle Bass is that it has grown slowly over the last 150 years and has retained its bones and character. Middle Bass's character can best be defined by the people that have lived on Middle Bass. You would never expect a black granite boulder to be split by freeze and thawing water just as you never expect people you have known all your life to pass.
In the last year we lost Paul Aquilla, Karl Schmidlin and Gerry Sheller. They were timeless and like granite, seemingly indestructible. They were not left on Middle Bass by melting glaciers.
Paul Aquilla was Merchant Marine Academy graduate and worked in the Great Lakes shipping industry for most of his career. When great lakes freighters broke, Paul made sure they were fixed correctly. He was Lloyds of London's "go to man" for the region. He came to Middle Bass in the 1960s and never left. For Paul, a Merchant Marine turned Marine Surveyor, Middle Bass was the home port of his heart.
Karl Schmidlin graduated from Miami of Ohio and played football for Bo Schembechler. He taught school at North Bass Island for close to a decade then started Schmidlin Construction on Middle Bass. Karl poured nearly every foundation on Middle Bass for the last forty years. His legacy is the young men that he hired and taught the construction trades and more importantly the work ethic that was passed on to the next generation.
Gerry Sheller was close friends with Sonny Schneider. Sheller loved coming to Middle Bass because it was still "frontier." Although it was close to major metropolitan markets like Cleveland, Detroit and Toledo, Middle Bass still possessed the isolation of the Bitterroot Range of Montana. Islands are like that.
These men were complex. You could always depend on them for council and advice.
"Family fortunes rise and fall daily in America," but Paul, Karl and Gerry's legacy on Middle Bass will live long in the future. They are the granite that keeps Middle Bass grounded and unique. Each man defined his own life as opposed to having their lives defined by others. The Middle Bass community will miss them.
Notes on the Story:
1) Last fall (2020), I was walking our puppy Henry and saw lights at Paul Aquilla's house. It was in the heat of the pandemic so I called Paul on my cell phone. He came outside on his porch and I stood in the front yard, socially distanced. We talked for twenty minutes. Henry sat patiently at my feet. When we parted, Paul called out, "Thanks for introducing me to Henry. He is a good dog." I was glad Paul met Henry.
2) Gerry Sheller was a fixture at the General Store. He had a favorite seat by the cash register of the Middle Bass General Store, his cane parked against the counter and the wall. He was out of the store's traffic pattern but at the hub of Middle Bass's social circle. He kept to himself but you could tell he absorbed everything. On quiet days he would talk about his Middle Bass adventures with Sonny Schneider, Dick David, Karl Schmidlin and Billy Brennen; Beer, cars, ice roads and airplanes.
3) Karl Schmidlin poured the foundation of our office/garage in 2017. It was an important project for us. Karl, Jeff Marshall and John Glauser did a great job. Karl took his work personally.
4) Jackson Sheller (15 YOA) is training to be a pilot like his Grandfather.
Dandelion Wine
From Annie Parker
I see my field is once again in bloom. Here's what happened many years ago.
When we first moved to the big house in 1969, I looked out across the back yard and there was this gorgeous field of golden blossoms. Some call dandelions a "mother's bouquet." Scott and Ortho would have you believe they are a curse. I love them equally with violets and clover.
I digress. What was I to do with all those pretties.
I'll make dandelion wine as had my mama. I don't know where I found a recipe. No internet in those days.
Do you know how long it takes to gather two gallons of dandelion blossoms?
First of all, you wash them and place them in a crock. Sprinkle with four pounds of granulated sugar. Barbi Barnhill, of vintner roots, would say be sure it's CANE sugar. Pour over them two gallons of boiling water.
Stir and leave this to steep until the solution has cooled to tepid. Then you sprinkle an envelope of yeast granules on a piece of RYE bread. Float this on top of the mire and place in a warm room (in this case the pantry) to ferment.
In the next days, I would take a peep to see what was happening. It became alive. After all, yeast is a living organism. It became a roiling, angry pool, rocking in its crockery prison. The children were afraid. I was afraid.
At last the yeast had done its work and the tincture settled down.
I strained it into bottles and put them in the basement, hoping they didn't explode. No one had told me (as has the internet) to cap the bottles temporarily with balloons to let the fermentation continue safely.
At last the nectar of the gods was aged and time to taste the aqua vitae.
Ever see A FUNNY THING HAPPENED ON THE WAY TO THE FORUM?
It tasted like MARE'S SWEAT.
The previous piece is published in this month's Put-in-Bay Gazette. The Gazette has been producing incredible independent Put-in-Bay island news for over 40 years. If you have any interest at all in what is happening on South Bass Island, we urge you strongly to subscribe to the Put-in-Bay Gazette. One-year online subscriptions are only $15, and print subscriptions are available as well. To subscribe please visit the Put-in-Bay Gazette subscription form.
This piece of Put-in-Bay journalism has been provided to putinbayohio.com courtesy of the Put-in-Bay Gazette, Put-in-Bay's only local newspaper. Visit their website putinbay.news for more information and to subscribe!