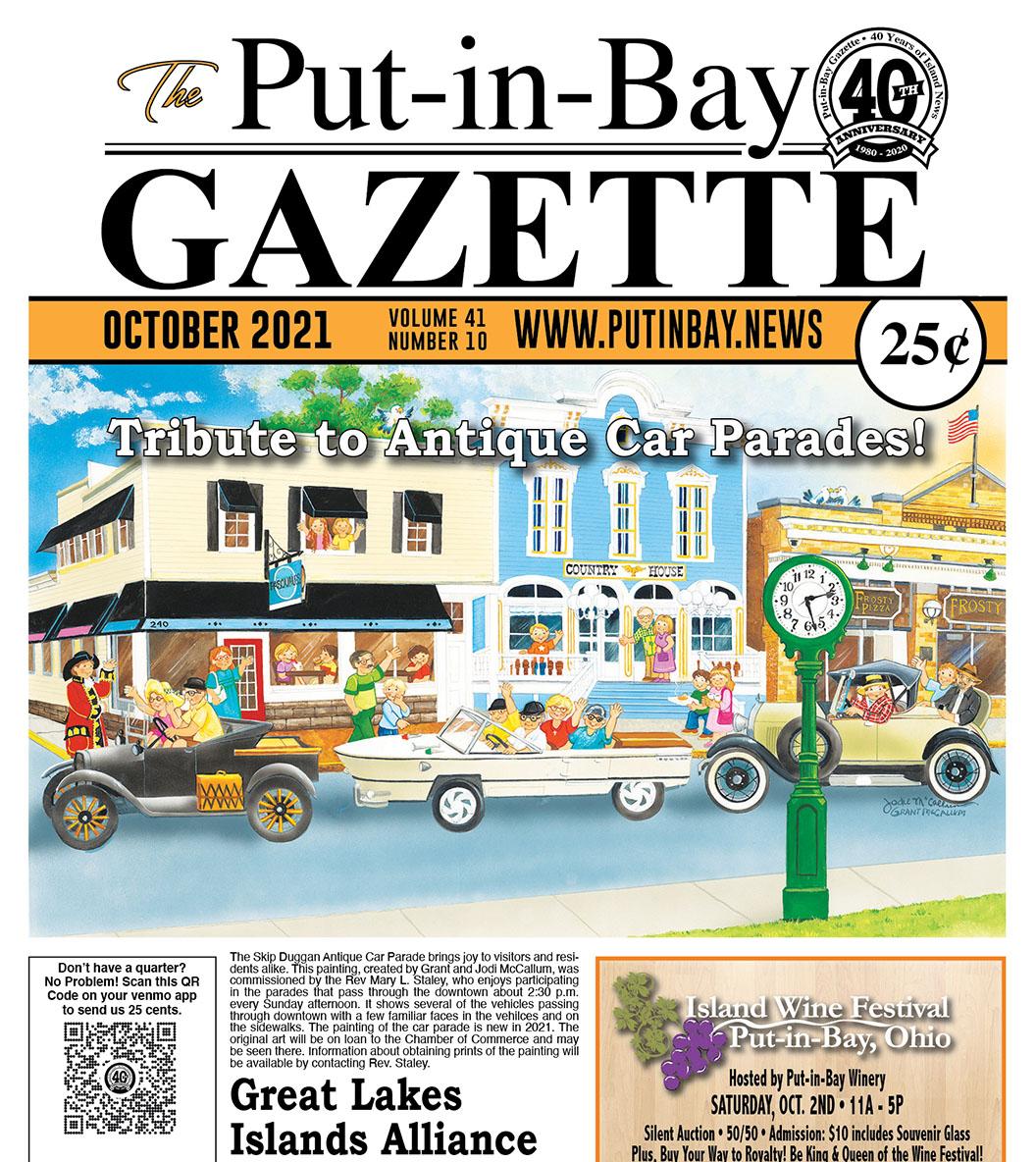 2021 Put-in-Bay Sports Car Races
by Rich Hahn
What happens when you combine 140 sports cars, 250 participants plus volunteers and the remnants of Hurricane Nicholas meeting up with a strong northern cold front? You get a very interesting race week. The 2021 Put-in-Bay Sports Car Races are now in the books, and without the devoted hard work of all involved it never would have happened. The event opened up uneventfully with our annual car show at Heineman Winery, followed by the ever popular laps of the original 1950s race track. The evening culminated with a wine and cheese reception and round table back at the winery. Overnight the storm hit with a fury rarely seen in September. A large tree came down on the winery grounds which would have taken out numerous expensive vehicles had it happened 12 hours earlier!!
Wednesday's activities had to be canceled in their entirety, which led to a scramble to figure out how to get our racing program in. Thanks to the efforts of Rosann Keiser, the Port Authority Board, Pilots Association and the FAA, we were able move part of our program into a portion of Friday.
Racing on Thursday was held in an on-again-off-again rain with strong winds, but we were able to get a day and a half worth of racing accomplished in one day. Friday dawned with sunny skies and our final races were held in ideal conditions. The feature race was won by longtime Put-in-Bay competitor Sam Halkais from Columbus, Ohio in his Triumph TR6. Interestingly this car was Paul Newman's race car from the 1970s.
The event organizers Jack Woehrle, Manley Ford and I cannot thank all of the people enough who have supported this event over the years. Special thanks to the Jackson family for somehow finding a way to combine two nights activities into one giant event at The Goat. Duff Spatafore for his emceeing of the Rocker Cover Races and track tow truck. The Heinemans for their gracious use of their property for the car show and the Tuesday reception. Thanks to Tom and Lisa at Cheese Haven for their donation of cheese trays, to Joe's Bar for the Ladies Luncheon and funding the WPIB live broadcast worldwide of Friday's races, and to all of the on-track professional corner, grid, tech inspection and race direction volunteers who come every year only asking for a place to stay and a ferry ticket!!
Thanks to all of the friends, from both on and off the island, of the organizers who we cajole into assisting in an unending number of tasks. We can't go without mentioning the assistance of the Put-in-Bay Police, Fire and EMS who helped make this event the safe program it has been since its inception. Special thanks to Sgt, Mike Wheeler for his "spirited" leading of the Old Track Laps, and to the Market family and all of their employees for their continued support both financially and their ability to move our participants on and off the island. Lastly, we thank all of the governmental agencies who allow this event and its uniqueness to even occur and work with us to make every year even better. I apologize if I have inadvertently forgotten anyone.
2021 has been a year of having to make do with less for everyone on the island, and our event was no exception, but thanks to everyone's help, the Put-in-Bay Sports Car Races were a great success in spite of the curve balls being thrown at every turn. Thanks again to all involved and we look forward to an even better 2022.
For more info see: www.pibroadrace.com.
The previous piece is published in this month's Put-in-Bay Gazette. The Gazette has been producing incredible independent Put-in-Bay island news for over 40 years. If you have any interest at all in what is happening on South Bass Island, we urge you strongly to subscribe to the Put-in-Bay Gazette. One-year online subscriptions are only $15, and print subscriptions are available as well. To subscribe please visit the Put-in-Bay Gazette subscription form.
This piece of Put-in-Bay journalism has been provided to putinbayohio.com courtesy of the Put-in-Bay Gazette, Put-in-Bay's only local newspaper. Visit their website putinbay.news for more information and to subscribe!