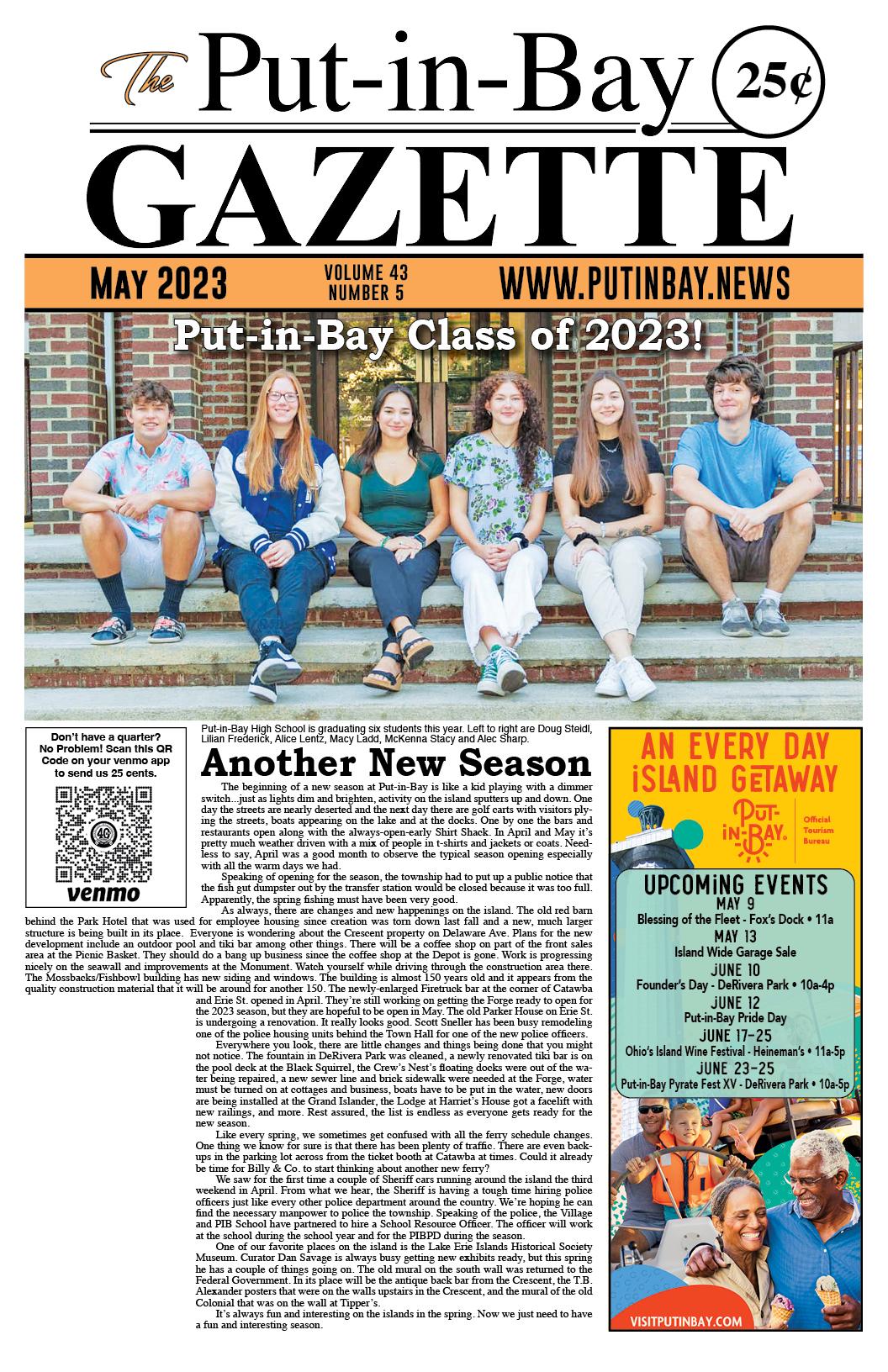 putinbayohio.com is proud to present this piece from the Put-in-Bay Gazette. For the best South Bass Island journalism, visit putinbay.news and subscribe to the Gazette today!
Let's Bring Back Founders Day!
From The Put-in-Bay Chamber
of Commerce & Tourism Bureau
The Put-in-Bay Chamber of Commerce & Tourism Bureau and the Founders Day Committee would like to bring back Founders Day from yesterday! Let's put the community back into Founders Day and why we celebrate it. This year's event is on Saturday, June 10th, in DeRivera Park.
Plans are being made to invite the community and its organizations to host fundraisers of all kinds offering food, photo opps, games and fun for our visitors to the island. We will continue to host our vendors that come with arts & crafts for sale as well as continuing to promote with the Paw Parade and Historical Weekend two other events held that day.
Things we are hoping to bring back:
• Historical component – why do we celebrate?
• Photo-ops with props and costumes, old signs
• Shore cakes, lemonade, hot dogs, bake sales, popcorn, cotton candy and more
• Duck pond, face painting, make & takes, entertainment
• Organizational interactive displays
• Vendors – jewelry, arts, crafts
The Committee consisting of Sara Booker, Renee Fultz and Jessica Krueger will be reaching out to you that used to do any of the above. If you are interested in bringing an idea to the table please reach out to us. Let's bring the Founder back to Founders Day!
Contact a Committee member above or Wendy Chambers at director@visitputinbay.com or call 419-575-9619.
Perry's Victory & International Peace Memorial Opens May 20th
Perry's Victory and International Peace Memorial is the only international peace memorial within the National Parks system. The 352-foot Doric column opened to the public in 1915. The memorial, constructed by a commission of nine states, commemorates Perry's defeat of the British in the "Battle of Lake Erie", on September 10, 1813. More importantly the monument celebrates the 208 years of peace between the United States, United Kingdom, and Canada. A visitor center, which features a commanding view of the memorial through its floor to ceiling glass wall, features a free 15-minute video on the Battle of Lake Erie, museum, gift shop and a bookstore, alongside educational displays, and Ohio's first public statue: a white marble figure of Oliver Hazard Perry. The National Park Service offers many activities and programs for the public. Free Ranger talks are presented daily, and musket firing demonstrations on Friday-Sunday at 11, 12, 2, 3, 4, and 5, Memorial Day weekend through Labor Day. The Perry Memorial and the Visitor Center will open daily May 20th through September 10th from 10 a.m. to 6 p.m. Visit https//:www.nps.gov/pevi for more information. For those who cannot visit the Observation Deck of the Memorial, a live view is available at https://www.nps.gov/pevi/learn/photosmultimedia/view-from-the-top.htm
May and June Special Events (all events are free to the public unless otherwise noted).
*These events require a fee.
May 20: Opening Day & Planting the Seeds of Peace. Park staff discuss both invasive and native species of the park, South Bass Island, and the surrounding area.
May 23–25: Perry Education Days. Park Interpretive staff will host a series of interactive learning stations at the park aimed at 4th-8th grade students although all ages are welcome to attend.
May 29: Memorial Day Ceremony. Ceremony honoring the men and women who died while serving in the US military is held on the Memorial Plaza beginning at 11:00 a.m.
June 13: 108th Anniversary of the 1915 Memorial Opening. Interpretive programs will focus on the drive towards a memorial and its subsequent construction. Fee Free Day.
June 14: Flag Day. Staff will fly 3 different US flags and offer programming around this topic.
June 21: Summer Solstice Sunset Tour* Watch the sun set at its most northern point of latitude from 317 feet from the Observation Deck of the Memorial. Price is $20. Tickets can be purchased in advance up to 48 hours prior to the event at https://www.recreation.gov/or in the Visitor Center. Tickets may only be purchased the night of the event at the Ticket Desk in the Column.
The previous piece is published in this month's Put-in-Bay Gazette. The Gazette has been producing incredible independent Put-in-Bay island news for over 40 years. If you have any interest at all in what is happening on South Bass Island, we urge you strongly to subscribe to the Put-in-Bay Gazette. One-year online subscriptions are only $15, and print subscriptions are available as well. To subscribe please visit the Put-in-Bay Gazette subscription form. This piece of Put-in-Bay journalism has been provided to putinbayohio.com courtesy of the Put-in-Bay Gazette, Put-in-Bay's only local newspaper. Visit their website putinbay.news for more information and to subscribe!