Sat., Dec. 1st – At The Forge, there's a "Half Price" sale for their gift certificates. BOGO! Buy one, get one! Tipper's is open for the last day, before shutting down for the season! It won't be the same this winter. On Beaver Island in Lake Michigan, the Put-in-Bay Panther basketball teams are playing in the Great Lakes Island Basketball Tournament. The boys team finish in second place, and the girls team win all their games to take first place.
Sun., Dec. 2nd – It's a nice warm day for outside work before winter really set in. Greg Auger and Joe Kostura are working on clearing the plot on Columbus Ave. on East Point where the Kuwatch home will be built. Mike and Susan Byrnes enjoy a little kayaking. There's a little rain in the afternoon.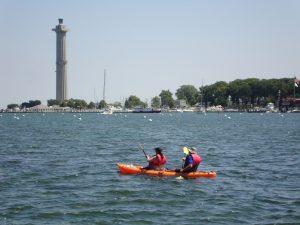 Mon., Dec. 3rd – Great morning! The 5th/6th graders started a "Reading Buddies" program with the preschoolers at the Erie Islands Library at PIB School. A drizzly rain doesn't stop block laying on the second floor of Mr. Ed's. Leaves are being raked by the bathhouse in the park and across the street at T&J's. There's a "Painting with Bee" event at the Town Hall. The painting each participation paints from a rough outline is the Monument with a grape leaves.
Tues., Dec. 4th – An early ferry leaves Put-in-Bay at sunrise to pick up a 28,000-gallon load of propane. That will enough to top off the bulk storage tanks that will be used to supply islanders for the winter.
Wed., Dec. 5th – Workers are taking the siding off the old Nissen home on Bayview Ave. behind Mossbacks. Since Tipper's is closed for the winter, the Euchre players meet at Reel Bar.
Thurs., Dec. 6th – Bill White from Put-in-Bay Rd. is in Dubai. Kim Pugh is in Iceland. Paula and John Ladd are taping and labeling Lake Erie Island Conservancy newsletters.
Fri., Dec. 7th – The temperature hovers just below freezing and never gets above 32 degrees all day.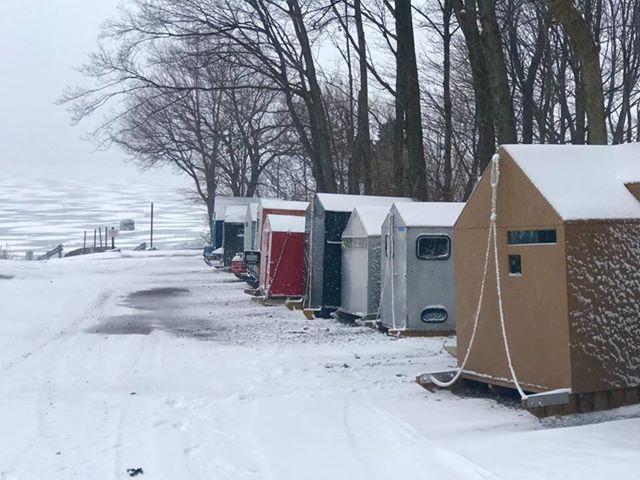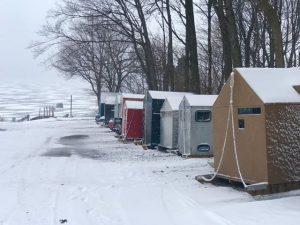 Sat., Dec. 8th – Greg Auger working on Jim and Nancy Lang's cottage addition on Chapman Ave. At their home on East Point, Marv Booker and Pat Thwaite host an intimate dinner party for Steve and Jill Cooks from Shore Villas, and island newspaper owners, Kendra and Jeff Koehler.
Sun., Dec. 9th – There's skim ice covering much of the Bay. An owl is spotted sitting on top of a Christmas tree decoration in the DeRivera Park gazebo.
Mon., Dec. 10th – Kira Hubner walks all five nature walks on the island. The Lake Erie Island Conservancy's Potluck takes place at the South Bass Island Lighthouse. There's ham, salmon, hot cider, plenty of potluck dishes, plus lots of delicious desserts. There's a social hour first with a sparkling grape juice toast.
Tues., Dec. 11th – Among the islanders stopping in Puerto Rico on a cruise are Carl, Chris, Miranda and Jessica Krueger, Paula Garsteck from the Round House, Marc Wright from the Old Forge, Jane Ruthsatz and her daughters, Leah Market and Caiti Bolyard, Caiti's husband Austin, Joan and Roger Rhoad from Cameo Pizza, Anita and Michael McCann and daughters Amanda and Elizabeth, Brian Gilles, Beth Burns from Bayview Ave., Dave and Jill Warga from East Point, Amanda Goaziou from the Candy Bar, and Skip and Kim Morrisson from East Point.
Wed., Dec. 12th – The regular meeting of the Put-in-Bay Village Council takes place in the morning with Councilwoman Jessica Dress presiding in Mayor McCann's absence. About 80 island seniors gather at the Senior Center for a wonderful Senior Christmas Luncheon catered by Sue Thwaite and her crew, husband Don, son Oliver and Sarah Toole. Gift baskets courtesy of the Put-in-Bay Recreation Committee await the guests.
Thurs., Dec. 13th – The younger island students at Put-in-Bay School present their annual holiday concert in the Jim Poulos Gymnasium at the school.
Fri., Dec. 14th – The Put-in-Bay Village Council meets for 15 minutes in the morning. Bobbie Dobos is busy overseeing an incubated baby duckling hatch out of an egg at her home. Miller Boat Line's M/V Put-in-Bay is taken out of service for the season.
Sat., Dec. 15th – A group of islanders gather at Maple Leaf Cemetery to place wreaths on the graves for veterans. It is part of the Wreaths across America program. While the wreaths are being laid, Charlie Cartledge, who grew up on Middle Bass, flies over the Catawba, Port Clinton and Marblehead cemeteries, plus the island cemeteries on South, Middle and North Bass Islands in a restored World War II Royal Canadian Air Force Harvard AT-6. His father, Doug, a longtime resident of Middle Bass, did pilot training in Harvard in Canada in World War II. The Put-in-Bay Panther's Girls BasketBall Team end the day with a 7-0 record.
Sun., Dec. 16th – The upstairs at the Town Hall is the most festive location to be, thanks to everyone who made the Holiday Buffet such a memorable event. After a baked ham buffet, Santa arrives to pass out gifts to all the good little island boys and girls.
Mon., Dec. 17th – It's Tony Kowalski's (PIBHS Class of 1997) birthday. At PIB School, it's the first day of Secret Santa for the 7th through 12th graders. Dale Burris reports spotting 15 coyotes at the North Bass airport. Brenda Nemec has her second class of the month at the Town Hall. This time 17 painters are painting a picture for Santa.
Tues., Dec. 18th – It's National Ferry Crew/Dockhand/Ticket Booth/Office Staff Day! There's holiday party for those Miller Boat Line employees who are still around this late in the season. Miller Boat Line posts a schedule for after Christmas, weather permitting of course. Yippee! There's a Christmas party for the Crew's Nest and Put-in-Bay Winery employees at the old Slatmeyer house next to the Crew's Nest.
Wed., Dec. 19th – The Put-in-Bay Village Council meets to vote on a few items needed before the end of the year. In the afternoon, Council President Jessica Dress hosts a Village employee party at her home.
Thurs., Dec. 20th – A small group enjoys a Christmas Dog Pageant at the park hotel. Just picture dog owners with a dozen dogs dressed in ugly Christmas sweaters!
Fri., Dec. 21st – School is dismissed early at 12:30 p.m. for the Holiday Break. The Island General Store has its customer appreciation Christmas party in the afternoon. Please stop by and enjoy some appetizers and adult beverages. Lisa Brohl take a Winter Solstice walk through the Scheeff Preserve at the tip of East Point. Some of the young island mothers enjoy a late afternoon Tom and Jerry party at Caroline Jackson's Stone Press House Home. The kids are included so there's plenty of disorganized chaos as more than a dozen kids, ranging from one to seven, reign free. Partying mothers, wild kids – not a pretty picture.
Sat., Dec. 22nd – Pinky Batt tests the fireplace at the Goat. It works, so he, Russ Brohl, Patrick Myers, Jeremy Koebel and owner Scott Jackson, sit around it and talk over fireplace pros and cons while enjoying cold ones. There's a holiday dinner for the Put-in-Bay Volunteer Fire Dept. Volunteers and PIB EMS workers at the Senior Center.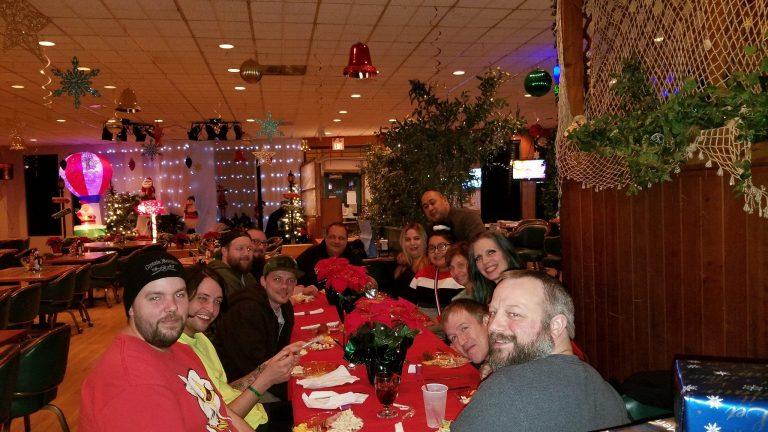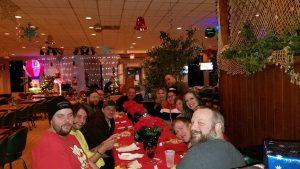 Sun., Dec 23rd – Ed Heineman gets his Winter Solstice haircut form a fellow beer drinker.
Mon., Dec 24th – Island Entertainer Ray Fogg is at Rick's in Key West Celebrating with a Xmas Eve Show for those who made it on Santa's "Naughty List!"
Tues., Dec 25th – The Senior Center is closed for Christmas.
Wed., Dec 26th – Miller Boat Line is now running two boats in the morning and two boats in the afternoon. A bunch of guys are netting minnows from underneath one of the ferryboats docked at Miller's downtown dock. They are pulling a net from the stern to the bow using a pickup truck.
Thurs., Dec 27th – The Put-in-Bay Twp. Port Authority's comment period closes for those who want to voice their opinion about holding a second Kid Rock Concert the day after the one scheduled for Thursday, Aug. 29th at the PIB Airport.
Fri., Dec 28th – The temperature on the island at 6 a.m. is 51 degrees.
Sat., Dec 29th – Jim Wehrheim and Maria Blandino from Fox's Den are in Curacao celebrating their 10-year wedding anniversary.
Sun., Dec 30th – It's sunny with the temperature just above freezing as the first ferry leaves the Lime Kiln in the afternoon.
Mon., Dec. 31st – To celebrate the New Year, the Reel Bar has a dinner package, plus John Salamon's Touring Piano for entertainment. Topsy Turvey's has hors d'oeuvres and music for its celebrating customers. At St. Paul's Episcopal Church the New Year's celebration begins with evening prayer and tuning into a couple of places around the world as they ring in 2019.
As Seen in the January 2019 edition of the Put-in-Bay Gazette